Steven Moffat does it again. Over the years he has achieved some remarkable television feats. Not only did he essentially sell his UK version of Friends back to the United States (as Coupling), write the best episodes of Doctor Who during the Russell T. Davies era and eventually take over the running of the show himself, snubbing Spielberg in the process, he and Mark Gatiss (The League of Gentlemen, Doctor Who) have now reinvented Sherlock Holmes for the 21st Century in spectacular fashion. Note to Guy Ritchie. This is how its done.
The old adage in entertainment is that two similar vehicles come along at roughly the same time. For example, when Armageddon was released in 1998, we also had Deep Impact. When The Illusionist was released, we also had The Prestige. Antz and A Bug's Life, Dante's Peak and Volcano, Iron Eagle and Top Gun. I could go on. Sherlock Holmes is no different. However, the contrast between the two productions couldn't be any starker.
'Sherlock' is the latest production from BBC Wales Cardiff and stars Benedict Cumberbatch ('Hawking', 'The Other Boleyn Girl' and the upcoming 'War Horse') as Sherlock Holmes and Martin Freeman ('The Office UK', 'The Hitchhiker's Guide To The Galaxy') as Dr John Watson, in a thoroughly modern remake. The horse drawn carriages have been replaced by taxis, Sherlock prefers to communicate via text message than converse on the telephone, and Watson is returning home from Afghanistan instead of the Boer War. Every detail of the Holmes story is handled with care and clarity, and has clearly been written by two men who very much love the original stories. They even very cleverly handle the suggestion that Holmes and Watson may have been closer than friends, something that comedians have noted for a while, including this sketch by Look Around You co-creator Peter Serafinowicz.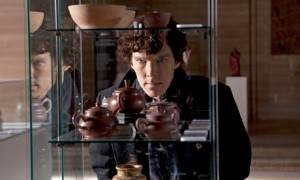 The entire cast is a revelation. Ever since his stunning and mesmerising performance in Hawking back in 2004, Benedict Cumberbatch has been an actor to watch, and he is perfect as Holmes. His breakout performance of a slightly conceited arrogant and somewhat sociopathic Holmes is more like the books than any production since the sad death of Jeremy Brett in 1995. He still takes drugs, he is sexless and has no interest in making friends. Martin Freeman was an inspired piece of casting for Watson. His fame comes mostly from The Office playing Tim (the character that became Jim in the US version of the show) and Arthur Dent in H2G2, and I was worried that he would essentially transpose those two similar "every man" characters into Watson. Luckily, whilst Watson is an every man character, he isn't Tim or Arthur. He is a complex individual, affected by war and his desire to see action beautifully performed with subtlety by Freeman. The supporting cast is also excellent, with Rupert Graves' (The Madness of King George, V for Vendetta) Inspector Lestrade and Una Stubbs (Worzel Gummidge) playing Mrs Hudson standing out in particular.
The three 90-minute episodes blast through at a fast and furious pace. The second episode is unsurprisingly the weakest of the three, taking the least influence from the original books and presenting a story that feels long and unceremoniously sandwiched between a beginning and an end. However, the first and last episode are so impressive with the writing being both fresh and deferential to both the books and the Basil Rathbone and Jeremy Brett productions that you can't help being mesmerised. There are references all over the place. Just try and find them, your brain will ache.
The key to Sherlock is that it feels like it's a production where everyone was genuinely enjoying their time on the show, and it pours through on the screen. Its still Holmes through and through, it's just transposed to a modern era. Some inevitable comparisons to Doctor Who have been made in the British press and on the Internet, in fact Matt Smith auditioned for the role of Watson before he got the part of The Doctor, and got an audition for Who based on that. It's unfair in that The Doctor originally took influence from Arthur Conan Doyle's works, inevitably the production is going to take those influences back.
Where the recent movie of Sherlock Holmes was generally entertaining fair fare, taking 21st Century ideals of a modern blockbuster and transposing them to the Victorian Era can be jarring, transporting Holmes the other way has produced another fantastic piece of television from BBC Wales. Cumberbatch has finally become a star in his own right. If this doesn't make Cumberbatch a world-wide star, then watch out for him in Steven Spielberg's adaption of War Horse next Summer, as that surely will.
Like fellow TVO reviewer Crit Obara, I've been blown away.
The entire series of Sherlock is available in the UK on BBC iPlayer till Sunday August 15th, and released on Region 2 DVD and Region B Blu Ray on Monday August 30th. It will air as part of PBS's Masterpiece segment on October 24th, 31st and November 7th.
Article corrected – Sunday August 15th 2010.
Tell us what's wrong with this post? How could we improve it? :)
Let us improve this post!