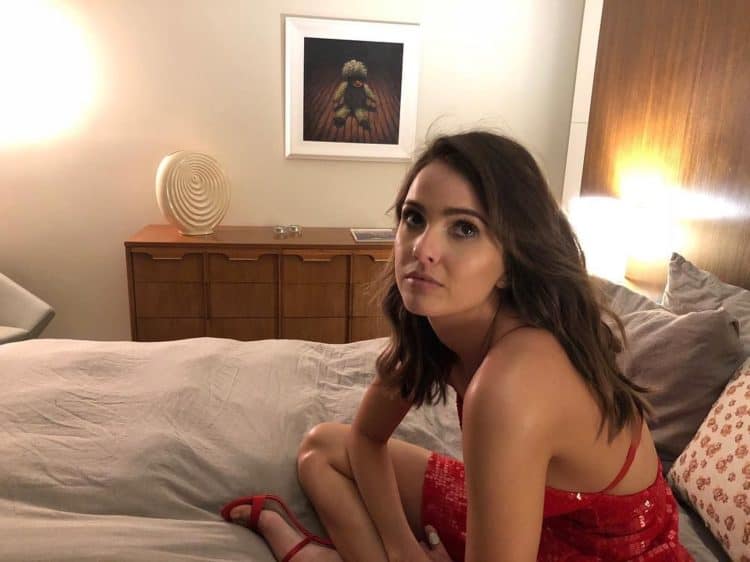 Shelley Hennig is an American actress who should be best-known to a lot of people because of her role as Malia Tate on Teen Wolf. However, it is interesting to note that she got her start in beauty pageants, seeing as how she is a titleholder for Miss Teen USA. Here are 10 things that you may or may not have known about Shelley Hennig:
1. Shelley Is Old English
Shelley is an Old English name that meant something along the lines of either "clearing on the bank" or "meadow on the ledge." It is interesting to note that while Shelley was a male name in historical times, it is now a name used for women either all or almost all of the time.
2. Hennig Is German
Meanwhile, Hennig is German in origin. In short, Hennig is believed to have come from Henneke, which is a nickname of the very popular Johannes. Since the suffix -ing indicates that said individual was the son of someone, it seems probable that the first person to use Hennig for their family name was the son of someone called Hennig.
3. Born in Metairie, LA
Hennig was born in a place called Metairie, which can be found in the state of Louisiana. Technically, Metairie is a census-designated place. However, it is home to a fair number of people, so much so that if it was ever incorporated as a city, it would become the fourth most populous city in the state.
4. Raised in Destrehan, LA
With that said, Hennig was raised in Destrehan, which is another census-designated place that can be found in the metropolitan area centered on New Orleans. Said place is named for a man named Jean-Noël Destréhan de Tours, who served in various roles in Louisiana politics following the Louisiana Purchase. In the present, Destrehan is still home to the Destrehan Plantation, which was of course, owned by said individual when he was still alive.
5. Won Miss Teen USA
In 2003, Hennig won Miss Louisiana Teen USA 2004. As a result, she was entitled to compete in Miss Teen USA 2004, with the result that she came out as the victor over the other competitors. Due to her victory, Hennig went on to make numerous appearances in public, which were in addition to an appearance on Passions. For those who don't remember that name, Passions was a soap opera with a particular fondness for supernatural elements, which were responsible for much of its charm.
6. Sought Own Reality TV Show
Following her stint as Miss Teen USA, Hennig went on MTV to compete on a reality TV show called The Reality TV Show, which saw interested individuals competing for the chance to secure their own reality TV show. Hennig's pitch seems to have been centered on her life following her stint as Miss Teen USA, which is why it was called After the Crown. Unfortunately, she was eliminated in the competition, meaning that she never got the chance to have the reality TV show that she proposed.
7. Went On Days of Our Lives
In 2007, Hennig went on the soap opera called Days of Our Lives, which shares a TV channel with Passions. There, she had a regular role as Stephanie Johnson, a minor character who has nonetheless been played by a couple of actresses before her. Despite this, Hennig went on to appear in numerous episodes, totaling 468 episodes as of 2017.
8. Had a Major Role on The Secret Circle
Later, Hennig had a major role on The Secret Circle, which was one of the supernatural teen dramas that seem to be so popular on The CW. Unfortunately, The Secret Circle never managed to make it into the second season, which was blamed on both falling ratings and high production costs.
9. Currently On Liberty Crossing
Currently, Hennig is a member of the main cast on Liberty Crossing, which is rather unusual. In short, it is a workplace sitcom, which is not particularly unusual. Instead, it is curious because it is set in the National Counterterrorism Center, which can seem like an odd choice indeed.
10. Combated Underage Drinking
Hennig has advocated against underage drinking. For her, this is very personal, seeing as how one of her brothers was killed in a drunk driving incident. Her activities in this regard range from mentoring people to telling people about the potential consequences.