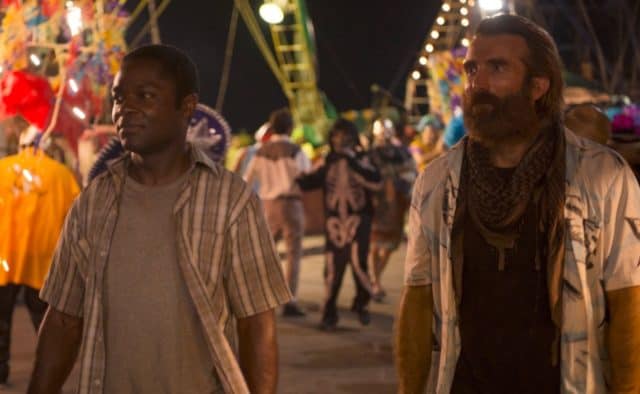 Sharlto Copley, who is known best for some of his crazier roles in various movies, is going to be playing the Unabomber, Ted Kaczynski, in an upcoming film called Ted K. Copley has taken on roles in movies such as District 9, The A-Team, and even Elysium in which he's played a role that is anything but normal, but he's also proven himself to be a great actor at this point and perhaps one of the only people that could pull off such a part based on skill alone. His insanity act is great enough that he brought to life the character of Murdoch in The A-Team so convincingly that it was almost like watching the original in some ways. Of course he kind of went over the top but that's part of what made the role so great despite the less than spectacular success of the movie.
Copley has been in a number of films to date but hasn't seemed to reach megastar status as of yet. He's a proven actor and in this movie is going to get the chance to show a much darker side than anything he's done so far. If you're old enough to recall, Ted Kaczynski is a highly-educated individual that entered Harvard at the age of 16 and went on to become a noted scholar. He also gained an MA and PhD from the University of Michigan before becoming an assistant professor at the University of California, Berkeley. He's a smart man, though it's believed that his time spent in a study as an undergrad at Harvard might have done something to mess him up in a way that is hard to explain but could still be the reason that he eventually went off the rails. In the early 70's he moved into a cabin deep in the woods that had no electricity or running water, isolating himself in a way that some raised their eyebrows at but none really considered all that dangerous.
His bombings didn't begin until 1978 after he'd seen his surroundings being destroyed by continual development, at which time he started out sending simple bombs to individuals that were not as devastating but still had enough of a punch to wound those that opened them. The FBI didn't start in on his case until his attempt to blow up a flight from Chicago to Washington D.C., which is a federal crime and therefore put him on the radar, or at least got the bureau interested in his activities. Thankfully the device malfunctioned and only produced smoke, but this was enough for the flight to require and emergency landing. Had the bomb actually gone off it's believed that it could have down the plane and killed everyone.
Carlto Shopley has a lot on his plate with is one as the Unabomber case was one that garnered a lot of attention and became something that was highly controversial after a while considering the direction it went in. He's a great actor, and should be able to do this, but it's still going to be a challenge.