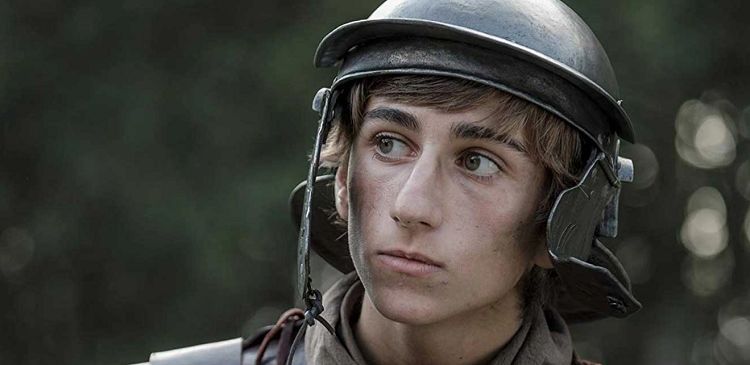 Sebastian Croft was born and raised in England, but he is slowly becoming known to people all over the world thanks to his talents as an actor. Since making his on-screen debut less than a decade ago, Sebastian has built an impressive resume that includes a nice variety of credits. His ability to embody all kinds of characters has earned him a lot of respect and he's ready to keep showing the world what he can do. Sebastian has a starring role in an upcoming Netflix original series called Heartstopper which centers around two teenage boys who start to realize that their friendship could be something more. Keep reading for 10 things you didn't know about Sebastian Croft.
1. He Started Acting As A Child
Sebastian discovered his love for acting at a very early age. During an interview with The Light, Sebastian said, "I've been acting since I was about seven, and started my acting journey at [drama school] Stagecoach. I wouldn't be doing what I am now if it wasn't for it and Julia Howson, who was head of Stagecoach Abingdon."
2. He Was In A Music Video
Most of Sebastian's professional acting experience has been in movies or TV shows. However, his first on-screen appearance was actually in a music video. In 2014, he was in the video for Idina Menzel's version of "Baby It's Cold Outside". Unfortunately, the video is not available on YouTube.
3. He Suffers From Dyslexia
Dyslexia is a learning disability that impacts countless people all over the world and Sesabstian Croft is one of them. During his interview with The Light, he shared this information and also added that Horrible Horrors were the only books that he like reading.
4. He Has Theater Experience
Sebastian's on-screen work is what has gotten him the most attention over the years. However, like many actors, his acting journey began on the stage. He has gotten lots of theater experience over the years with roles in productions of plays like Les Misérables and Oliver!
5. He Loves Fashion
Acting is Sebastian's first love, but it isn't the only thing that interests him. He is also very interested in fashion and he has a great sense of style. No matter the occasion, he knows how to put together a good look. It'll be interesting to see if he decides to get into the professional modeling world.
6. He's A Michael Caine Fan
Just because Sebastian has been acting for most of his life doesn't mean that he isn't a fan as well. While talking to OC Movie Reviews, he shared that he enjoys Michael Caine's work and he hopes that the two will be able to work together some day. He would also like to work with Timothée Chalamet. Hopefully, he will eventually get the chance to collaborate with both of them.
7. He's A Private Person
There are plenty of actors who enjoy sharing their personal lives, but Sebastian doesn't appear to be one of them. Sebastian hasn't shared much information about his personal life in interviews or on social media. Instead, he likes to keep the focus on his career. Since it's no secret that things don't always go well when people in the spotlight open up too much, it's easy to see why he's chosen to take a more private approach.
8. He Loves a Good Adventure
Due to his acting career, a lot of things in Sebastian's life have been very different from most people's. However, despite starting his career journey during childhood, he still does his best to enjoy the 'normal' things in life. When he isn't busy with work, you can usually find him enjoying time with his friends and he loves doing things like traveling and exploring.
9. He Was Nominated For A BAFTA
The success of an actor's career is typically measured by the number of awards they've won. Although Sebastian has yet to take home any awards, he's certainly on the right track. In 2019, he was nominated for a British Academy Children's Award in the Young Performer category for his role in Horrible Histories: The Movie – Rotten Romans. Hopefully, in the future, there will be more nominations and some wins.
10. He Was in Game of Thrones
At the moment, Sebastian only has 14 on-screen credits on his resume. However, among those credits are some very impressive projects. One of Sebastian's most noteworthy on-screen appearances was the popular TV series Game of Thrones. He appeared in two episodes of the show in 2016 in which he played the younger version of Ned Stark.
Tell us what's wrong with this post? How could we improve it? :)
Let us improve this post!