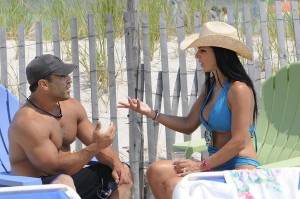 Four words to describe tonight's season for premiere of The Real Housewives of New Jersey: Still awkward as hell.
The drama between Teresa Giudice and her brother Joe Gorga and his wife Melissa dominated last night's premiere as the families got together for a trip to the Jersey Shore to blow off some steam. Meanwhile, Caroline Manzo and Jacqueline Laurita had their own issues to deal with. Let's do a roll call to see what each Housewife was up to since we last saw them last season. Fair warning: They haven't been up to much…
Caroline
Extremely pissed and irritated at Teresa's remarks in the cookbook about her and her family, Caroline made it clear that she was not a happy cookie when it came to her former close friend. Even though the two talked about the book and its contents, the conversation did nothing but irritate Caroline even more. This turned out to be a bad thing as Caroline later learned in the premiere that her migraines and other issues were signs of menopause and that she needs to be as stress free as possible. Did Caroline's doctor not see that she was a cast member on The Real Housewives of New Jersey? Maybe a year off would have been a great idea for her. Just saying.
Jacqueline
Our girl Jacqueline was still trying to find a means to patch things up between Caroline and Teresa. But since Caroline wasn't buying anything Teresa was selling and Teresa still not getting that Caroline was hotter than an Italian sausage, Jacqueline mainly dealt with her own issue, which was that of her daughter Ashley. After consulting with her life coach (WTF?!) and stressing to her husband Chris that a change, not a band-aid, is needed to cure the problem, Chris gave Ashley an ultimatum to go stay with family out in Las Vegas or she was going to seriously be cut off for good. Luckily, Ashley conceded without a fight this time, but how long will this solution last?
Kathy
The more subdued New Jersey Housewife pretty much gave commentary on how much she wishes that her cousins and her family could all bond together like they used to. In other words, nothing's changed for her.
Melissa
After hearing about Teresa's cookbook and trying her damnedest to not throw a punch in the matter, Melissa pretty much listened while Joe, her sister, brother-in-law, and Joe Gorga's family bashed Teresa in the first thirty minutes of the show. However, after hearing that Teresa told Joe Gorga that she would leave if a richer man came along, Melissa conceded that any reconciliation between her and her sister-in-law was far from being accomplished anytime soon. Again, nothing new here.
Teresa
After pretty much insulting the entire cast with her new cookbook, Teresa continued to rock her "Everything's Fine!" and "It was all just a joke!" outlook on life. With that said, it was clear that the tabloid's rants about Joe Giudice cheating on her were smearing her rose-colored glasses a bit.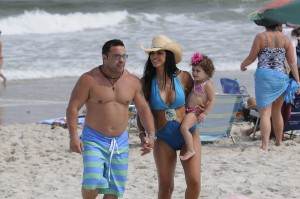 Especially when Gia is picking up on a lot after asking Joe about his many business deals in Atlantic City with "girls" whose names he forgot. Not saying that I think Joe is actually cheating or not. It's just that his actions don't help his case at all. Finally, Teresa and Joe tried again to make peace at the end of the episode, but it is clear by the trailers that this truce is going to go up in smoke sometime this season.
First Impressions
The season four premiere of the Real Housewives of New Jersey was a tough pill to swallow for several reasons. However, I did somewhat like how the episode started out, which was with a clip from last season's dreadful reunion special that set the timeline of the new season perfectly. It seems that the premiere took place four months before the reunion was taped, which means that there is still a glimmer of hope for the warring families and friends to change gears and come together by year's end. But… a big piece of me doesn't see that happening, and worse, I don't care if a reconciliation happens at this point.
As one family member makes strides to come together, another family member makes strides to ransack all chances of a truce. It's basically a wash/rinse/repeat cycle that never ends it seems. And it's not always Teresa, Melissa, or the two Joes, either. There are way too many outside forces, within the Gorga/Giudice clan and out, contributing to enabling these two families to split further apart. If Teresa and Melissa can take their husbands somewhere private and discuss their issues among the four of them without a cousin, sister-in-law, friend, or blog, then I'm sure that some type of improvement can be made. However, Teresa Giudice will clearly be this season's villain, and it seems like there will be everything thrown at her to make sure that role sticks on her. It's a shame, really, but I guess a show has to be made, right?
So again, I feel like I'm repeating myself from last year concerning the Gorga vs. Giudice storyline becoming the focal point of the Real Housewives of New Jersey, casting a damning shadow over what used to be somewhat "light-hearted" entertainment. I hope the show picks up in tone and direction soon, because I can only take so much and my patience is running thinner than a punishment thrown at Ashley at this point.
So what did you guys think about the Real Housewives of New Jersey season premiere?
Photo by: Andrei Jackamets/Bravo
Tell us what's wrong with this post? How could we improve it? :)
Let us improve this post!