The series opens as Cheryl (Virginia Madsen) and Wolf West (David James Elliott) are about to get busy in the bedroom. Wolf keeps asking about things that need to be done and Cheryl reassures him that those things are done or will be taken care of, so focus on what they are doing now. Though the two do not get very far with each other, as the Palm Springs police arrive to the West residence for answers to a case. With a search warrant in tow Sergeant Mack (Carlos Bernard) informs Wolf that their son Cal (Patrick John Flueger) might be involved in a home invasion. Cheryl wakes the kids up, but Cal is missing from his bedroom and Cheryl is not thrilled with this discovery! With no arrest warrant for Cal, Sergeant Mack and his team are excused by Wolf, as Wolf has a court appearance to attend to.
But as Cheryl is trying to get the cops out of the house, the scream of her daughter Heather (Leven Rambin) is heard nearby. Cheryl comes to find Heather, mortified in her bedroom as a cop has found a portfolio of classy yet provocative photos. Cheryl takes a look at the portfolio for the first time and is outraged at Heather's future career choice. Heather tries to show her maturity and personal growth by mentioning that this path is not crime and all she has to do to move forward is pay her photographer for the best photos that she has taken. After hearing this, Cheryl really puts her foot down, stating, 'Okay wait a minute. Let me get this straight. You take off your clothes for this man and you pay him? This guy isn't getting one more cent.'Cheryl dismisses Heather and the family comes together to say goodbye to Wolf. The family lawyer, cousin J.J. assures the family that Wolf would only be in jail for 4 months…but little do they know, that is far from what the outcome will be.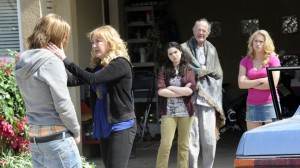 Cheryl's goal was to head straight to Wolf's court hearing, but before she even makes it out the door, there is a phone call about her father in law (John Lawlor) who has alzheimer's. So she rounds up the kids and heads over to Grandpa West's house. Meanwhile, at the court house, Wolf runs into his son and Cal's twin brother, Logan (Patrick John Flueger) who is preparing for his bar ceremony that the family will be attending later that evening. Back to the rest of the clan, the West family arrives back home with Grandpa in tow. Cheryl's youngest, Hope (Vanessa Marano) shares her thoughts on Grandpa's stay, saying to him 'It'll be a little crowded Grandpa. Sort of like prison, but it will be fun.'Hope is ordered to school and Heather to watch over Grandpa, just as Cal is arriving. Cheryl questions Cal about his whereabouts and lets him know that the police might be after him. Finally, Cheryl arrives at the courthouse…only to find out that Wolf has been sentenced to 5 years, not 4 months in prison.
Off to tell the children the news, Cheryl heads to Hope's school first. Unfortunately she finds out that Hope has been missing from school for months due to lupus, which she doesn't even have. Hope got away with it by blackmailing Principal Bottoms who had a fling with Logan when he was 17 years old. Though Cheryl doesn't know this, she did just find out that Cal was indeed involved in the home invasion, as his ski mask was left at the home that was robbed. Cal and Cheryl talk it out and then Cheryl heads home…only to find out that Heather has gone to the photographer to get the rest of her photos! Heather shows her smarts by tricking Rene into giving her the rest of the photos at no charge. But since mom knows best, Cheryl holds onto the photos. On one of the lasts trips of the day, Cheryl heads to visit Wolf in prison. She is not happy with whatever it is Wolf told Cal when Cal decided to visit him, so she puts her foot down, talks about some other things, and then has a breakdown in her car. After the breakdown, she clears out the bank accounts and pitches a proposal to the Asian family that Cal stole from. When arriving home, Cheryl rounds up the kids to announce that the family will no longer live the criminal lifestyle. She informs everyone that she is on the job hunt, Heather will start work at Rusty's Burgers shortly, Hope's school attendance will be spotless from now on, and Cal will work to pay off the robbery by working for the family he stole from instead of going to jail. After that complete shocker and downer for the kids, everyone celebrates Logan's bar ceremony. Hooray! Only Sergeant Mack stops by the party. Cheryl approaches him to announce that the family is turning over a new leaf. Of course he is just as bewildered as the children and even Wolf are. Only time will tell how well this leaf has been turned.
What did you think of the premiere?
Scoundrels is based on the Pilot episode from the New Zealand series, 'Outrageous Fortunes.'
Scoundrels airs Sundays at 9/8c on ABC.
Tell us what's wrong with this post? How could we improve it? :)
Let us improve this post!