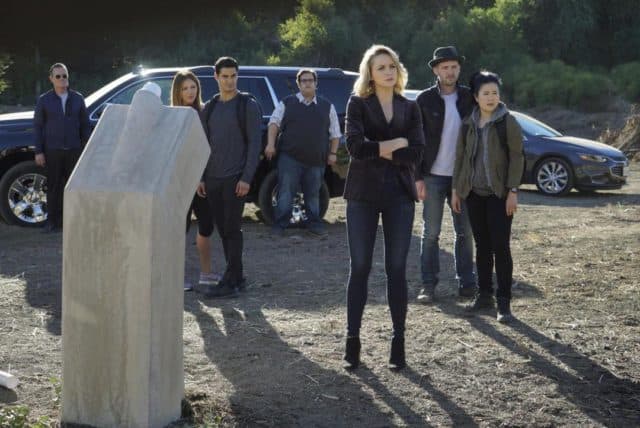 Team Scorpion find themselves trapped in a doomsday bunker run by AI in this week's Scorpion. I'd say "May the odds be ever in your favor," but this has nothing to do with the Hunger Games. Walter also comes to terms with his Christmas coma dream where he marries Florence.
When Paige said that SafeCorp, the company that hired the team this week, has their on-site behaviorist, I immediately thought of Toby's ex-fiancee, Amy. She has a Ph.D. and can psychoanalyze the Harvard-trained shrink to calm him down. What I didn't expect is Toby's nemesis Quincy Berkstead. Things would have gone smoothingly had not Toby shown up and got himself and everyone else locked in the fancy bunker. Then again, Quincy's the one who set up Toby as a potential threat when programming the AI Dorie. So in a way, it's both their faults.
Speaking of Team Scorpion's resident behaviorist, I felt sympathetic toward him. His honeymoon with Happy in Mexico didn't go as well as he thought. That and he couldn't perform in the bedroom when it came down to it. At least he came to terms with his state of mind at the end of the hour and made up for lost honeymoon time with his wife.
I also felt sympathetic toward Amy. She has always been second best when it comes to her relationships. With Toby, it's gambling first, fiancee second. With Quincy, it's career first, wife second. I applauded her for sticking it to her hopefully soon to be ex-husband that he has no guts. Atta-girl, Amy! You tell him!
Kudos to Sylvester as well for finally stumping Dorie with a problem that the AI couldn't solve. Though I wish the human calculator would've thought of that in the first place instead of coming up with riddles and puzzles that were easily solvable. On the other hand, I would have done the same thing.
In the end, the team, along with Amy and Quincy, got out of the bunker before Dorie could release a deadly gas. Walter told Florence the reason for his odd behavior, and the latter took it well, but I am still worried about Waige. I had a feeling that Paige would not be happy when Walter told her about his coma dream, and I was right. It looks like you have some explaining to do, Mr. 197. Maybe Toby can act as a mediator? Just a suggestion!
Final Thoughts:
I agree with Agent Gallo about our dependence on technology. We use it for everything in our lives, and those of us who rely on the Internet for work would know better than anyone. I sincerely hope it wouldn't come to Rise of the Machines.
Walter's version of Google Home and Amazon Echo is intriguing. I wish he would have used another picture of himself rather than the awkward smiling one.
Paige's idea to use the parachute to lift Toby out of the shaft was brilliant. She may not be a genius, but she can be quite smart in other ways.
When Quincy got into a safe room in the bunker and left everyone else out was a dick move. I disliked him before when I first saw him in previous seasons, and I still hate him now. He is a coward who thinks about himself more than others. Karma will get you one day, Quincy Berkstead! Mark my words! Don't even get me started on those staged honeymoon photos!
Photo via CBS
Tell us what's wrong with this post? How could we improve it? :)
Let us improve this post!