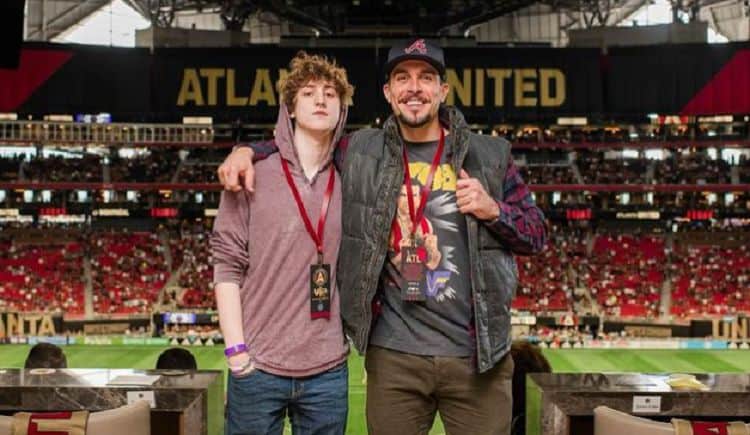 Just a few years ago, Sammy Fourlas was a typical college student enjoying his time at school. However, he was almost instantly thrust into the spotlight when his TikTok account started to take off. After making a few viral videos, he built a large following that now includes over a million people. Now, however, he's getting ready to expand far beyond social media. Sammy will have a role in an upcoming TV series called The Big Door Prize and it will mark his first TV role. If things go well, there's a good chance we could be seeing a lot more of Sammy on our screens in the years to come. Continue reading for 10 things you didn't know about Sammy Fourlas.
1. He's From Illinois
Sammy may be on the fast track to Hollywood, but he will always be a midwestern boy at heart. He was born and raised in Highland Park, Illinois and he has a brother named Thano. Outside of that, there isn't much information about his family life or his upbringing.
2. He's A Musician
Sammy's comedic content is what lots of people know him for, but that isn't the only way he likes to keep people entertained. Sammy is also a musician and he has released a handful of singles over the years. It's unclear if he has plans to release a full-length project.
3. He's In a Relationship
Now that Sammy's star is really on the rise, there are probably even more people who want to slide into his DMs. Unfortunately for all of those people, though, Sammy is already spoken for. He appears to be in a relationship with a woman named Katie Florence. It's unclear how long they've been together, but their relationship seems to be going strong.
4. He Has a YouTube Channel
TikTok is the platform where Sammy has gotten lots of attention, but he has also taken his talents to other platforms. He started a YouTube channel in the fall of 2020. Although he has more than 3,700 subscribers, his channel doesn't have much content and the content he has posted is originally from TikTok.
5. He Has Nearly 45 Million Likes on TikTok
We've already established the fact that Sammy has a pretty large following on TikTok, but his following isn't the only thing that's impressive. Sammy also gets a high amount of engagement. His TikTok currently has 43.5 million likes. Unfortunately, however, he isn't very active on TikTok anymore.
6. He Sells Merch
If you're one of Sammy's fans, you'll be happy to know that following him on social media isn't the only way to support what he does. He also has an online store where he sells a variety of branded items. At the moment, his store includes things like masks, hoodies, mugs, and phone cases.
7. He Has An Account on Cameo
Sammy is grateful for all of the people who have supported him so far in his journey, and he likes to be able to show that love right back. Sammy is active on Cameo where he records and sells personalized video shoutouts for $10. Currently, he is also offering a 24-hour turnaround on orders.
8. He Likes to Play Video Games
Since Sammy's content doesn't center around video games, some people out there will be surprised to find out that he is a gamer. Occasionally, he even live streams on Twitch. Unfortunately, we weren't able to find any details on what kinds of games he likes to play other than Fortnite.
9. He's a Private Person
Despite spending the last few years in the spotlight, Sammy hasn't gotten caught up in all of the attention. For the most part, he has chosen to keep his personal life separate from his online persona. This seems to be very common among younger influencers who typically prefer to stay as private as possible. As he gets more into acting and starts doing interviews, there's a chance he may decide to share a little bit more about his personal life.
10. It's Unclear If He's Had Formal Acting Training
As mentioned earlier, Sammy's role in The Big Door Prize will be his first professional acting gig. We weren't able to track down any information on what inspired him to get into acting, or if he has ever taken any acting classes. Regardless of the path he's taken, though, landing an on-screen opportunity is definitely something to be proud of. There are some people who spend their entire lives wanting to act and still never get the opportunity to be part of a TV show.
Tell us what's wrong with this post? How could we improve it? :)
Let us improve this post!