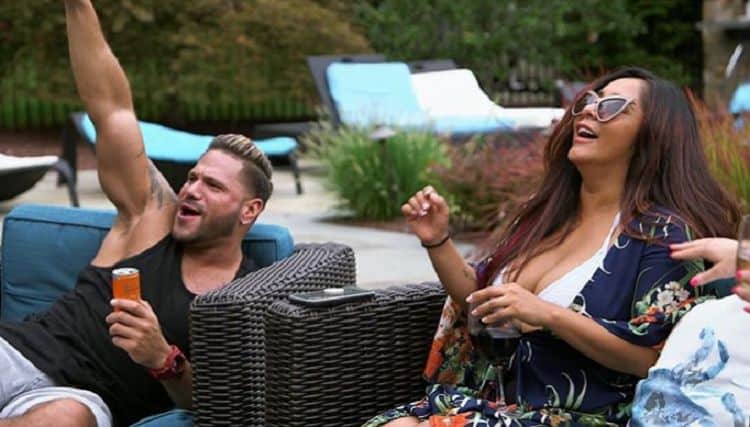 Ronnie Ortiz-Magro first rose to fame as one of the original cast members of MTV's Jersey Shore. Since then, he's become as notorious for his tumultuous relationships as he has for his TV appearances. Currently embroiled in a domestic abuse case involving his ex-girlfriend Jen Harley, the troubled star's future hangs in the balance. Discover more with these 10 intriguing facts.
1. The Elusive Ron Ron Juice
When Jersey Shore ended in 2012, the cast members had to figure out their next steps. For Ronnie, the options were simple — return to working in real estate with his dad (his pre-fame occupation) or capitalize on his celebrity by launching Ron Ron Juice, the boozy, watermelon-based cocktail he'd spent years perfecting. Despite his ambitious plans to sell it through Walmart and CVS, as of 2020, we're still waiting for a taste.
2. The Short-Lived Smush Brand Apparel
Following his rise to fame on Jersey Shore, Ronnie launched Smush Brand Apparel, a line of t-shirts and sweats featuring catchy slogans like "Come at Me Bro" and "GTS: Gym Tan Smush." Unfortunately, the brand failed to make a lasting impact on the fashion world.
3. Ronnie's Shore Store: A Brief Venture
After the launch of Smush Brand Apparel, Ronnie decided to try his hand at retail with his own business. Ronnie's Shore Store opened in 2012, attracting huge crowds to its launch at 1084 Morris Park Avenue. Stocking everything a partygoer would need (clothes-wise, at least) along with Ronnie's own Smush Brand Apparel, it seemed like a surefire hit. However, the store eventually went out of business.
4. A Budding Interest in Cannabis
After abandoning his fashion aspirations, Ronnie set his sights on the cannabis industry. "I was always a smoker more than a drinker. It did wonders for me, especially with my anxiety," he told Inked Mag. "And I was a productive pothead. I would smoke before the gym, I would smoke before talk shows and nobody ever knew." Ronnie went into partnership with Shea Alderete from Gen-X Biotech and Packwood, hoping to make his hobby pay off.
5. The Birth of Daddy's Princess
Ronnie's first child with Jen Harley, Ariana Sky Magro, was born in April 2018. Claiming the birth of his daughter was a turning point, Ronnie has called Ariana his "best friend", telling Inked Mag, "I was the first person she saw, I was the first to hold her. She's got me wrapped around her finger and she's only 10 months old. I can only imagine the next few years. She's going to be 15-years old [saying] 'What's your Venmo password?'"
6. The Ronnie and Sammi Saga
Before Ronnie and Jen, there was Ronnie and Sammi. The couple, who met on Jersey Shore, were together, on and off, for 8 years, making it one of Ronnie's longest relationships to date. The two broke up after Ronnie, feeling pressured by Sammi's desire to get married, cheated. "She gave me a timeline. She said 'I want to get married in six months'," he told Fox News. "I got cold feet. I wanted to do the right thing, but I didn't do it. I ended up cheating. I blew it."
7. The Volatile Ronnie and Jen Relationship
Almost from the moment they got together, Ronnie and Jen Harley's relationship was fraught with drama. In July 2019, Ronnie filed a battery charge against Jen after accusing her of throwing an ashtray at him. The charges were later dropped, and the pair reunited. By September, it was over again, with Jen leaving the family home amid rumors that Ronnie had been spotted with a "mystery woman".
8. The Kidnapping Case
Jen and Ronnie's tumultuous history took a dark turn in October 2019. Following an alleged altercation with Jen, Ronnie was arrested on a kidnapping charge. The charge was later dropped, only to be replaced with ones for domestic violence, brandishing a weapon, resisting arrest (he was eventually subdued with 'minor force', a taser, and a gurney), child endangerment, and making criminal threats. Ronnie was ordered to stay away from both Harley and, for a period, his daughter, by court order.
9. A History of Aggression
Jen isn't the first of Ronnie's girlfriends to accuse him of aggressive behavior. For a brief period between 2016 and 2017, Ronnie dated actress Malika Haqq. After the relationship ended, Malika shared her experience with People, saying, "Ronnie and I are truly opposites. His language is very aggressive. It's verbally aggressive, it's physically aggressive. It's the way he expresses himself."
10. Roger's Defense of Ronnie
After Ronnie's kidnapping charge came to light, one man stood by him: Jenni "JWoww" Farley's ex, Roger Matthews. However, given Roger's own history of domestic issues (Farley took out a restraining order after their split), his support may not have helped public perception. "Two people can be good but still be bad for each other and bring out the worst in each other," Mathews told US Weekly. "We're all flawed but time and self-growth can redeem almost any of us."
Tell us what's wrong with this post? How could we improve it? :)
Let us improve this post!