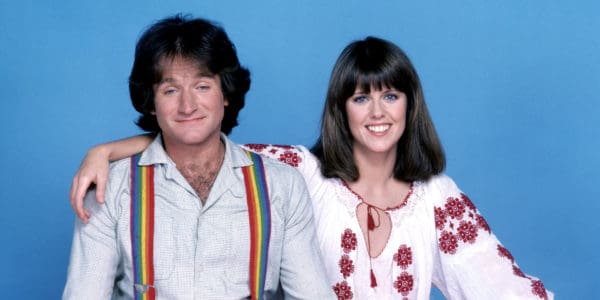 Robin Williams's suicide came as devastating news to many who knew him and the entire Hollywood. Before his death in August 2014, he had once said that the saddest people always try to make others happy. Could he have been silently suffering and felt sad and hid his feeling behind the lenses? He had too much going on in his life from coming to terms with divorce and remarrying. His career was not progressing, and he was diagnosed with Parkinson's disease. An autopsy would later reveal he had Lewy body dementia (brain disorder with an associated risk of suicide). He brought laughter to the world and cry for his death. In his better days, he left a legacy; his acting had a mixture of humor as well as sadness. Here's a look at some of his overlooked performances from the 80s.
Mork and Mindy
Mork & Mindy is an American situation comedy (sitcom) that aired on ABC from September 14, 1978, to May 27, 1982. Robin Williams (Mork) takes up his role as the movie star who does not live on earth. Funny enough, Robin ages backward and knows nothing about human beings. He has come from planet Ork to Earth, flying an Orkan egg-shaped spaceship. He has been sent to study the earth, and the people then give a full report to his superior, Orson, played by Ralph James (the superior is unseen). That's when he meets Pam Dawber (Mindy McConnell), who agrees to shelter him. She is an average woman who takes funny adventures. Mork does his best to learn human acting, life, and looking along the way. He is talented and can impersonate celebrity voices. Finally, the friendship between him and Mindy becomes glued as they start a relationship. Eventually, they marry and bear a son, Mearth, from Earth, played by Jonathan Winters. It's hilarious that Mearth ages backward in the same way as his father.
Popeye (1980)
Popeye (Robin Williams), a sailor, starts his journey to a port town called Sweethaven. He is looking for his father (Ray Walston), who left when he was a baby. Popeye makes friends with many people, Olive Oyl (Shelley Duvall), with whom he fell in love. She had a bully suitor Bluto (Paul L. Smith). Bluto is a town bully who commands Sweethaven on behalf of his master. He is angry and wants to revenge since his fiancé left him for another man. Popeye, in his duties, had found an abandoned baby, Swee'Pea, whom he raises as his kid. So, the bully kidnapped Olive and the child. The abandoned child can predict the future if he gets the right question. It forced Popeye to run away with the child to avoid his exploitation. Popeye hates spinach, but as he later meets his father on the ship, he finds strength and can save himself and Olive. And that's how he defeats Bluto by using his magic spinach!
The World According to Garp
During the Second World War, Jenny Fields, played by Glenn Close, a nurse, conceives with a pilot. The pilot is dying, and Jenny gives birth to T.S. Garp, played by Robin Williams. Having been born after the death of his dad, Jenny raises him alone. Garp's life will then take a twist as he fights cruelty, violence, and the destructive life of his age and time. Garp manages to succeed in his fiction writing but not as much as his mother. However, he thinks highly of himself as a "serious" writer. His mother, Jenny, starts a feminist journal. She becomes a source of hope for all the women around her in distress. Jenny becomes rich and famous from her wiring. Later she opens a center for distressed women. When Garp marries and has children, his writing career remains critically constant. He is only left as an observer of the strange community that forms around her mother. Despite all the problems Garp faces, he can shift, adapt and change with every new challenge. It's simply a beautiful film with a poetic repose.
Moscow on the Hudson (1984)
Moscow on the Hudson is a story of Vladimir Ivanoff (Robin Williams), who plays saxophone with the Moscow circus. At the movie's start, a newly arrived Frenchman is on the wrong New York bus, and he offers to direct him to the right bus. That's when the flashback takes you to Vladimir taking a bus in Russia as they prepare to visit New York for a circus. In Russia, getting tissue paper is hectic, and when he finally queues and takes some home, the family is delighted. When the circus is done with their performance, Vladimir decided to defect from the group. He bids goodbye to his saxophone and the group. He is housed by Lionel Witherspoon (Cleavant Derricks) and starts looking for work. Despite his little Knowledge of English, he is adapting well to American culture. News about his grandfather's death took him back to Russia. In the end, Vladimir secures a job as a saxophonist in the band of a Russian nightclub just in good time to play the music he loves during the day.
The Best of Times (1986)
Jack Dundee (Robin Williams) is a married banker who has never forgiven himself after messing up during the high school football game. Reno Hightower (Kurt Russell), his high school friend, threw the pass that Jack dropped. When they reunited, Reno has too many debts resulting from his car garage business. Reno and Jack come up with a plan to unite the former team players from the old game. They want to replay the game, hoping to give themselves a second chance for redemption. They get the old players with time, and Jack again is at the center of a critical play. Reno reminds Jack that half the people watching the game want to see if he catches the ball while the other half want to see him drop the ball. And if he drops the 'damn thing' again, his life is over. The game ended with a tie. Once again, a played game is arranged, and the movie ends, leaving Reno and Jack happy since they have redeemed themselves. The Best of Times helps you learn to undo the past and free yourself from what makes you feel unworthy. It teaches self-redemption!