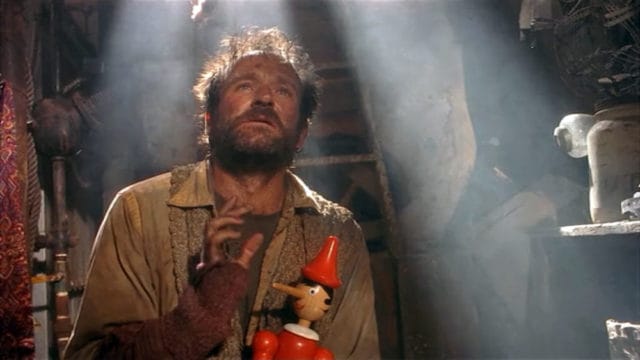 Robin Williams was known for many years as a funny man that relied heavily on comedy and his plucky sense of humor to push a movie. But many times he also went completely serious and showed that he had the acting talent that could carry him along as well, eschewing the comedic act in order to show that he wasn't just a one-trick pony and that he did have a lot more depth to him than people realized. A good number of his movies managed to showcase just how great of an actor he really was.
It wasn't always the laughs that got him noticed.
5. What Dreams May Come – Chris Nielsen
Overall this film is about the possibility of what might happen if the love between two individuals is strong enough, and whether or not they can rescue one another from the depths of a hell created by their own failings and ascend to a heaven where they might finally know peace. The journey that is taken during the film is one that is both perilous and very meaningful as it makes its way through the human psyche and relies heavily on the strength of the human heart.
4. Dead Poets Society – John Keating
The makers of men that exist within prep schools are those that believe that pillars of wisdom and things such as honor, determination, and ambition are the ways to go and the things to teach young men. They're not wrong, but clinging to old, stodgy and outdated concepts was not John Keating's strong point, nor did he seek to make it as such. Instead he taught his students to be free-thinkers and innovators of a world that they had yet to see in its entirety.
3. Good Will Hunting – Sean
Sean was bound to tell things the way they were, especially when it came down to matching wills with a troubled young man that came from the same end of town that he did. The tests they put each other through were emotionally draining but in the end it was the one with the wisdom to know just where and how hard to push that won out, as Will was stripped bare, emotionally-speaking, and allowed to finally realize that his life was his own.
2. One Hour Photo – Seymor Parrish
Anyone with an obsession is someone you might at least want to keep your eye on. But someone like Sy, who's obsession leads him to do things that many people would never think of, is someone that might really need some professional help. Barring that, it might be best if he was kept under constant surveillance just to make sure that he never acted on his strange obsession. But the last place you'd want him working is a photo mart.
1. The World According to Garp – T.S. Garp
Life wasn't entirely fair to Garp but he took it all in stride and continued forward as much as he could. After all he had a disposition that was something of a rarity for someone that things kept happening to, and that was one of the character's gifts that helped him through.
It was also a gift of Robin Williams, who made a lot of people feel better about themselves even when he was feeling particularly down.