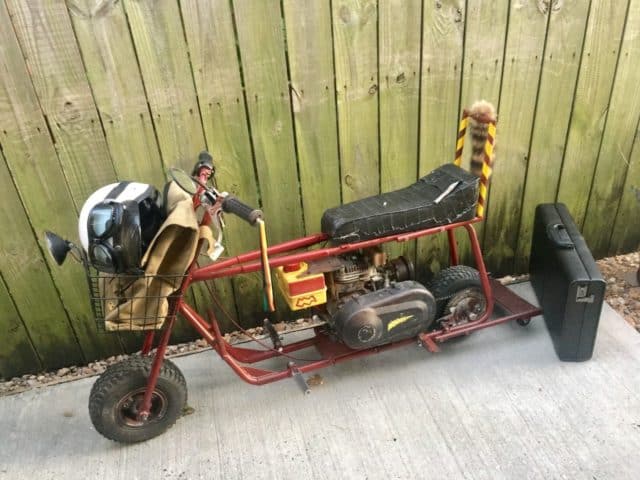 To this day I'm still amazed what people will buy. The bike from Dumb and Dumber is up for auction on eBay and as of now the price is well over $29,000. I don't know whether to shake my head or call out the people that are trying to sell it and wonder if they have a certificate of authenticity. The site has the photos and even has a picture of the mountain pass where they shot the scene of Lloyd and Harry making their way to Aspen, but I'm still not quite convinced. It's simply too easy for people to make these kind of things anymore to really trust anyone, and even then I don't see forking over that much money for something that's going to be a showpiece that collects dust. I'm not much of a collector though when it comes to bigger things, so maybe I just don't get it.
I understand the idea of owning movie history, but this thing was one prop among many when it came to Dumb and Dumber. It was there for a few moments in the movie and then it was discarded just as quickly. The Shaggin' Wagon would have been a better draw I think to get a good chunk of change for charity, as it was a bit more iconic to the movie than the scooter was. I can imagine the idea of getting up to 70 miles to the gallon on this thing would be enticing if you were a kid that needed to go five miles one way and five miles back, but the rig doesn't look like it would hold more than a gallon anyway. A bigger gas tank might slow it down even more.
The movie was funny as all hell and the acting was good enough to deserve more attention than it got, but thinking that this scooter is worth this much is kind of strange. I know someone will probably buy it to say that they've got a piece of movie history of their very own but after that it will likely sit in their house or their garage until they either get rid of it or decide to unload it on someone else and try to get their money back. Or it might not sell and go right back into a warehouse where it will still collect dust until it's used for spare parts or a gimmick of some sort. '
I know how cynical this sounds but it's getting to the point that anything and everything in a movie is being deemed as important enough to charge through the nose for it. Some of the stuff that comes from movies is pretty cool and is worth being seen as conversation piece. But other stuff, like this scooter, is basically a prop that was used and then put away for later use or just to molder in the corner as a forgotten memory. Unloading it on someone for as much as is being asked is kind of hard to fathom.