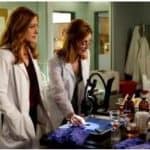 Rizzoli & Isles investigate the murder of a legal intern impersonating an au pair. The murder, however, takes a backseat to the emotional reactions of the characters when Maura Isles (Sasha Alexander) thinks she has found her biological mother. Played to the hilt, Alexander's emotional reactions run the gamut from hysterical sobbing to unfettered hope to hives.
Guest star, Sharon Lawrence, plays Dr. Hope Martin, now a renowned doctor who had an illegitimate daughter with future Boston crime boss, Paddy Doyle. (Doyle had taken the baby, told Hope that the baby was stillborn and gave the infant to another woman.) Maura makes the connection between herself and Hope while researching the au pair's murder.
Telling Jane (Angie Harmon) that her biological mother may be the key to solving the murder, Detective Rizzoli calls in Maura's mother for help. Hope's efforts help unfold the victim's deception, as well as the deception of a Congressional candidate and his aide. The expression of 'Throwing Down The Gauntlet'runs both literally and figuratively throughout this episode if Rizzoli & Isles.
The cast has ample opportunity to exploit its phenomenal comic timing with the arrival of Sister Winifred (Jenny O'Hara), a nun from Jane and Frankie Jr.'s (Jordan Bridges) grade school. Although Sister Winifred moves into the precinct to counsel victim's families, she spends most of her time instructing the precinct on comportment. The funniest moments come when Jane sings, and Detective Barry Frost (Lee Thompson Young) is teased by Detective Vince Korsak (Bruce McGill) about his real name. Also on hand is recurring character, Giovanni Gilberti (Matthew del Negro) who hits on Jane's mom, Angela (Lorraine Bracco) with his most inept Casanova style.
The real heart of this Rizzoli & Isles episode, however, is the relationship between Dr. Isles and Dr. Martin. If the two women are not biological mother and daughter, the eerie similarities might be a case for alien cloning or parallel universes. Watching Alexander mine the full range of Maura's emotional reactions is a treat. Harmon's facial expressions when confronted by Sister Winifred and Giovanni are priceless.
The 'Throwing Down The Gauntlet'episode will re-air within the next weeks and original episodes of Rizzoli & Isles air on TNT on Tuesdays at 9pm.