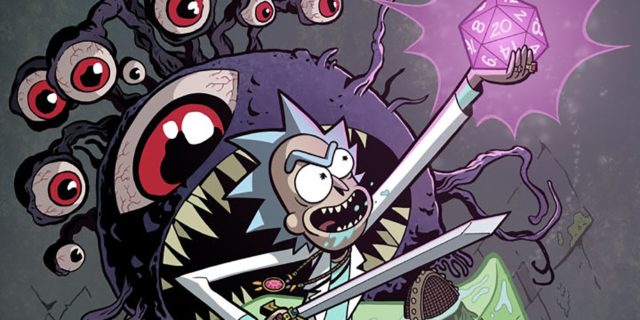 There are, obviously, many different fan favorites out there in the entertainment industry, whether it be in film, television, or even video gaming. The best for fans, however, is when we see mashups of some of our most favorite shows and games, and we are seeing just that in a new comic series that has just been released. This comic series combines the ever popular animated television series, 'Rick & Morty', and the also popular video game of 'Dungeons & Dragons'. This crossover comic series takes from two entirely different worlds, but it is making the biggest of fans geek out at all of the crazy shenanigans it has to hold. In this article, we are going to give you all of the details that we know about this new comic series that is making its debut. Let's get started.
Publication And Creation Details
With the popularity that has surrounded both of these entertainment realms in the past few years, it is surprising that no one has come up with the idea of a mashup between 'Rick and Morty' and 'Dungeons and Dragons' before this. As of now, the miniseries of comics will be brought to you by Oni Press and IDW Publishing. The series is planning to take the characters of Rick and Morty into a world that they have never experienced before, although this really isn't the first time that the characters themselves have gone into the comic universe. When it comes to the words, storyline, and illustrations that will be included in the comic, fans can expect the work of fantasy author Patrick Rothfuss and Jim Zub, as well as the talented artwork that comes from Troy Little.
What Fans Can Expect
For many of the 'Rick and Morty' fans out in the world today, this mini comic series will be a good bridge to get them through the hiatus that is currently taking place as many await the announcement of a season 4 for the television series. As we said before, this will not be the first time that Rick and Morty are making their way into the realm of the comic universe; However, this will be the first time that they make their way to the fantasy world of 'Dungeons and Dragons'. Fans can expect to see all of the same, typical Rick and Morty shenanigans that are so commonly seen in the television series. Fans can also expect to see hints of that mixed adult humor, as well as the adventurous ties that are so familiar in the 'Dungeons and Dragons' universe.
Unfortunately for fans of both entertainment series, the mini comic series will take a bit more time to get onto shelves and into your hands. The comic is set for a release sometime in August of this year, although there hasn't been any type of confirmation or announcement about a release date as of yet. If you are eagerly anticipating the arrival of the comic, it may be a good time to catch up on your 'Rick and Morty' episodes, or even dive into the fantasy world that is 'Dungeons and Dragons'.
Tell us what's wrong with this post? How could we improve it? :)
Let us improve this post!