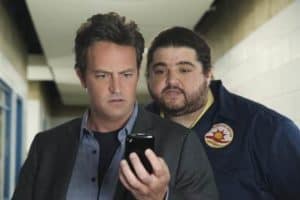 Friends alum have not exactly had an easy time when it comes to following up in the television realm, but Matthew Perry might be feeling a little more secure with the recent success of pals Courtney Cox (Cougar Town) and Matt LeBlanc (Episodes). Perry returns tonight with Mr. Sunshine, a clever half-hour sitcom that casts many very talented actors in exactly the right parts, but perhaps gives them too much to do.
Perry, who co-wrote the pilot episode, plays Ben Donovan, a somewhat egotistical manager of a San Diego sports arena who, after recently turning 40, finds himself feeling the first pangs of approaching middle-age and begins to re-evaluate every aspect of his life. Ben's plight is buffeted by a cast of characters such as Crystal, the type-a owner of the arena; Alice, a somewhat erstwhile love interest for Ben; Alonzo, the chronically happy friend; Heather, Ben's psycho and succulent assistant; and Roman, Crystal's son who Ben has been charged with finding a purpose. There are class jokes, self-deprecation, race jokes, awkward mixes of sensuality and abnormal psych, and everything else you would expect from a good sitcom.
Aside from Perry's fore mentioned existential crisis, the pilot for Mr. Sunshine follows the ensemble of characters as they try to thaw an ice rink in time for a circus, find a missing elephant, and roll rapid fire through the above checklist of character dynamics.
Since it is a pilot it can be forgiven for trying to stuff so much in one place. Watching Mr. Sunshine was definitely an enjoyable way to spend a half-an-hour, and the energy level was so addictive I felt like I needed to pop a valium to come down for the show. Mr. Sunshine is as frantic as it is earnest, I'd be concerned if the pace didn't slow down considerably. As much as I enjoyed the dynamic of the characters, I didn't feel engaged in a story and it seemed that the various gags, while well played, did not interface with Ben's personal crisis and became more like distractions to the lack of material that should have been supporting that narrative. Although I am convinced that thawing a giant ice rink is a metaphor for something — I just don't know what, and I feel like I needed more clues.
Bottom line: Watch it. If you love it, great — if not, you might end up like me — hoping that this great set of characters get a little more coherent in coming weeks.