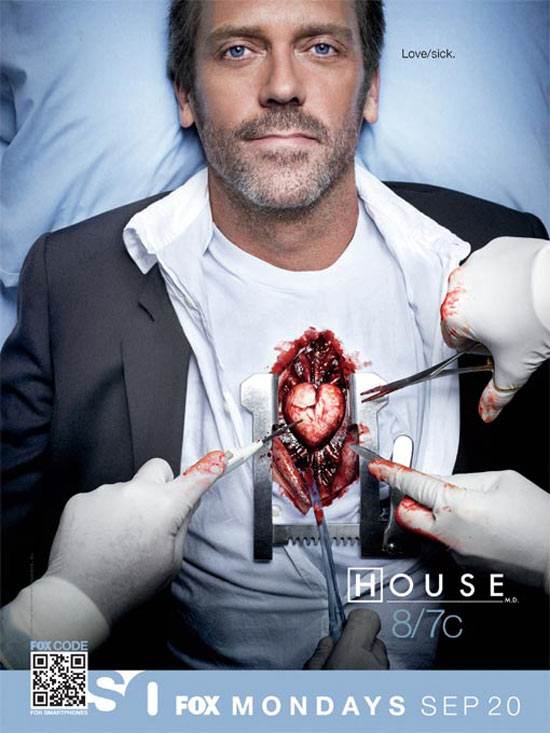 I confess: I hadn't seen an episode of House since the season six premiere, "Broken," this time last year. While "Broken" was the best season premiere that House has aired thus far, I didn't watch beyond that because I knew that it would revert to being a series of more of the same. I kept track of the show's major plot points by osmosis (thanks Entertainment Weekly), but I didn't care to watch another episode until I was given the opportunity to check out "Now What?" the seventh season premiere of the series.
I had been aware of the game-changing last episode of season six, which accomplished what season five's finale did, except for real this time (you see where I was getting frustrated with the show backtracking). "Now What?" is an episode that takes the House/Cuddy dynamic (known by fans as Cuddy) a step even further than the season six finale, "Help Me," did.
"Now What?" was divided between two storylines: House and Cuddy, and House's team at the hospital. Not only is there a division in the storyline, though, but there's a division in quality. While the House and Cuddy scenes are really well-written and acted, the hospital scenes are somewhat boring, and, in places, the acting is painfully bad. Thankfully, the goods much outweigh the bad.
Despite having skipped an entire season of the series, I found it really easy to fall back in to the swing of things. The previously on segment segued right into the beginning events of the episode (can I just say that the first scene of the episode is total wish fulfillment for any fans of the series?). Anything else that isn't clear is pretty much cleared up by dialogue.
The episode is one of the better season premieres that the show has had. I might go so far as to rank it as second, after last year's first episode. However, it's not enough to convince me to come back on a regular basis. House really specializes in first and last episodes, and the rest of late are becoming filler, in my opinion. But for anyone, casual or hardcore fan, "Now What?" is a solid premiere, even when you consider that only half the episode is really worth watching. Whether you stay on for the rest of the season is totally up to you — though this premiere gives you no reason not to.