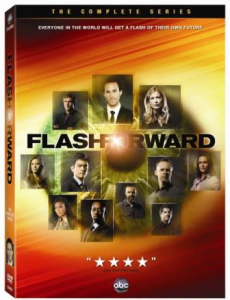 FlashForward was probably one of the most anticipated series of last season. People were touting it as the next Lost, partly because of its huge story and possibly partly because it aired on the same network. Unfortunately, its deliberate pace, extended hiatus in the middle of the season, and other pitfalls meant that it only lasted for its inaugural run. Shame, too, because here ABC had given us an ambitious, unique series with a pretty darn good cast. It was a favorite of mine, and I'm glad to see that it has been released in one complete volume, rather than the half-season put out earlier this year. (Shame there's no Blu-Ray release, though.)
Let's take a look at this release and see how it sends off a great show.
The Show
It's entirely possible that I'm in a minority here, but I liked FlashForward when it aired. Regrettably, I almost appreciate it more now that it's over. When it first started, it took awhile to catch on; I found myself DVRing episodes instead of watching them live. Yet I stuck with it and I'm glad that I did – the second half of the season picks up pace and ended up being appointment television around my house. The only downer is that the series doesn't come to a complete close at the end of the season, no doubt reflecting hopes that it would be renewed – but don't worry, because it's still a worthy ending.
A quick summary for those who didn't watch: the entire world blacks out for two minutes and 17 seconds, during which everyone sees a vision of their future (or most of us do, anyway). The FBI forms a task force known as Mosaic to investigate the blackout, its aftereffects and who or what might be behind it. Multiple plot strands emerge from this, including a love triangle between lead FBI agent Mark Benford (Joseph Fiennes), his surgeon wife Olivia (Lost's Sonya Walger), and Lloyd Simcoe (Swingtown's Jack Davenport), one of the scientists who might be involved in the blackout. The show also features great performances from Star Trek's John Cho as Mark's troubled partner Demitri Noh and relative newcomer Christine Woods as computer expert Janis Hawk. It especially gets a shot in the arm from the second-half addition of the vastly underrated Michael Ealy (Sleeper Cell, Takers) as abrasive CIA agent Marshall Vogel. Ealy walks away with any scene he's in, and makes everyone around him better.
This is definitely the kind of show that requires attention and patience. The first few episodes start slow, but the show picks up, and does provide information early on that comes into play later. It wants to be both a global show and a character-driven show, and sometimes one works more than the other, but it's an enjoyable ride for anyone who's willing to pay attention and who wants something to contemplate after the TV's been turned off.
The DVDs
FlashForward comes in one plastic snapcase with a cardboard slipcover. I'm generally wary of cardboard slipcovers, as they can become damaged in a hurry when the boxes don't want to go back inside them, but this one slides on and off easily. I did notice one weird thing: the cover art inside the plastic cover of the case had already started to wrinkle and warp by the time I received my set. I can only guess this has something to do with the weird Southern California heat. It's disappointing, but since it's inside the plastic case, isn't a loss unless you really, really like your DVD artwork to be spotless. Also, the photo they use of Sonya Walger makes her look really annoyed. I'm disappointed that Michael Ealy didn't make it onto the front of the box, but that's just because I like him.
Inside the case, you won't find a booklet (though you will find an advertisement for Blu-Ray, which is kind of funny considering ABC first advertised a Blu-Ray release for FlashForward that apparently was pulled from the schedule). All the information about what's on which disc is actually on the inside of the case, meaning you have to move the discs out of the way to read it. This is a little annoying, but bearable. The inside artwork uses some of the great promo photos they shot with the cast inside a clock tower, which I absolutely love. Discs are stored in a flip-through manner, except for the last one, which affixes on the rear inside of the case itself. They do stick when trying to remove them, but that's common for most DVDs these days.
The actual DVD art is simple and easy to read. No characters on these discs (which say Season 1 on them, oddly), but they do indicate which episodes are on which discs (assuming you know your episode numbers) and which have special features. The problem is that neither the discs nor the list of special features in the box tells you which special features are where, so if you're looking for something specific, you're just going to have to guess.
The menus are also a little maddening. I started with the final disc, only to discover the menus are not only dark, but actually oriented diagonally. Not only does it make them a little difficult to read, but it also makes them harder to navigate, especially when I played the discs back on my laptop. I'm not sure if this is intentional or not, but when I navigated between menus, the entire screen would go black for a few seconds before the next menu would come up. Either it's a nod to the blackouts, or it's just a weird menu glitch, but it's annoying.
As far as technical specs, the show is presented in widescreen (1:78:1) that has been "enhanced for 16×9 televisions," but I didn't notice anything better or worse than other widescreen presentations. There are English and Spanish subtitles, and Dolby Digital 5.1 audio.
The Special Features
Firstly – this release contains all the special features that were on the Season 1, Part 1 release from February, as weird as it is to see features made to promote the second half of the season on a complete series release. The good news is this means that if you bought that release, you can get this one and give that one to someone else who should watch the show, especially if you printed the online coupon off the DVD website that saves you $10 off this edition.
We've provided a handy rundown and some video clips of the special features that were released earlier today, so rather than just repeat that information, I'll just give you some of the highlights. The blooper reel is pretty hilarious (apparently this cast has a lot of trouble with cars). As a writer and general TV production buff, I enjoyed the "FlashForward On Set" series, which shows how they produced certain moments over the course of the series. There's even a brief featurette devoted to that enigmatic kangaroo, though frustratingly it's mostly about how no one else knows what it means either. Some explanations are offered, but you're not going to get a definitive answer as to what the heck that was all about. "Architects of Destiny" covers some of the major events in the series – so don't watch it if you haven't seen the whole series – and gives you as close as you're going to get to interviews with the cast.
Jack Davenport is a longtime favorite actor of mine, and he's an absolute riot on all these featurettes, so I'm glad there's a lot of him to be had. There's not much Michael Ealy, though (sadness), and there's not anything from Gabrielle Union, who plays Demitri's fiancee, Zoey. I'd have liked to have seen more with the actors, as this group of actors is particularly engaging. They do show excerpts from last year's Comic-Con panel, which sadly isn't included either.
You'll have to hunt to find the sole commentary for "Revelation Zero" on Disc 3 under Bonus Features. I can say from interviewing them that this is one smart and interesting group of people to talk to, so I'm surprised that all this set has is one commentary track!
Most disappointing, though, is that there's not anything here about what could have been. I don't know when the decision was made to make this a "complete series" set, but it would have been really neat to see a featurette on what the creative team had up their sleeve had the show continued. It certainly would have been brain candy for the show's devoted fanbase.
The Bottom Line
It's great to finally have the complete series of FlashForward on DVD. As enjoyable as the show was for me, it's even better when I can marathon it and see the entire arc unfold. There's a good selection of special features here, but there was opportunity to include a lot more, and the difficult navigation is definitely a pain. It's not a perfect set by any means, and fans of the show will lament what isn't there, but the content of the show itself is so good that I would be a fool not to recommend this set if only for having the whole twenty-two episodes on your hands. There are some missed opportunities here, but the show is worth adding to your collection.
Tell us what's wrong with this post? How could we improve it? :)
Let us improve this post!