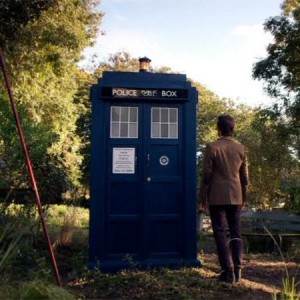 With a literal crash and a bang, Doctor Who returned to British TV screens tonight, in a first outing for, well, pretty much everyone involved with this series of Doctor Who, and what a triumphant first outing it was. The Doctor is new and looking younger, but its definitely the Doctor!
As this site is US based, and the episode is two weeks away from airing, I'm going to try and review this first episode without spoiling anything about the story itself. It is going to be very hard, so please bare with me if this review seems in anyway disjointed.
The beauty of Doctor Who is that it forever changes, yet some how stays instantly familiar, and all of those ingredients have been mixed into the pot in an excellent first episode which had to balance the introduction of our new Doctor, companion, the world around her and the new world of the Doctor with introducing a new look and style, whilst keeping everything that made the Russell T. Davies era a real success. The story of the episode itself was fairly lightweight, but still managed to be fun, clever and engaging whilst still allowing us to meet our new team. The story wasn't one of Moffat's strongest he has written for Who, but it used his favourite trademark technique of taking something every child can be scared of, and subverting it into a clever scare that will keep the little ones from wanting to sleep quite as early as they might, or for that matter sleep at all. Who knows what is taking advantage of your dreams.
Visually, everything seems cooler, with the warm reds and oranges that marked the Davies era replaced with cooler purples and greys. Adam Smith, who has joined Doctor Who after directing several episodes of Channel 4's Skins and the BBC's Little Dorrit handled the episode beautifully, with several visually amazing moments, aside from some issues with the visual effects early on (but as this is Who, slightly poor effects are somewhat part of the history of the series)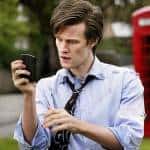 The central make or break for many Who fans, especially those who are Who fans because of David Tennant's reign, is the performance of Matt Smith; our new Doctor. Thankfully Matt Smith shined, playing a slightly more kooky Doctor, with enough nodding relevance to his immediate predecessor as well as his historical appearances. Never did Smith seem out of control of the character, even as his regeneration continued throughout the episode, and yet never did he seem completely sane. To quote a line from the episode, the description of "mad man with a box" seems entirely appropriate and apt as Smith managed to blend the eccentricities of the second and fourth doctor with more of the whimsy of the ninth and tenth, whilst including his own elements. Since seeing Matt in the excellent Party Animals and Moses Jones, I never had any fear of his abilities to play the role. This might be a controversial statement to some, but Smith's abilities should scare his eventual replacement far more than David Tennant's should of scared Smith.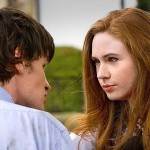 A Doctor is never complete without his companion and Karen Gillan's performance as Amy Pond, and the character's brilliantly executed introduction to the show stood out. Amy's character after just one episode is already one with depth. Amy is an alien in her own world whose life has already been affected by the Doctor in unchangeable ways even before she makes her first step into the TARDIS. Her on/off boyfriend Rory is a testament to that, a man whose major formative years have seemingly spent trying to fill a gap in Amy's life left by the Doctor, but never quite managing. His career as a nurse testament to his life since The Doctor entered Amy's. Some people were concerned about Karen's ability, as she was relatively unknown to people outside of viewers of Channel 4's comedy "The Kevin Bishop Show". She has already become a fascinating character, and shown that she's an actress that go a lot further in her career.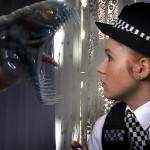 There were still negatives to the show, as well as the previously mentioned slightly poor effects (especially on the antagonist) and the somewhat lightweight story. The new titles (video below) are absolutely beautiful. From the look, to the fonts used, to the time spent perfecting them (they were only finished 4 days before transmission), but the new version of the theme is… curious. It keeps some of the elements of the Russell T Davies variations, whilst introducing a some what darker feel as well as bringing the theme back to its more whistled, ghostly sound. I'm sure it will grow on me, but it was jarring agains Murray Gold's version for Russell, which was loud, crashing and heavy on the electric guitars. This is far more other worldly, and does in some ways fit the new Doctor. These are relatively minor complaints, considering how much work had to be done in the 65 minutes this extended opening episode was given.
All in all the first outing of Steven Moffat's Doctor Who era is an exciting, reaffirming example of how the show that always changes, but still feels warmly familiar can regenerate and vary as much as it's lead character. Its a triumph. One of the best opening episodes of "New Who", and more testament to why this show's 47 year old history can easily continue on Moffat, Smith and Gillan's shoulders for a while to come yet.
Doctor Who's season premiere "The Eleventh Hour" debuts on BBC America on Saturday 17th April at 9ET/PT. It is available in the UK in standard definition and high definition on BBC iPlayer until July 3rd 2010.