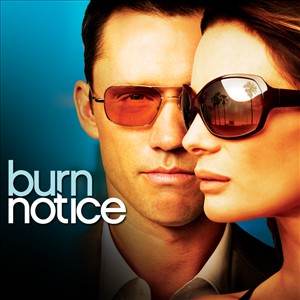 Last night's Burn Notice was so good, I watched it twice. Both on the East Coast and West Coast feeds. It's still on my DVR and in the back of my head. I wrote a lengthy recap that I thought covered all my bases…but I was wrong. The more that I thought about it, the more I realized it was still worth talking about — as is the season, which might be the best yet.
Allow me to explain: I am a devoted Burn Notice fan, and I have been from the pilot. I've seen every episode, usually multiple times. Yet something happened around the third season. It's not that the show declined in quality, but other things came around and I found myself watching more on DVR, and I'm one of those traditionalists who believes in making time to watch all my favorite shows live. This season, I haven't missed an episode live, usually twice. Some have sat on my DVR for weeks because I loved them, or parts of them, too much to delete them. The show's been satisfying to me as a fan, as a writer, and as someone with a background in the real-world element. This, of course, begs the question: what about this series has gone so right? 'Blind Spot'has everything, so it's a perfect example to call out.
The first, and maybe trickiest, thing that the episode does is to know exactly what it is. It has to set the table. It's the episode right before the summer finale, so it has to push all the pieces into place. So many of these kinds of episodes just end up being filler, as if writers have already moved on to their big whiz-bang last episode. Not so with Burn Notice. The episode is actually a really great one to watch. At the same time, it doesn't forget that certain things have to happen. Those big plot points have to go forward, and they do. There's still momentum for the midseason ender. I'm still slack-jawed regarding that last scene. Job well done, organization-wise. No one was sleeping on this one.
Season-long, if not series-long, mythologies are in vogue now (see White Collar, which has admittedly been inspired by Burn Notice), but they're also a double-edged sword. Writers forget things and get sloppy (The Unit), or they can't deliver on what they started with (The X-Files), or they get too invested and the mythology eats the entire show (X-Files again, alas). Burn Notice has always been about the cases first, with who burned Michael as the recurring mythology, so to turn that around this season was a gutsy move. Yet it's all been progressing nicely, and has all been neatly tied up in this episode. Sure, the summer finale will probably leave more questions to be answered (that's the point!), but everything is being carried through to that point. Nothing's dropped off and been forgotten about.
The writers took a further gutsy step by telegraphing their punches: from the season opener, we always knew that Michael burned Jesse, Jesse was going to find out, and there was going to be a showdown. No surprise there. We knew what was coming. TV is great when it surprises you, but it doesn't always have to. (Especially if you're someone like me, who watches a lot of it, eventually you're going to see pretty much everything, and there won't be real surprises anymore.) The best television is just damn good. It doesn't matter if it's not surprising as long as it's a journey worth taking, and this season has been one worth following every step of the way, if only for because of how it's shaken up the relationships among the main characters. It has essentially reversed the entire Burn Notice narrative, and asked the natural questions that come with that role reversal — what is life like for Michael now that he's done what's been done to him? How does that affect everyone else in his life? Who is he now? The answers will no doubt be just as satisfying.
The episode introduces a great adversary in Robert Patrick as John Barrett. A protagonist is only as good as their villain. A weak villain poses no real challenge for a hero and therefore no real interest in the audience; after the first few seasons, did anyone really think Jack Bauer was going to die? A villain that's too good overpowers the hero; for example, I'm still a bigger fan of the T-1000 than I was of the T-800 in Terminator 2: Judgment Day. It can be a difficult thing to find a great villain. While Burn Notice has had its share, especially with Simon Escher (Garret Dillahunt) from this year and last (bringing him back was another wise decision), this is a particular casting coup. Outside of Terminator 2, Patrick has quite a few roles as the black hat — or at least a jerk — on his resume: Chuck, NCIS, The Unit, and Lost, just to name a few. He's also known for playing bad guys that are more interesting than most; he was possibly the best thing about The Marine when his villainous Rome was more funny than frightening. Oh, and did I mention he once played Elvis? Patrick is a proven veteran who's a match for a main cast that doesn't have a single weak link. In my opinion, he's one of the best actors I've ever seen, and I've seen almost everything he's done in the last twenty years…even Double Dragon.
The case of the week is pretty solid, if not because of the guy playing our villain (who I still say reminds me of Chris Vance, which is not a bad thing, it just makes me wish he hadn't already died on the show), then because it provides opportunities for Bruce Campbell and Gabrielle Anwar to play to their strengths. They're at their best when they're let loose, allowed to be loud, snarky and sometimes in each other's faces. Sam and Fiona will never be best buddies, nor should they be, and their tension and banter is always a joy to watch. Likewise, Bruce is at his best when he gets to create a larger-than-life persona, and do it with a smirk and a twinkle in his eye. That sleight-of-hand, Monk-style 'here's how we did it'reveal in the limo at the end of the episode? Classic Sam Axe, and classic Bruce Campbell: playing with humor just as much as with any weapon you can give him. Gabrielle has had a great arc to play this season, as Fiona's loyalty to Michael has once again clashed with her disagreement over his methods…only this time it's a thousand times worse because it's personal. Seeing Fiona's tough façade crumble and actually stay somewhat vulnerable has been fascinating; a poignant reminder that her character is so much more than the token 'tough chick with a gun'we see on so many other shows. I dare to say it may be the best acting I've seen from her. This is to say nothing of Sharon Gless, whose Maddie gets to step out of her house more and become an active part of the team. She may not have the experience, but she has the wiles she so obviously passed on to her son, and like Bruce, Sharon can play it up so delightfully well. That only comes with experience. You can't teach that.
Then there's the show's secret weapon: Coby Bell. I say that because we knew this cast was strong. We knew these writers could write. At least in my case, I'd never even heard of this guy, and I'm sorry that I didn't, because he's been nothing short of amazing. We've watched his desperation as he tries to pull his life back together, we've seen him try to work as part of a team, and the last scene of 'Blind Spot'absolutely brought me to tears as he put the last pieces of his burn notice together. That's the important part: he did the legwork and he put it together. The writers didn't have someone else tell Jesse or Jesse just stumble on it. His character is too smart for that. Coby has to be one of the most versatile actors I've seen in recent years, if not ever. He's balancing this role on Burn Notice with a regular role on a sitcom (BET's The Game) and he does both equally well. That lends him to playing in this sandbox, where the humor is just as big a part of the show as the action. Jesse's journey wouldn't be so compelling if he wasn't brought to life so well. Every episode, as more and more came to light, I found myself torn: wanting Jesse to be able to have his old life back, and yet cringing because I knew that road was going to go through Michael, and how much it would destroy. I'm still in that position. Coby Bell turned Jesse from someone I couldn't have cared less about to, by the end of this episode, somebody I was crying for, and that is an accomplishment in ten episodes (let's remember that he wasn't really in the premiere).
The only thing about his addition that disappoints me is the number of alleged Burn Notice fans who still can't appreciate the actor, the character or the plot possibilities he opened up. More than almost any group of fans, there's a large chunk of narrow-minded people who made up their mind to dislike him because he wasn't 'one of the team'and refuse to see it any other way. Despite everything that's been said publicly, there are still people who insist that he's the agent of some big conspiracy. It's as if they're seeing the show they want to see, and closing themselves off to the one that really exists. That's incredibly sad, because the show that exists is amazing, but if there's one thing I know about TV fandom, it's that people can hate and fear what they don't even bother to understand. I've seen it on countless shows before, and it always makes me shake my head, because they miss out on so much. I know that if I'd stuck to my guns, I'd never have gotten to experience the work of another great actor. I'm the first person to be the president of the Jesse Porter Fan Club (no matter how many anonymous, insulting and/or unfounded comments that may get me), and I'm still sitting on the edge of my seat waiting for next Thursday, because after that ending I'm desperate to know what happens next.
That's the mark of good television, and that's something I want to give kudos to Matt Nix for. This season, Matt Nix had two television shows — Burn Notice and The Good Guys — on the air. That's not easy at all; in fact, it can lead to total destruction. Aaron Sorkin had two shows in Sports Night and The West Wing, and by the end of year one Sports Night had been cancelled. By his own admission, Matt Nix spent a lot of time trying to launch The Good Guys and left parts of Burn Notice to his veteran team. Yet the show didn't suffer. The show has still been strong. That's a testament to a heck of a job from Matt Nix on down, and if nothing else, I want to recognize cast and crew for an amazing effort. They've put together one heck of a season, and this episode just slammed that home in forty-four minutes.
I can be a hard person to impress. I've been a journalist for almost a decade, a writer for twenty years, a crime/action show junkie, and someone who actually trained to do, and did, some of what we see on TV. Add all that up, and I can either get bored or start poking holes in a show faster than even I would like. Yet with Burn Notice, I can just sit back and enjoy it. With "Blind Spot," I was actually on the edge of my seat and impressed when it was done. That's a great piece of work that I want to call attention to. Now if you'll excuse me, I'm off to watch it again.