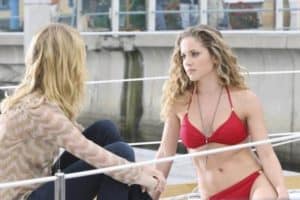 This episode of Revenge focused on two ladies – Amanda and Victoria – if only for some rather surprising or serious developments in their storylines. While they may not know it, I suspect their complicated lives will become very entwined after some revelations were exposed in this episode.
Amanda Embraces Her (Fake) Identity
It didn't take Emily very long to learn that Amanda had decided to return to the Hamptons. A call from Nolan was all it took to get her down to Jack's boat, where Emily had made herself quite at home. But promises of money and threats couldn't convince Emily to leave. Not when, as she claimed, she wanted a home and friends. Well, she certainly made a friend in the form of Jack, who ended up going sailing with her, and the two shared a kiss. Another attempt by Nolan to intimidate Amanda into skipping down was met with refusal.
At the end of the episode, Amanda dropped a bombshell: despite calling herself 'Kara'for most of the episode, she ended up telling Jack that she's actually 'Amanda Clarke'. We know she's only been playing Amanda for years, but this was shocking news for him. After all, he had just gotten his childhood friend back. He immediately took her to Emily's house and told Emily that 'Amanda Clarke'had returned to town. Now Emily has to stand by and watch an interloper pretend to be her, all the while getting chummy with a man she clearly has feelings for. Talk about throwing a wrench into Emily's plans. I cannot wait until Victoria finds out that 'Amanda'has returned to the Hamptons. She's going to have a conniption.
Victoria Makes the Rounds
Victoria was the other star of tonight's episode and was a very busy bee. She had successfully managed to keep Lydia a prisoner in her home, successfully dodging all requests for them to talk and keeping her away from the outside world. But she got a shock when the police came by to announce that Frank's cell phone had been found on the grounds. In addition, Conrad's behavior around the time of Frank's death has made him a suspect. Victoria dropped by Conrad's temporary home to deliver the news, but he made it clear that she should side with him or be ruined if he took the fall for Frank's death.
Then it was off to Emily's house for a discussion about Daniel. Emily was unfailingly polite, as always, and proposed a truce between them. After all, apparently neither woman wanted to see Daniel hurt in the crossfire. Victoria seemed to accept the truce, but by the end of the episode she was singing a different tune. Before that, however, she had decided to stop by the Stowaway to pay off Declan into breaking up with Charlotte. Unfortunately for her, Declan is a clever little bugger and ended up extorting $25,000 from Victoria. Except he told Charlotte all about the plan. So now she's pretending they broke up, but is seeing him on the side.
Later, Conrad successfully managed to engineer an escape for Lydia and Victoria found herself all alone. At least until she realized that Ashley had the inside scoop on Emily and proposed the two meet for brunch so she could learn more. Victoria may be alone, but she's definitely not down for the count.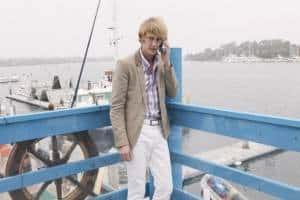 Nolan Outsmarts Creepy Tyler
Nolan is not interested in getting a second shot with Tyler. On this week's Revenge, Nolan discovered that Tyler had stolen one of his credit cards to buy a fancy dress for Ashley. Conrad was planning an investment recruiting party and he pitted Tyler and Daniel against each other – the first to sign a big client got to keep the full commission. Tyler wanted Nolan to sign with him, but he initially refused. Later, he learned that Tyler had found a copy of Lydia's speech from the benefit, exposing the Graysons. Obviously this was a valuable asset for Emily and Nolan, so Nolan went about getting his hands on it.
He agreed to sign with Tyler, but manipulated the situation so that Ashley walked in on the two men kissing. At first she was angry, but Tyler seemed to turn the situation around, convincing her that he would go to any lengths to succeed, which seems to be the philosophy she also subscribes to. Nolan did manage to get his hands on the speech and Tyler won the commission bet, but I think that little snot will get his just desserts soon enough.
Emily Calls in Reinforcements
Emily, meanwhile, spent most of the episode trying to dig her way out of the Amanda ditch. Clearly this is not a situation that she had planned for. While obtaining the Lydia speech is a coup, Emily was well aware that she's currently floundering. To get back on track, she put in a call to her mentor in revenge: Satoshi Takeda. He pretended to be a wealthy investor at Conrad's party, but he offered Emily help in getting back on track. It looks like we'll be learning more next week about Emily's history with Satoshi. I, for one, am dying to find out exactly what skills her "Revenge Mentor" taught Emily.
Overall, this was another solid episode of Revenge. While I'm not certain yet how I feel about Amanda joining the cast, I have to admit that I loved the twist when she revealed that she was "Amanda Clarke". In particular, I cannot wait to see how Victoria will interact with her. Victoria will likely feel attacked from all sides. First she's suspicious of Emily and now she'll be suspicious about the reappearance of her former lover's daughter. But Victoria is nothing if not a survivor and without Conrad's backing, it will be interesting to see how she uses her wiles to get back on track.
I'll admit, I'm not crazy that Emily is struggling so much lately. While the take-down scenarios in the earlier episodes seemed almost too easy, I did enjoy seeing Emily being so kick-ass. That girl needs to get back on track and in control of the situation once again. I hope Takeda is just the tool she needs to accomplish that.
There will be no new episode of Revenge next week, but a new episode will air December 7. Watch a trailer and view photos for the episode here.