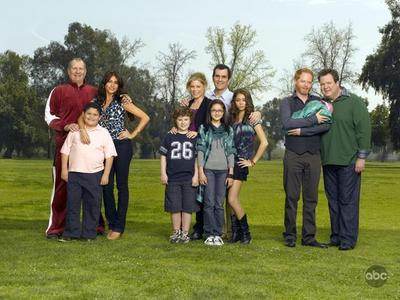 Modern Family is one of many comedies that is trying to break out on ABC. The pilot was funny and we start off the episode with couple number one, Phil (Ty Burrell) and Claire (Julie Bowen). As a usual married couple does, they start of bickering trying to get the kids to come for breakfast. The oldest Haley (Sarah Hyland) comes down in a super short skirt, while their son, has his head stuck in the banister. Then we enter the documentary of their lives, with Claire telling us it is her job to keep them safe, well both of there jobs she means.
Meet the second couple, Gloria (Sofia Vergara) and Jay (Ed O'Neill), who are at Gloria's son's soccer game. They are very different in age, with Gloria new to America, and reminiscing about her home to the camera. Gloria has a hot temper, battling with moms, and telling dad she is actually married to a sixty something year old man who thinks he is her dad.
Now Cameron (Eric Stonestreet) and Mitchell (Jesse Tyler Ferguson), the show's gay couple, who just adopted Lily from Vietnam. Mitchell, who has been with Cameron for five years, is stressed as all the passengers are staring at them, and he wants to tell them it is okay for them to have a baby but alas he makes a fool of himself by calling them out. That causes Cameron to pay for the plane's head phones.
Now back to Phil who got Luke (Nolan Gould) out of the banister, as Alex (Ariel Winter) tells dad and mom she is going to have a senior over, her first boy! Phil thinks he is the cool dad. For example he texts, now the lingo, and 'We are all Together'from High School Musical. Now Luke and Alex get in a fight as Luke shoots her with a BB gun. The punishment is revenge. Phil now has to shoot Luke, should be fun.
Now Manny (Rico Rodriguiez), Gloria's son, who finished his soccer game is in love with a 16 year old, which causes some stress between Jay and Gloria, who find this similar to their relationship. Gloria is a beautiful woman, which she tells us that that causes many exes, which had many of passionate nights.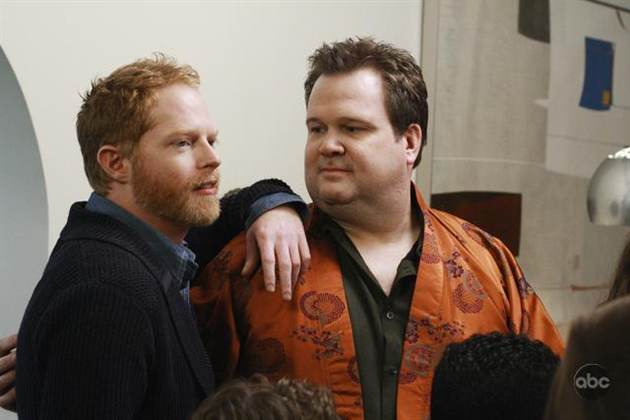 Cameron and Mitchell are back home, and are having trouble with Lily, and Mitchell suggests that Cameron, the more motherly shaped one should take her. Then they get a glimpse of their new nursery that has a hideous looking angel daddy painting on the wall. Mitchell reveals that he never told his parents he was adopting which causes Cameron to invite them to dinner, that night should be interesting.
Haley's senior is arrived and Claire tries to confront him right away by bringing Phil to stare him down, to which Phil says he knows how to work him by staring him down. However, this causes Phil back to go out by the senior helps him to the couch in a very weird position.
Manny is set on confronting his love at the mall in a shiny white shirt, which Jay says is a terrible idea. Manny comes back devastated with the thought she has a boyfriend, while Jay realizes he needs to act younger, especially in the way he dresses.
Alex asks Claire some questions involving her sister. Awkward for Claire to think about her teenage daughter having sex and reminds her of her younger years while Phil needs to shoot Luke who has six pairs of underwear on. Phil can't shoot Luke and gives up and Claire tries to spy on Haley. When Haley, comes down to ask her dad for help, Phil shoots Luke and the senior by accident and then himself!
Now dinnertime, Mitchell is nervous for his family reaction that SUPRISE consist of sister Claire, and dad Jay, the ones we have been following all episode. They are one big family. Mitchell comes out with it; he has a baby and shows it off in a 'Lion King'-esqe showing. Jay is hesitant about it and says some rough things to Mitchell but when he sees the baby he realizes he has to be nice and warm to his granddaughter. The episode ends with Lily been shown around, as Claire, Phil, Gloria, and the grandkids adoring the precious thing. That is our first look at the 'Modern Family'we will be watching.
Tell us what's wrong with this post? How could we improve it? :)
Let us improve this post!