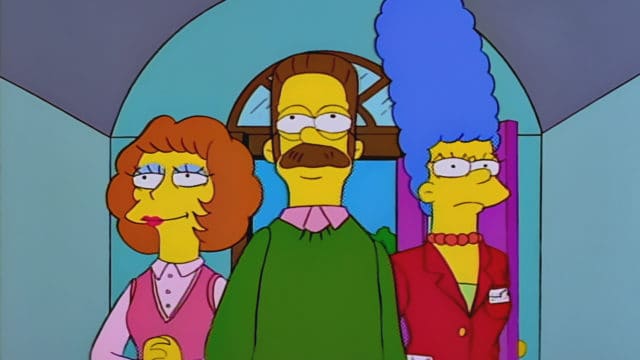 Fans probably wondered why Maude was killed off at first, but it obviously didn't deter them from still watching the show. Even if they had found out right away the chances are next to nil that it would have kept them away. After all the original voice of Maude Flanders, Maggie Roswell, was asking for a $4,000 raise to cover the cost of her commute to and from the studio but instead only managed to get $150 from FOX, which seems like a slap in the face considering how much money the show was making. Of course Maude wasn't the biggest draw of the show and as a result she wasn't that hard to get rid of. In fact now that I think of it Maude's death was probably on of the only reasons that The Simpsons was able to come up with another story line and keep moving forward.
If not for the explanation it would seem like a very cheap and dismissive way to get rid of a character, but…..ah who am I kidding? Of course it's a cheap way to get rid a character. It might be true that Maude's death opened up a lot of potential for more story lines but the fact remains that shows that are doing well still seem to balk at paying their people any more than what's agreed upon even if there's a good reason. Plus the tragedy of Maude's death was handled in the only way that it could have been on The Simpsons, which is to say 'not well'. For starters she dies at a race track, she's hit by a bundle of flying t-shirts, and then not too long after her death Homer is already trying to set Ned up on a date.
Do people even understand what mourning is? I mean granted, it's a cartoon, but the idea of a character dying off and then being forgotten so quickly means that they weren't that big of an addition to the story and quite honestly they were expendable from the get-go. That's horrible to say about any actor but it's very true in this case. Shelling out a few extra thousand for a voice actor to make the commute between one location and another doesn't seem like it'd be much effort for a show like The Simpsons but it's also important to note that Maude didn't get mourned by a lot of fans when she went. Instead it was more like a collective 'oh that's sad, oh well' went up from the fans. That sound's so horrible but it's pretty accurate.
The producers and execs of the show would eventually state that Maude had to go in order to free up room for a few more story lines of course, and this kind of news likely didn't come out until later. It's easier to put a positive spin on something at times and allow people to believe that for the sake of the show some characters just need to be ditched now and again.