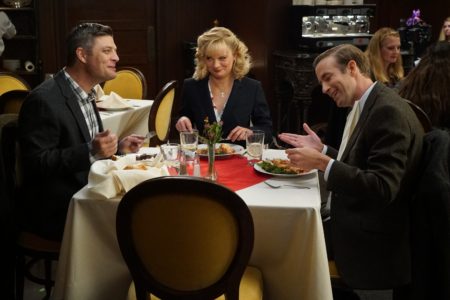 Valentine's Day is a celebration for couples, but for the O'Neals and VP Murray it's time to celebrate the throuple. In case you missed it, that's a three-person couple. In last night's episode, "The Real Brother's Keeper," the O'Neal boys embark on a rite of passage, the throuple navigates new relationships, and Shannon reveals her trick to getting her way which also happens to be the secret to why the oddball humor on The Real O'Neals works. And that's a pretty sweet treat for Valentine's Day!
Before heading off to college, Jimmy sets his hopes on helping young Kenny learn the rite of passage of drinking, sex and Comic-Con. With two of those not suited for their brotherly relationship, Kenny and Jimmy narrow in on getting drunk for the first time together. Fortunately, Shannon has the perfect place for her brothers to bond through this experience–a comp hotel room she obtained while pretending to be a middle-aged woman writing hotel reviews.
When Eileen and Pat head out to meet VP Murray for their throuple dinner date, Shannon lies to her parents about a sleepover at her friend Sarah's. When questioned by Pat, Shannon refers to Sarah Kaplan (notice the last name is added) as the friend from Girl Scouts, whose dad is a pharmacist and wore the back brace in third grade. While Eileen and Pat buy it, Jimmy and Kenny know she's lying. She then confesses not only her trick to getting others to believe her, but exposes the secret to the show's success. Listen up because this trick and/or secret are the key to much of life's success on a sitcom or real life. Shannon states she speaks with confidence and uses specific details! Did you hear that? That's the secret.
Just look at the evidence. The Real O'Neals uses such oddly specific references in many of their episodes that we find those details some of the funniest moments. In this episode, here are just six examples where the O'Neals use specific details to make a point/joke and do so with confidence. That means without any sign of hesitation. Those six are:
Angela Merkle reference — When Jimmy pulls out his fake ID from his Ironman costume Kenny points out the picture used is not just some guy but German Chancellor Angela Merkle.
Grizabella from CATS reference — When Jimmy invites Kenny to Comic-Con and he shows the Wolverine costume for him to wear, Kenny refers to it specifically as Grizabella from Andrew Lloyd Webber's CATS.
Titanic car scene — When Pat informs VP Murray of his sexual escapades with Sheila DeMars, we don't get a simple encounter, but rather we see a sweaty hand push against a steamy car window just like Jack and Rose in Titanic.
Serena Williams comparison — When Jimmy condemns Kenny for rookie drinking mistakes like making great drinks out of the hotel's minibar selection, he compares it to Serena Williams showing up on a tennis court for the first time with a racket in her hand. Which she did and was confirmed by both Kenny and Brett in a documentary about just that.
Rizzoli & Isles — When VP Murray and Eileen are learning to accept Pat's new relationship with Sheila DeMars they reference the series of books or the TNT drama Rizzoli & Isles and their working relationship to help them find acceptance.
Hot Topic studded belt — When Eileen accuses Sheila of keying her minivan after a parking spot argument, we learn Pat was actually the one who scratched the car by accident with his brand new Hot Topic studded belt that Eileen hated so much and wanted to get rid of.
The details help make the show so humorous but can go over our heads unless we are in the know with specific references both past and present.
The throuple heads into troubling territory when it's discovered that Pat has secretly been seeing Eileen's look-a-like nemesis and Episcopalian equivalent Sheila DeMars. The whole dynamic is threatened by jealously, confusion and misinformation. We learn Sheila and Eileen's hatred developed out of a lie caused by Pat which encourages the two women to confide honestly with one another. This leads to Sheila confessing she slept with Pat to make Eileen mad which ends up backfiring because it reinforces Pat's lost attraction to Eileen which in turn makes VP Murray and Eileen's relationship nonthreatening and , therefore, acceptable to Pat. Make sense? Yes, it's confusing, but understanding throuples is confusing. In the end, Sheila can't deal with their weirdness and Pat, Eileen and VP Murray are back together.
Back at the hotel, Jimmy ends up in the lobby bar after his brotherly night out is ruined when Kenny's boyfriend also shows up to get drunk. Jimmy wanted the night to be about sharing this rite of passage with his brother. A beautiful and single woman at the bar buys Jimmy drinks and takes him upstairs for another rite of passage. Hoping to have Kenny deliver some condoms, Jimmy meets him outside the lady's hotel room where Kenny refuses to let him go through with it under the circumstances. Jimmy thinks he's stupid and heads back in to lose his virginity. Kenny has no other option but to pull the fire alarm. In the end, Kenny gets to payback Jimmy a lesson he did learn for him about drinking–eat a sandwich after a night of drinking. The actions may not have been what Jimmy was expecting but the lesson was certainly learned.
The Real O'Neals shows us that relationships can be weird and sometimes it's best not to mess with one that works. It can be a Valentine or just someone you care about.
Tell us what else you spotted in this episode that was spoken with confidence and supported by specific details.
(Photo: ABC/Ron Tom)
ABC's The Real O'Neals Tuesdays 9:30/8:30C.