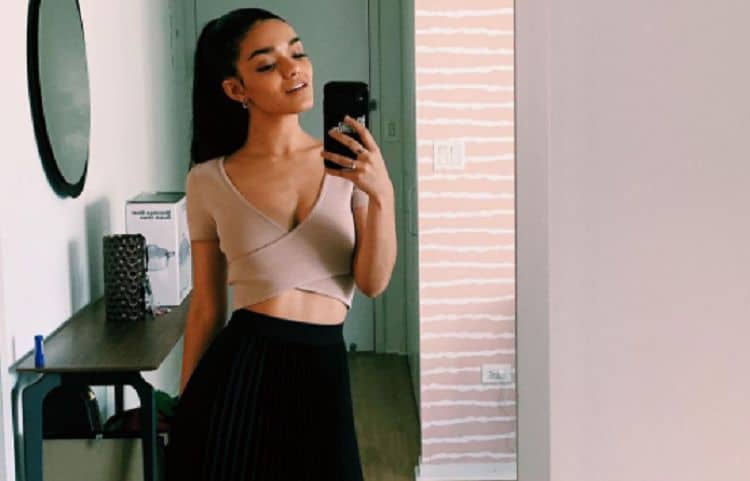 Technically, Rachel Zegler hasn't even made her acting debut yet, but she's already got the entire industry buzzing. Thanks to her starring role as Maria in the upcoming movie West Side Story, Rachel's acting career is already off to a very impressive start, and people are hoping that her performance lives up to all the hype. Rachel, however, seems to be handling the pressure and excitement very well and she's looking forward to the film's release date (December 10, 2021). If the movie ends up being as good as everyone is hoping, there's no doubt that there will be lots of doors that open up for Rachel. Keep reading for 10 things you didn't know about Rachel Zegler.
1. She's From New Jersey
Rachel was born and raised in Hackensack, NJ which is located less than an hour outside of New York City. She comes from a diverse background. Her father is Colombian and her mother has Polish ancestry. Rachel is very closely connected to her roots and she's thankful for the cultures that have made her the person she is.
2. She's A Successful YouTuber
Despite not having much acting experience, Rachel is no stranger to being in front of the camera. She is an active YouTube user and she's built up a large following over the years. She currently has 199,000 subscribers and her channel has gotten more than 6.9 million views.
3. She Loves Interacting With Fans
Rachel may be new to the industry, but she already understands the importance of building solid relationships with fans. She is thankful for all of the people who have shown her love and support so far in her journey and she loves getting the chance to connect with them on social media.
4. She Put Off College For West Side Story
Prior to auditioning for West Side Story, Maria's life was much like many other recent high school graduates. She was planning on attending college at Montclair State University, but she decided to forego the opportunity once she landed the role. When she emailed the admissions department to let them know she wouldn't be attending, she couldn't help but to acknowledge that her 'excuse' sounded like a lie.
5. She's A Musician
These days, acting is what Rachel is focusing most of her attention on, but she's also a very talented musician and she loves sharing her songs with the world. While it doesn't appear that she's released any official music yet, she's posted several singing videos on her YouTube channel. Additionally, she will be performing a song for the West Side Story soundtrack.
6. She Was Saluditorian Of Her High School Class
Rachel isn't just beautiful and talented, she's also got the brains to go along with those things. According to NorthJersey.com, Rachel was a salutatorian of her high school class. Although her high school experience was 'normal' prior to being cast in West Side Story, she had to make some adjustments at the end of her senior year to accommodate filming.
7. She's Already Been Involved In Some Controversy
Having a career in the spotlight comes with a lot of perks, but one of the downsides is that everything you do is criticized by countless people. This is something that Rachel has already experienced. In 2019, one of Rachel's tweets insinuated that there may be something brewing between her and her West Side Story co-star, Ansel Elgort. Not long after Rachel's tweet, Ansel, who had been dating his high school sweetheart at the time, gave an interview saying that he was interested in having an open relationship. This led many people to believe that he and Rachel were more than co-stars. People quickly flooded Rachel's DMs and accused her of being a homewrecker. She temporarily deactivated her social media accounts to avoid negativity.
8. She's Already Played The Role Of Maria
Being in the movie West Side Story wasn't the first time Rachel had been cast in the role of Maria. She actually played the character during a production of the play during high school. Of course, making a movie is a completely different experience, but she was fortunate to already have a good understanding of the character.
9. She Was Chosen Out Of Hundreds Of Thousands Of People
The fact that Rachel was cast in a Steven Spielberg movie so early in her career is definitely very impressive. What makes it even more impressive, however, is that there were about 300,000 other people who auditioned for the role of Maria. Being able to stand out among that many people requires something special.
10. She Did Something Special To Commemorate The Day She Was Offered The Role Of Maria
Being cast in West Side Story has changed Rachel's life forever, and she decided to do something to mark the occasion. She got a gold ring made with the date 1/9/19 engraved on it. This represents the day that she was offered the part. No matter where life takes her, she will always be able to look back at this moment.