Finally Dule Hill (Gus) gets his chance to shine as he shows off his tap moves. Does it make for a great episode, or does it compose the only good part of the episode?
To be honest, when I saw a screen cap of Gus tap dancing, I had some high hopes for the episode. Then I saw Lassiter (Timothy Omundson) was tapping too. My initial instinct to this was that of dismay. However I, like many of you, had no idea that Lassie had moves. He was even keep step with Gus perfectly at some points. So I have to give props to Lassie, but more importantly Omundson for doing so well in such a challenging situation.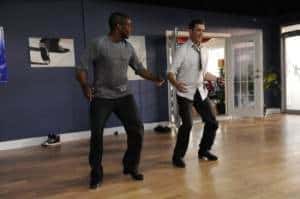 Now to the episode. The story was genius. The writers did a great job setting up a red herring for the audience. I was constantly second guessing myself as to who I thought the murderer was. The story had no dry areas this time and keep up a steady pace for the whole hour. This story is what makes Psych worth watching.
The actors did a phenominal job this week. When a split occured (Juliet and Shawn teamed up and Lassie paired with Gus), I expected some awkward situations but instead the characters were allowed to shine in their own talents. Gus once again was able to shine for a moment with his great use of identifying medicine, adding to his moments of tap dance through-out the episode. I was alittle disappointed by the Shawn and Juliet pairing. Granted it was filled with humor but I really wished the writers would have brought up so of the sexual tension between the two. Hopefully we will get something between these two by the end of this season.
With two murders, a murderer who no one may have guessed, and Gus/Lassie showing off their dance moves, this episode really did excellent. A-