Desperate Housewives Season Seven Premiere TONIGHT (September 26th) @ 9/8c on ABC
The ladies of Wisteria Lane went out with a bang last year, but the lady who pushed the button is no longer there. Angie Bolen (Drea de Matteo) finally got rid of her murderous ex Patrick Logan (John Barrowman) by blowing him to kingdom come and then left the lane with her family, who served as a red herring all season long to the Fairview Strangler mystery. Now with those mysteries behind us, two more sprung up during last May's finale and for longtime fans of the show… they were a doozy.
What You Should Know
Departures and Arrivals – The Bolens weren't the only people to say goodbye to the lane. Katherine Mayfair (Dana Delany) left earlier in the season for Paris with her new girlfriend Robin (Julie Benz) in tow. With both Delany and Benz headlining new shows on ABC, it is unknown if they will return for a proper goodbye. Susan (Teri Hatcher) left the lane after money woes forced her and Mike (James Denton) to sell their house, which brings me to the arrival of…
Remember Paul Young? – The new owner of Susan's old house is none other than Paul Young, husband to Mary Alice Young and menace to Wisteria Lane. What on earth could he want? We bet that it's not a simple apology.
Bree's Dilemma – Bree had a tumultuous season last year (like any other year), but she had her core rocked when Rex's previously unknown illegitimate son Sam Allen (Samuel Page) showed up on her door. While Orson (Kyle McLachlan) and Andrew (Shawn Pyfrom) smelled trouble, Bree blindly let the kid in and he soon became a menace to the Hodges. Sam Allen wanted what he didn't get as a child, which was a privileged life. He blackmailed Bree, telling her to sign her company over to him or he would expose the hit and run Andrew committed in Season One. The move didn't sit well with Orson, who had to serve time for his own incident with Mike Delfino. When Bree didn't force Andrew to follow the same moral code, Orson left Bree. Damn! In the end, Andrew decided to turn himself in, forcing Bree to finally get the courage to tell Gabby (Eva Longoria Parker) the truth after all these years. Whether Bree actually did remains to be seen.
Lynette vs. The Fairview Strangler – The Fairview Strangler became the mystery of the season when Susan's daughter Julie (Andrea Bowen) became his victim in the season premiere. All heads turned to the new Bolen family as the culprits, but after finding out what their real secret was, we were introduced to the real monster: Eddie Orlofsky, a neighborhood kid with ties to all the housewives. When a pregnant Lynette invited him in to stay with her, she ended up finding his secret at the worst time imaginable as she went in labor and had a new baby girl. Lynette eventually got Eddie to turn himself in.
Mixup in the Nursery – The other big "gasper" moment in the May finale was a subplot about a nurse turned nun, who revealed a secret before she died that will affect the families on Wisteria Lane forever. That secret? One of the Wisteria Lane kids was switched at birth!
Continue To The Next Page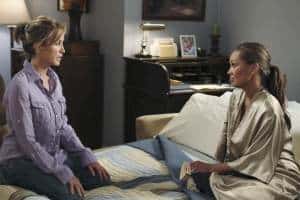 With all those ducks in a row, the new season looks very promising. Especially with a new hell on heels housewife arriving on the lane.
What To Look Out For
Enter Vanessa Williams as Renee Perry – The promos have been screaming it all summer: "Look out, ladies! There's a new housewife in town…" Vanessa Williams joins the cast as Renee Perry, Lynette's old college roommate/sorority sister, who has a penchant for being a competitor and voices her disappointment of Lynette's white picket fence lifestyle a lot. She also brushes the other ladies the wrong way, especially Bree. Renee's husband is a baseball player, who is always away, which means Renee will need a boy toy to play with.
Paul's Vengeance – Paul has revenge on his mind and he's not going to be alone in carrying out his deeds. Emily Bergl has been cast as Paul's new wife, who has a few secrets of her own. Also, expect a return from my favorite character from Season One, Felicia Tillman (Harriet Sansom Harris), who will still be giving Paul hell for killing her sister Martha Huber.
The Baby Switch – Zap2it.com's Jethro Nededog confirms that the identity of the child switched at birth will be revealed in the premiere tonight, saving us from trying to decipher that mystery. However, it's up in the air as to how this news is presented to us, meaning we're not sure if only the audience will know which Wisteria Lane kid was switched with the family finding out later.
New Residents – With Susan moving into a new neighborhood, she will meet a neighbor played by Lainie Kazan, who will have her own business. Brian Austin Green will come onto Wisteria Lane to fill the handyman void, and will be a potential catch for both Bree and Renee. B.A.G. will have a family of his own to deal with as John Schneider and Nancy Travis will also show up as his parents. The street keeps growing and growing…
So are you guys ready for tonight? We sure are! Look for my review of the premiere later tonight after the show airs. For other Desperate Housewives news, check out pics from tonight's premiere and more here.
Desperate Housewives Season Seven Premiere TONIGHT (September 26th) @ 9/8c on ABC.
Tell us what's wrong with this post? How could we improve it? :)
Let us improve this post!