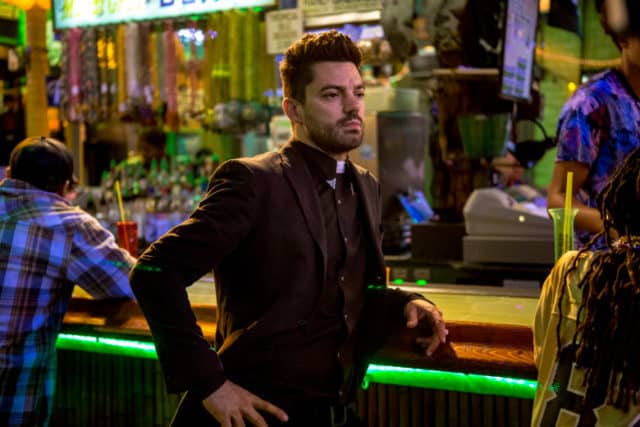 In the search for God, Preacher has its trio headed to New Orleans, hoping that they will find the big man from above checking out the best place to catch some authentic jazz music. As the show dives deeper into the south it also continues to plunge down into the wacky world of Preacher. The show has done an amazing job nicely showing off the settings but really nailing the underbelly types of areas that these characters explore. It makes sense too, that while looking for God they are going to have to seek out some of the most hidden and off the beaten path locations if they are going to succeed.
"Damsels" seems to shake things up in the dynamic between the main characters and show that there is still some type of distance between Tulip and Jesse. The first two episodes really had the gang seeming connected and ready to set out on their big adventure. Tulip and Jesse seem to be reconnected with one another and so close that they are ready to get married, but only an episode later the couple doesn't seem to really be on the same page. Tulip seems to be running into a part of her past that she has done as much as possible to avoid, and the show gives off a really nice vibe that she feels the need to handle this situation on her own. Jesse and Tulip just seem to be on edge because of the large focus they have on their personal situations, but it doesn't feel like the distance between the characters will help anything now that multiple antagonists are tracking them because of Genesis. The relationship between Jesse and Tulip is interesting though because both of them are strong-minded individuals, which works in their advantage when the two are operating together, but can create major problems otherwise.
The other big event that came out of this episode was the reveal of a new antagonist also hunting down Jesse because they heard that he is supposedly carrying Genesis. Differing from the Saint of Killers though, this is an actual organization going after Jesse. They remain largely a mystery, but the group seems like they will a much wider presence on the show because it's run like a company with a larger pool of resources. Featherstone seems like a neat character to introduce because of her ability to manipulate Jesse into confirming he does have the power of Genesis, but her full roll is still a mystery at this point. One thing that this second season of Preacher has handled well through its introductory episodes is the presence of these new antagonists coming into the picture; the Saint of Killers is a great supernatural presence who Jesse will have to always be running from while Featherstone and her organization are going to be a human threat with a larger pool of ways to lure Jesse in and kidnap him.
The show also utilized an episode of individual exploration by finally updating viewers on Eugene and how his time in Hell has been. Preacher's version of Hell is really straightforward but just as equal as anything else out there. In this universe, Hell is a place where the people sent there are locked up into a prison cell that keeps the worst memory of their lives replaying over and over again. In this case, Eugene has to continue reliving the day that Tracy Loach tried to kill herself and he ends up turning himself into Arseface. This really helps add additional depth to Eugene because it reinforces who his character is and that he's always seemed to be this kind, stand up person. It will be interesting to watch Eugene's journey into Hell continue to develop because he doesn't deserve to be there and will be running into unique characters… like Adolf Hitler.
Preacher's third episode definitely wasn't as exciting as the previous two; however, there was still a lot that happened in the episode. The show is taking its time with introducing new characters that will be long-term parts that are involved in the story. Although there is still a lot to question surrounding these newly incorporated plot lines, Preacher manages to have a lot of fun with how they bring the characters and villains into the show. The tone continues to give off this strangely drunken vibe with Jesse (sometimes literally) stumbling his way through his problems in order to complete his mission. With how much was set up in "Damsels," it wouldn't be surprising to see the show quickly continue to develop the new stories to reveal how high the stakes will be moving forward. There is definitely going to be disconnection between the main characters, which could leave them open and vulnerable to be blindsided by these new antagonists.
Other Thoughts:
– That back alley sex show was honestly amazing. Despite all of the "weird" things Preacher has happen, somehow that is by far the most ridiculous thing to happen.
– Excited to see Grail entering the picture and adding to the list of people that want to hunt Jesse.
– That 4 on 1 fight was fantastic. Just shows how much of a badass Jesse is.
Preacher Season 2 Episode 3 Review: Looking for God