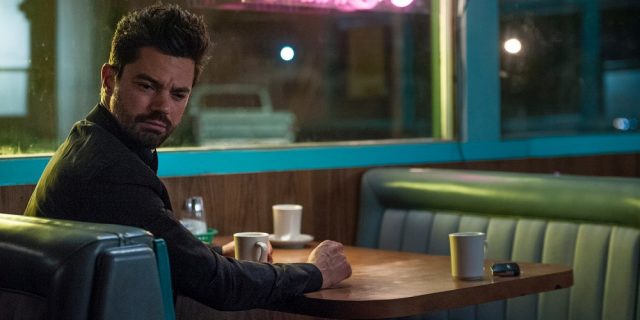 I was away last week (check out Irtesam's review of "South Will Rise Again!"), but I'm finally back with another review of Preacher. Let's take a look at what happened in this week's new episode, "Sundowner."
The episode opens with Jesse being told, as we saw last week, that the entity inside of him isn't God, but that's all the information that the angels are interested in giving. Lucky for him (and us), though, he has the ability to make others do what he says. This allows us to finally get real information about Genesis, including the first instance on the show where it's even actually named. It took halfway through the season, but these answers were a very important moment for the series, solving just a bit of the mystery. The sequence also leads into a fun fight sequence, allowing us to see (for the first time) some of the forces that will be working against Jesse during his adventure.
Genesis' origin isn't the only answer we get in "Sundowner," though, as it seems like the purpose of the episode was to peel back the curtain after five episodes of mystery. The biggest of these is the reveal of just what exactly the angels are here for. Instead of just being sent to take Genesis back, they are actually the being's custodians. In addition to putting them in trouble, they let Jesse know that it could bring him danger and unforeseen consequences if it isn't removed.
One of the best things about "Sundowner" is the decision to give Tulip and Emily considerable time together. As the two primary women in Jesse's life, it only makes sense that they would have a conversation sooner or later, and the delivery of these scenes are even better than I could have hoped. Ruth Negga and Lucy Griffiths are phenomenal talents, and Preacher is incredibly lucky to have both of them in its cast. The only negative to this scene (and it isn't even a negative, really) is that it makes me see how hollow the show may end up feeling once Emily (who most certainly won't follow Jesse on his comic-destined quest) is no longer around.
"Sundowner" also gives us plenty of great Cassidy/Jesse material, and I am still amazed at how perfectly this growing relationship is being portrayed on-screen. Additionally, following up from last week's episode, we get to see what happens with Eugene after Jesse's attempt to "help" him with his power. Eugene is often used as both the comic relief and most tragic character throughout any given episode, and, without giving away too much, that's still the case here. Finally, we see the aftermath of the mayor's meeting with Quinncannon, and it's pretty clear that there's still a lot to come with this particular story.
"Sundowner" was quite possibly the best episode of Preacher since the series premiere, and I'm even more excited now about seeing the season's conclusion than I was before.
What did you think of "Sundowner?" Are you excited about the recently announced season two of Preacher? Let us know your thoughts in the comments down below!
Tell us what's wrong with this post? How could we improve it? :)
Let us improve this post!