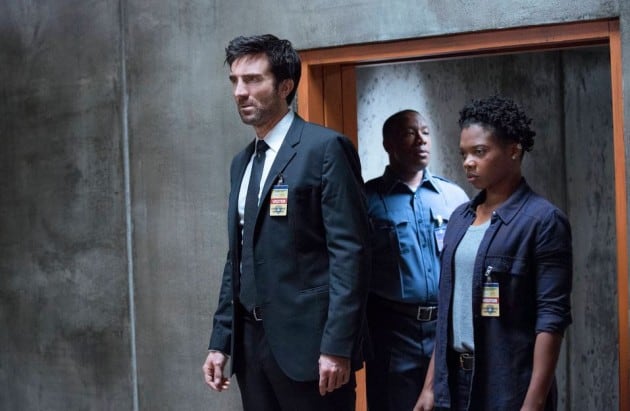 Due to being the first-ever series from the PlayStation Network (it's not just Netflix, Hulu, and Amazon anymore, guys–even video game consoles are creating TV shows!), Powers, developed by Charlie Huston from the Brian Michael Bendis and Michael Avon Oeming comic book series, had a great deal of hype surrounding it. Would this prove that the PlayStation Network could become a new major player in the television industry, creating its own original series that could compete with the Emmy-nominated shows from Netflix and Amazon? After watching the first episode of Powers, the short answer to that question is simple: no.
Throughout its opening hour, there's a lot of potential in Powers, but it's all mostly squandered by the series' lifeless characters and its overly serious tone. The series' protagonist, Detective Christian Walker, who used to be a Power known as Diamond, lacks any sort of charm or charisma. We're supposed to buy that this guy was somehow a national celebrity, but the performance of Sharlto Copley (most well-known for his roles in films such as District 9 and Elysium) doesn't possess any type of personality and instead just makes Walker look like a growling, cursing, angst-ridden has-been. Simply put, Copley, who is a great character actor, makes for a bland leading man.
However, Walker isn't Powers' only problematic character. Susan Heyward does fine work as Walker's partner, Deena Pilgrim, but she isn't given so much of an actual, real person to play as she is just a ball of clichéd ideas wrapped together with some unfunny one-liners thrown into the mix. Meanwhile, Eddie Izzard as Wolfe and Noah Taylor as Johnny Royalle ham it up so much that it feels like they're in a different, more fun show than the darkly serious one that Copley is in. The main issue is that none of these performances mesh well together, making the characters feel like they're from separate universes instead of the same world.
And Powers' lack of interesting characters is a shame because the series establishes some potentially intriguing storylines in its pilot (What exactly is Royalle planning? Will Wolfe really return Walker's powers if he helps him?), not to mention the show has such a rich history shared between many of its superhero characters to explore as it moves forward. With some better writing (someone needs to tell the Powers writers that having all their characters curse a lot does not inform anything about their individual personalities and does not equate to edgy or gritty television–it's just profanity for the sake of profanity) and stronger acting, there's a lot that could be developed here to great success. However, in this first hour, that is sadly not the case, and there's nothing that's good enough to distract from these problems.
Even the visuals of Powers are an issue, as the superhero series looks so dreadfully cheap. The excellent David Slade (who, on Hannibal and other series, has helmed some of television's best looking episodes) can't even make anything about Powers visually interesting. Much of the show's first episode looks and feels like a generic TV movie rather than a new or daring series.
Ultimately, by the end of the first episode of Powers, I felt tired and bored. This is a series about individuals with super powers, but unfortunately, at least in its premiere, there's nothing about Powers that matches the extraordinary nature of its premise.
Other thoughts:
– This pilot, like most other things on TV, needed more Michelle Forbes.
– I wish the series had given us more information about how the Powers homicide division works and how exactly it's different than other precincts. That one scene with Deena during the beginning of the episode wasn't enough.
– The presence of Mario Lopez in this episode (who is purely there to deliver exposition about Walker's past) easily lost Powers a star when it came time for me to give it a rating.
– While we didn't learn too much about her in the pilot, the character that most intrigues me on Powers is definitely Zora. Something about her was immediately interesting.
– Due to bevy of great shows currently airing on TV and my lack of a PlayStation Plus subscription, this will probably be my one and only review of Powers. My TVOvermind colleague, Randy Dankievitch, will be publishing a more overall review of the show's first three episodes tomorrow, and maybe if I find the time and desire to, I'll check out the rest of show's first season sometime during the summer.
Did you watch the Powers premiere? What are your thoughts on the show?
[Photo via Sony]