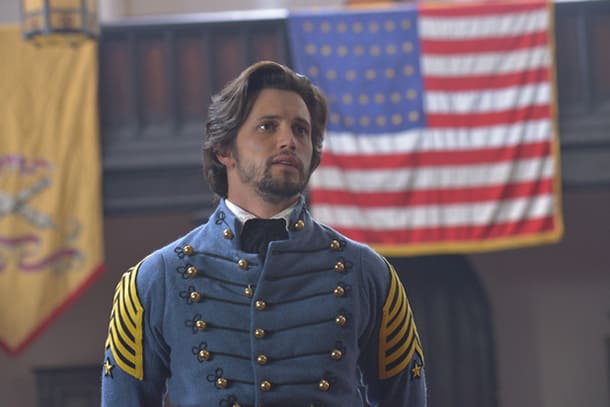 In college, my one creative writing professor told us that the most effective tool that any author had was his or her ability to use restraint. Allow the authenticity of the characters, emotions, and story to propel your work into something special–never try to manipulate it. "Restraint" is a word that came to my mind quite a lot while I was waiting Point of Honor, because, for the most part, this is a solid, if rather formulaic, pilot. However, it lost me every time it went for an over-stylized or over-scored "big moment," instead of having faith in its characters and the story it was trying to tell.
A very early example of Point of Honor's lack of restraint comes in the pilot's opening battle sequence, which is well-staged, well-shot, and graphically violent; there is no denying that it initially grabbed me. And then the slow-mo started. This is not a complaint about slow-motion as a visual device in television (many series utilize it very well), but its use in the opening of Point of Honor is to underscore the important drama of this battle, when the show should be letting the gritty, brutal realism of war–like a man getting his arm blown off, which happens within the first five minutes of the pilot–say all it needs to. We know that this is the Civil War, and that these men are all Americans – some friends and even family– and the gravity of that situation works well enough on its own.
Similarly, the scene in which the Rhodes family frees its slaves is one of the most powerful and honest moments in the entire pilot. The actors playing Abby, Phoebe, and the rest of the group do a fantastic job at showing the disbelief and then euphoria of the moment; they are finally people, no longer treated as property, and can do whatever they want with their freedom. However, when "Amazing Grace" begins playing (oddly only a segment of the song plays for about 20 seconds or so), we again see the creators' hands reaching into the scene, attempting to press the right buttons to ensure that the audience feels the intended emotion. The clear emotional manipulation takes the viewer out of the episode's best scene, a real shame given the strength of some of the performances in it.
And speaking of Point of Honor's performances, the show's two leads, Nathan Parsons as John and Christopher O'Shea as Robert, are, for the most part, generic and bland (O'Shea especially has difficulty emoting, wearing the same near-tears facial expression throughout most of the pilot). We don't learn much about either character from his actions; instead, we are told in the beginning (via voiceover, because, again, every TV show needs voiceover this season) about the strength and nobility of each of them, even if we don't see it through many of their actions in the episode.
Much more interesting is what's going on at home with John's three sisters and his drunk of a brother, Garland (Luke Benward, who shows more charisma in his few scenes that both Parson and O'Shea combined). John's four siblings, specifically his sister Kate (Annabelle Stephenson from Revenge), demonstrate a great deal more personality than our ruggedly tough leading man, and the prospect of Kate, Estella, and Lorelei trying to manage Point of Honor while the men in their family are off fighting is much more captivating than any slow-mo battle sequence.
Overall, Point of Honor certainly has some interesting characters (even if it probably has too many of them) and some potentially compelling storylines that it could dive into if it were to continue. But in order for this show to actually grow into something worth recommending, its creators, Carlton Cuse (Lost) and Randall Wallace (We Were Soldiers) need to take a step back and allow for their story to do the work. If had done so in the first place, Point of Honor would have been a stronger, more engaging historical drama.
[Photo via Amazon]