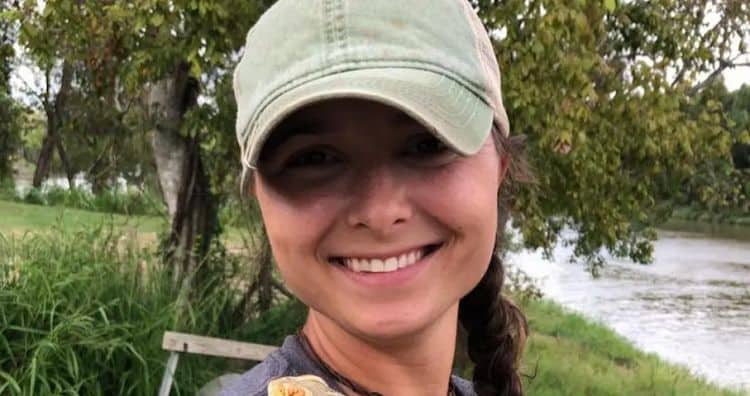 It goes without saying that "Swamp People," on the History Channel might be one of the most baffling shows around if you don't know what you're watching. The premise is all about alligator hunters, which is not a job for the weak – if we might say so ourselves. This show follows families who work very hard during gator hunting season to try and capture the biggest, baddest gators in the swamp to make the most money for their families to live off of in the off-season. It's not a secret that many of these hunters live very simple lives, very quiet lives that aren't all about materialistic items and travel, and the show is fascinating. Pickle Wheat is a gator hunter that is new to the show, and many people want to know more about her.
1. She Comes From a Long Line of Hunters
Her great-grandfather is famous in her area. He's one of the men who is original to the gator hunting game, and she follows in his footsteps. The way it sounds when she speaks of him is that he's local royalty in the gator hunting circles.
2. She's Dating Chase Landry
Their relationship is not one that's been going on very long, but it seems that they decided to make things official back in 2020. They made their relationship public back in October 2020 – or rather, they decided to have a relationship as of October 2020. We have a feeling that they will be featured in the new season quite often.
3. She's 25
This young woman is only 25, but she has plenty of experience being outdoors and working the gators. She's been doing this with her father since she was nothing but a child, and she's not afraid of any of it. She's always outside, she's always hunting animals, and she's always having a good time with it. She celebrated her 25th birthday in September of 2020.
4. Her Name is Not Pickle
While we have to admit that we might not be entirely surprised if her name was really Pickle Wheat (in a world full of Apple's and whatever Elon Musk recently named his new baby), her name is not Pickle. Her parent's weren't quite on that level when they named her. She's Cheyenne Wheat. Pickle is nothing more than a nickname.
5. She's Not Afraid of Snakes
She's having some big moments in her life right now, but she doesn't document them all. She does, however, love to post photos of herself to Instagram in which she's holding fish and animals, and even snakes. She's clearly not afraid of the creatures, like the rest of us.
6. She's Pretty Private
Pickle Wheat does not share too much about her personal life with the world. She's very private, and she seems to enjoy keeping things to herself. She has social media, but she doesn't appear to use it very often. Her last post on her Instagram account is from 2019.
7. She's Part of the Family Business
It's not always alligator hunting season in the bayou. When it isn't, she's not in the swamp looking for beasts. She's at home with her family helping out with the family business. They make things like duck calls and turkey calls. As non-hunters, we aren't sure what that means, but we assume it means little items that call those birds to you so you can hunt them.
8. She's From Louisiana
She's never been too far from home. She still lives in the same area where she grew up. She's from a small area in Louisiana called Pierre Part, which is around the swamps. She grew up with her mother and father and her brother. Her mom is Missie. Her dad is Eddie. Her brother is James.
9. She Hunts Everything
One thing we can tell about this young woman is that she's good at hunting anything. She might not use her Instagram page much, but she does show herself hunting often when she does. From alligators to deer, she seems to be an avid hunter through and through.
10. She Loves Dogs
We don't know if she still has a dog, but she did have a small puppy in 2015 that she posted about often. He was a sweet little puppy, who we assume is now her big dog. Of course, we cannot verify since she doesn't use her social that often, but we do like a person who likes dogs. They're often the best people.