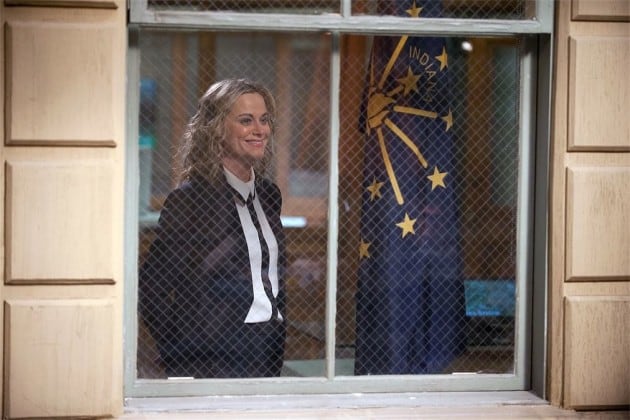 When I wrote an article yesterday describing how the heart of Parks and Recreation was its most important and special attribute, even more so than its ability to make us laugh, I had some people responding on Twitter that humor and heart are not mutually exclusive. Of course, those people are correct, and countless times throughout its seven-year run, Parks and Recreation showed us that, blending comedy with touching character moments, making us laugh and cry all within the same scene.
However, after tonight's excellent series finale, "One Last Ride," I can't help but reiterate my point from yesterday, as this episode made it abundantly clear that Parks and Rec was always a show more interested in family and friendship than it was in consistently producing laughs. Because while I certainly did laugh during this series finale, I was mainly struck by the warmth and love I felt while watching it. Parks and Recreation's heart was on full display for all 40-plus minutes of "One Last Ride," proving yet again its incredible capacity to make us fall in love and care about these characters as if they were real, fully alive people and not simply sitcom stereotypes (I'm looking at you, CBS comedies).
And ultimately, that's why I'm okay with the fact that "One Last Ride" only made me chuckle a few times (okay, that's not true–I laughed hysterically when Garry walked out in the coffee costume in the episode's opening and when we discovered that Ron now owns 51 percent of the Lagavulin distillery). Because for me, it was more important to spend time with these characters, watching them interact with one another in the old Parks Department office and share in huge milestones in their lives in both the present and the future, from the birth of Andy and April's son, Jack (with, of course, April wearing full on Exorcist-inspired makeup and "Monster Mash" playing in the background), to the publication of Tom's book, to Leslie becoming governor and getting the University of Indiana's library ("A [bleep]-ing library," she says under her breath, in another laugh-out-loud moment) named after her.
The decision to have each character's goodbye with Leslie in the present trigger flash-forwards to where their lives would go in the future was slightly jarring when it first happened with Donna; however, it quickly grew on me, and I realized the brilliance of it. This was Parks and Recreation's way of showing us that the family we've seen grown together in Pawnee over the past seven years would never separate; they would never lose touch. The bonds forged between all of these, to use Ron's words, "workplace proximity associates," continued to remain strong for decades, up to and including Garry's funeral (if only they had spelled his name right on the tombstone).
It was fitting for "One Last Ride" to be a celebration of friendship and all the wonderful journeys that led to each character's happy ending, because as Leslie says in the finale, the reason why she has always loved to work is because she has always loved the people. Her role in government was never a profession or a career; it was a way of life, a place where she did good in the world with good people. And if there was one thing that Leslie has shown that she values more than doing good public work, it's the happiness of those she loves, her friends and family, and this series finale was Parks and Rec acknowledging to both her and us, the fans, that the people most important to her, the characters we've loved for years, found their happiness in life and continued to find new ways of discovering it, always excited for the next stage, always willing for a new journey.
And with that knowledge, we, again like Leslie, can find ourselves ready. Ready to leave Pawnee, its wonderful cast of characters, and the world of Parks and Recreation one final time, because we understand that the immeasurable amount of moments we've enjoyed watching this series will never leave us. Just like Leslie says to Ben, "Whatever's next, you and I are in it together," and that's where Parks and Rec will always remain: together, with us, in our hearts.
Other thoughts:
– I know that, according to my role model, Ron Swanson, crying is only allowed at funerals and the Grand Canyon, but I think he'd make an exception in this case, because I teared up plenty of times during this finale.
– As I stated in my review, what made this final episode work so well is that it didn't have the Parks and Rec gang trying to solve any major problems or tie up any major loose ends. This was simply a celebration of the characters, how far they've come, and how much more they would continue to go in their lives. God, it was beautiful.
– Garry continuing to be Pawnee's mayor (and getting elected again because of write-in ballots) was spectacular. Also, Brandi Maxxx became a councilwoman!
– As heartwarming as Leslie saying "Welcome to the team" to little Jack was, I've got to say that the most tear-inducing moment of the night for me was Leslie putting Ron in charge of the national park in Pawnee (which, of course, got built, because Leslie is amazing). Their simple exchange ("Thank you, Leslie." "You're welcome, Ron."), followed by "Buddy" playing again, said so much in such few words. It was perfection.
– Actually, scratch that last point: Ben announcing to everyone that Leslie would be running for governor, and completely ignoring her coin flip idea, may compete for my favorite moment. Again, simple and yet so beautiful. Man, this finale is just making me deal with too many emotions.
– Also, how excellent was it that Craig got his own ending, and that he ended up marrying Typhoon? With Ron being Typhoon's best man! AMAZING.
– So happy we got to see Ann and Chris one more time, and how great was Leslie's response when she first saw them? "You guys, Ann's here!" and then it was just like no one else even existed. Also, so happy that we got one more "literally" from Chris.
– To be honest, I could continue listing more and more moments from "One Last Ride," because so much of it was just so great. But really, I'd just like to say thank you to Parks and Recreation for seven amazing years and for being a show that, no matter how I was feeling that day, could always make me smile. TV needs more series like Parks and Rec.
– And also, thank you to anyone who has read, shared, or commented on these reviews over the past two years. It's been an absolute pleasure getting to cover Parks and Rec for its final two seasons, and I hope I did the show justice.
– I leave you with the always inspiring and insightful words of Leslie Knope, Governor of Indiana, Queen of the Universe (at least in my mind), and one of the best fictional characters ever to grace television: "What makes work worth doing is getting to do it with people you love…Now go find your team and get to work."
What did everyone else think about the Parks and Recreation series finale? Were you satisfied with the show's ending?
[Photo via NBC]