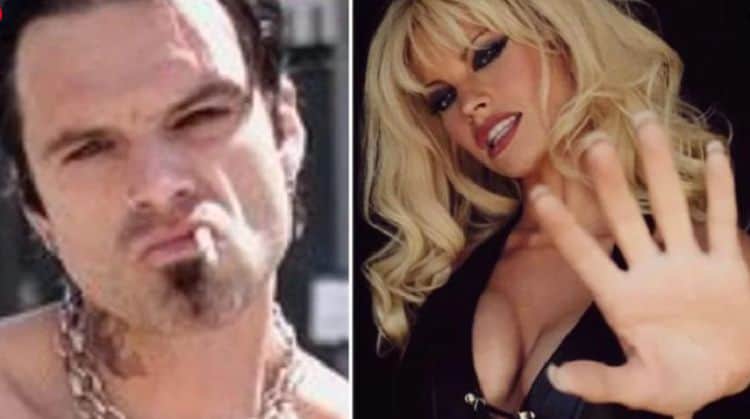 Pam and Tommy instantly take us back to 1995, where VCR players are still a thing and musicians actually make money from physical record sales. Pamela Anderson was sort of the nineties Kim Kardashian. The beautiful blonde bombshell was known for her role on the popular series Baywatch and her stint as a Playboy model. Her husband Tommy Lee was a famous drummer and founder of the rap-metal band Methods of Mayhem. Tommy and Pam's fame skyrocketed when their sex tape was stolen by a former contractor that Lee had burned. The tape was sold to thousands of people online. The Hulu series documents the entire situation. If you've ever wondered what it was like to be the iconic Tommy and Pamela Anderson, you'll get an inside look at how it is to be famous and rich in the nineties. On Pam and Tommy Season 1, Episode 1 Rand Gauthier played by Seth Rogen who also happens to be a producer on the Hulu series, is the contractor that has been contracted for a bedroom renovation at Tommy's beautiful mansion. Gauthier is steadily nailing together a bed platform but erotic sounds of a couple ravaging each other are proving to be a major distraction.
The contractor takes a break and goes out to his old van where he takes a minute and lathers his hands with Bengay. Believe it or not, such a menial task lays the groundwork for his "tired and overworked contractor" storyline. When Tommy insists that the Gauthier moves the platform bed after he's already spent hours installing it, the contractor gives Tommy a new invoice one that's thousands of dollars higher but according to the rich drummer, "money is no object", a line that he seems to be quoting to all the contractors he's hired to work on the current renovation project. Tommy Lee throws his wealth around unbashingly. Showing off a new gun he purchased to his friends that costs just as much as the renovation project. Unfortunately, Tommy Lee can't be bothered to do things like writing a check. Thus far, Tommy owes Gauthier $8,000 and he owes the other contractor $15,000. The show explores Gauthier's home life to show just how much he has to ride on this latest gig. Gauthier lives in a modest apartment, there are past due bills piling up and when he flips on the TV he discovers that his cable has been turned off.
Things only get worse for the Gauthier when he returns to work the next day at Lee's mansion. He goes to look for Tommy to demand payment but instead, he finds the hot Pamela Anderson in the kitchen, clad in underwear and a t-shirt. Tommy goes off on the contractor for "perving" on his girlfriend and creeping her out. When Gauthier and Lonnie bring up the money that he owes them, Tommy decides that the work they have completed is not up to his standards and he follows both of the crews. If it's one thing we've learned about Tommy Lee in the premiere episode is that he is a complete douchebag. Tommy makes it clear upfront that he has no intention of paying his invoice. Over drinks, Lonnie and Rand realize that they've lost thousands of dollars. Their only chance at recouping their losses is to sue Tommy but their legal fees would amount to more money than they're actually owed. Their only option is to let karma take care of Tommy.
Later that evening, Rand gets lost in another porn video that ironically takes place at a construction site. A toolbox in the movie reminds Rand that he left behind his toolbox at Tommy's house. The next day, he finesses just way through the security gates and sneaks back into the house to retrieve his tools. Just as Rand is about to slip back out the house with his tools, Tommy appears on the upper landing with his shot gun aimed right at Rand. Tommy orders Rand to leave behind the toolbox as collateral for the inconvenience he supposedly caused by leaving him in a lurch. Rand makes it back to his van he heaved a sigh of relief yet notices that he was so terrified that he wet his pants. Not only did Tommy screw him over but he also humiliated him a feeling that he knows all too well. Rand calls Lonnie and tells him that he has a plan to take down Tommy. "I thought karma was handling that," Lonnie exclaims. "I am karma and it's a b****," Rand says in response.