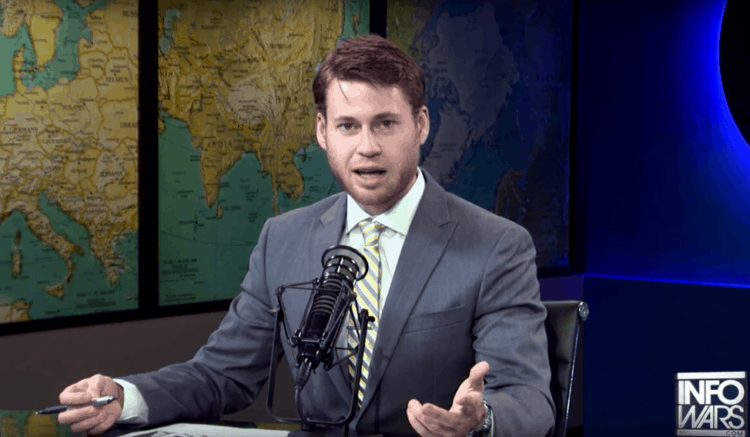 If you sit in the midst of the continuing battle between the left and the right, the liberals and the conservatives, the Democrats and the Republicans, you've likely heard of a lot of YouTubers that have taken advantage of this ongoing struggle since there have been quite a few that have come and gone. Owen Shroyer of Info Wars has been around for a while now and has been spreading the word using his conservative views in a manner that might be called combative by some but completely sensible by others. While he does make some very good points when he's speaking and tends to want reasonable and sensible discourse, he almost always seems to find himself in the middle of groups that are set firmly against him and are known to scream and jeer at him as he tries to discuss the difference between their views. You might say that he's confrontational, but you could also state that he's a guy trying to find a middle ground between the parties, albeit in a rather one-sided way at times.
Here are a few things you might not have known about Owen.
10. He's actually boycotted Twitter.
Joe Virgillito of BTRToday has made it known, in a rather biased manner, that Owen has actually boycotted Twitter after having received a massive amount of backlash on the platform that prompted him to just quit altogether. As you can imagine a lot of people don't believe that this will be a big deal, and in truth it's not.
9. It seems as though he might have a Trump tattoo on his back.
It isn't really sure if the portrait he has of Trump on his back is real or if it's just drawn on but this latter claim is typically something you'd hear from those that don't care for Owen to begin with. It's very likely that he does have a regular tattoo of Trump since he's a rather big supporter of the POTUS.
8. He's been accused of being jealous of David Hogg.
So apparently it's been deduced that he's jealous of David Hogg, the survivor that went on a tear against gun rights if you recall, because CNN had something to do with his gap year between high school and college. Honestly that sounds like one of the hardest things to swallow, but it has a lot to do with the controversy that Owen helped to bring forth about Hogg being a paid actor and not a real survivor.
7. Owen has a lot of detractors.
With his views it's not too hard to believe that liberals and anyone on the left are actively seeking to silence him as much as possible. It's not entirely right of them to do so but at the same time Owen is willing to stand up for his beliefs and words quite often so it's not typical to see him just back down.
6. Technically he has been assaulted a few times while on the job.
He's been spit on and even groped during the filming of his YouTube videos, though it doesn't seem as if he's been truly hurt at any point. Instead the technical term of assault is what could be applied to any of those that decided to do more than just get in his face.
5. He keeps his family life well away from his job.
This is probably a wise idea considering how many people he upsets on a regular basis. Some might think he's trying to just keep his family out of the limelight, but in truth that's not a bad thing since there's no telling how far some of his detractors might actually go.
4. Most of what he earns comes from his YouTube channel.
Owen has a great number of YouTube videos and appears in several more since he's become something of a celebrity online and at times is seen to make a lot of sense. This of course is hotly debated by anyone that doesn't see things from his perspective.
3. He's taken on some truly controversial topics.
There's not a lot that Owen won't talk about when it comes to topics that are being covered by a wide number of people and have to do with the American people. His voice is at times the loudest in the room but at other times he has to really work to be heard.
2. It goes without saying that most liberals really don't like him.
You could probably count on two hands how many liberals have decided to talk to him in a civil manner in his first ten videos, and this is saying a lot since he does try, in a polite manner, to talk to a lot of folks.
1. A funny bit of information is that many of those he interviews can't seem to argue with him in a coherent manner.
Like him or not, the fact is that Owen goes into each video with a great deal of knowledge concerning what he's speaking about and often stumps people who aren't ready for a reasonable conversation.
Again, like him or not, he's someone that's hard to debate with, if you're trying to sound rational at least.