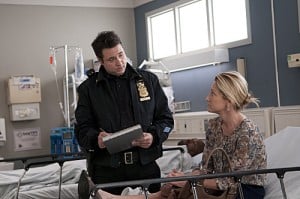 Just before her final meeting with Kevin and the mediator they've been using for their divorce proceedings, Jackie listens to positive affirmation tapes that tell her to cultivate her smile, say yes to her success, and that she can do a superb job. That seems to work, as she reaches a divorce settlement with Kevin and leaves the meeting on good terms with him for the first time since last season. The two make small talk by their cars (Kevin's being a new-used) before Kevin leads her out onto a familiar road. Before they can make it, though, Jackie gets distracted trying to turn her tape off and rams into the back of her ex's car.
She wakes up at All Saints, with Kevin questioning her about being on something. The two have a huge argument for everyone to hear before Zoey leaps on the grenade and tells them about the police officer being in admitting, waiting to fill out the accident report. Kevin leaves and Zoey checks all of Jackie's vitals, which are good, while Akalitus draws blood. Coop was originally slated to be Jackie's attending physician, but since he's covering for Carrie's tardiness, as her body rejects waking up early, he sticks Dr. Roman with the case, much to Jackie's chagrin. Carrie can't raise the head of the bed, move machinery, or figure out what to write on the medical report, Jackie dictating the proper wording so she can be cleared to come back to work. Dr. Roman also writes Jackie a prescription for oxycontin, telling her not to mess up with dosage and that she would be prettier if she smiled more.
Jackie then has to help the police sergeant fill out the accident report before she can leave. He flirts with her and makes her laugh, but she has to spring into action once they have a patient to deal with. The man's name is Roger, a 40-year-old tourist who got nailed by a sign after he stood up on a double decker bus. They find the major source of concern, a miniature Empire State Building rammed into his lower back, before rushing him off to surgery; Jackie, however, can't go, seeing as how she just had a car accident. Once she sits down by the elevators, Frank asks her out to dinner, an invitation she needs to think on, and hands her his number for when she decides.
Back from the case with Roger, Zoey wants to go to lunch with Jackie and they end up with street pretzels at her new apartment, a studio-plus she acquired through a chance meeting at a coffee shop. Zoey hasn't yet signed anything and wanted Jackie's approval before she did, which Jackie gives citing her having never lived alone before getting married. Back at the hospital, Ike has been loaded down with paperwork, though it's imperative that he keep up with it so All Saints can continue being funded, while Coop stands up to Carrie, telling her that being a doctor isn't for everyone. He then grabs her breast, she grabs his crotch, and nothing was solved, as Coop's thoughts turned from bravery to getting out as uninjured as he could.
Jackie makes a breakthrough with Ike, getting him to agree to hire more nurses, and stops in to see Eddie about her awful day. When she mentions the cop that asked her out, he tells her to take her time and not get involved with anybody, noticeably jealous after he was turned down last week upon asking to take her home. The two, still unsure of what they are, part ways, giving Jackie the time to fill her prescription. However, she opts for icy hot patches instead and ends up calling Frank for a late cup of coffee. Once there, all of her apprehensions about sober dating melted away as the two bonded of stories about family, therapy, and embarrassing moments. Sensing she was going to be late for Kevin dropping the girls off, Jackie tries to leave, only for the cop to give her a ride home – siren flashing. She warns him that she's a recovering drug addict who works 70 hours a week, but he still wants to see her again.
Which makes her smile.
Additional thoughts and observations:
-I haven't warmed to this season yet, but this was another positive step forward for the show after (what I consider to be) an awful premiere and a good-ish second episode. After everything she went through last season, it's nice seeing Jackie smile.
-Speaking of, I was a little apprehensive about the idea of having her date, but I think that Edie Falco and Adam Ferrara have pretty strong chemistry together, so it shouldn't be so bad.
-Things I'm still not feeling: Kevin going from having no personality to being super unpleasant in every appearance; Akalitus and early-onset Alzheimer's (I'm guessing that's where they're going with her memory lapses); both new characters, who continue to feel very empty.
-Next week on Nurse Jackie: Zoey has to find out the identity of a heavily medicated Jane Doe, while Coop and Carrie go out for dinner and Jackie's daughters act out.