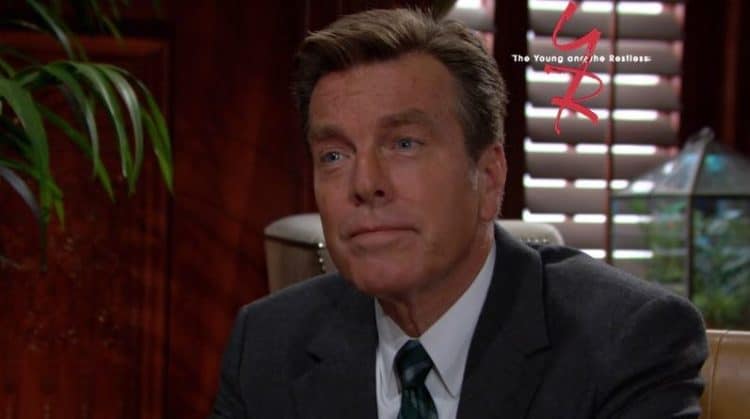 Young and the Restless fans are not going to hold their breath about the way some things are going down right now, but we do know that Nick is making big decisions this week. He's decided he has to tell Sharon that he had a one-night stand with Phyllis. He does need to tell her, too. This is not something that he can keep from her at this point as so many other people know, and he has to tell her before someone else does. If he has any hope of making this work with her after cheating on her a minute and a half after they got back together, it's by telling her himself that he had sex with Phyllis. She's not going to take it well, and we do have a feeling someone else will get this information to her first. It's going to cause some major drama, but he has to deal with it.
We still can't believe what is going on with Victor and Jack. They are spending all their time together now, and they are actually bonding. These are two men who hate one another and have spent their entire adult lives trying to take down the other, yet here they are bonding over things that they cannot even handle. It's something we never thought we'd see happen, but here it is happening. It's been amazing, and we are really just sitting back shocked that this is their lives. We mostly have no idea what to do with this or how to think of it. Do we really want them to be friendly with one another? Do we want them to handle this situation the way it's being handled? Do we want them to go back to hating one another? We don't know.
What's Happening on the Young and the Restless
Are Victor and Jack brothers? It's the moment of truth. You don't want to miss these results next week on #YR! pic.twitter.com/4QXUJpbNen

— Young and Restless (@YandR_CBS) September 21, 2018
Well, are they? Or aren't they? We can't even begin to imagine how this is going to go and how this will make this situation more interesting. I mean, Victor has a baby with the sister of his potential half-brother, and that's weird. So that makes him an uncle to Abby double time? We don't even understand how that goes. And we don't understand how this will work out in any capacity. But, only time will tell.
What's Next on the Young and the Restless
Next week on #YR, the Abbotts stage an intervention, the paternity results are in and #Shick debates coming clean before their big day. pic.twitter.com/mbImsEy5GR

— Young and Restless (@YandR_CBS) September 21, 2018
Victor is going to start making his life a different situation, and it will all begin with Matt. He will make amends with this man to make himself feel better. We actually believe he is doing this so that he can take something from him or get something from him or something to that effect. He's not someone who just makes amend with people that he's always been at odds with for nothing, and we really cannot shake the feeling that all he's up to these days is nothing more than a smokescreen for something bigger. Or he's dying. We don't know what is going on or how it is happening, but we do know that there is a chance he is not going to make himself really a big fan of anyone at this moment.
In the meantime, Jack is about to get some news about this paternity. Will he find out that he and Victor are, after all, long-lost brother who might have been separated their entire lives? We are still here trying to figure out what Dina was doing with all those men at the same point in her life that her own son has to assume he can be the son of anyone in the city, but here memory doesn't exactly work, either. So, you can really trust anything she says at this point. She's a mess, and she's always been one. We don't know if she's right, but this is going to be big.
Stay tuned for more Young and the Restless and be sure to check out TVOvermind daily for the latest Young and the Restless spoilers, news, and updates.