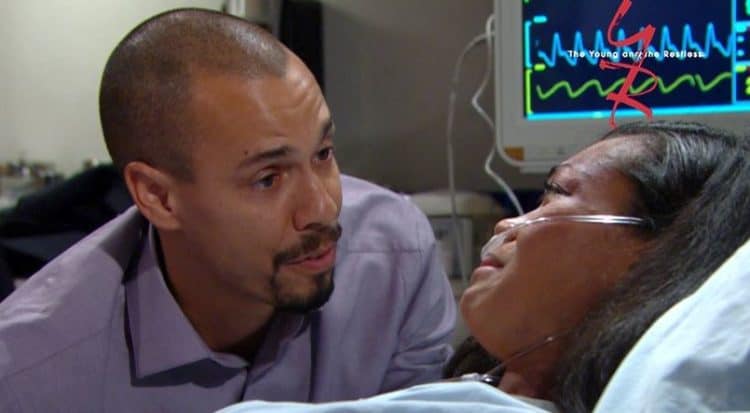 Young and the Restless fans are very sad at the moment. It turns out that Nate has brought some very bad news to Devon. Hilary's injuries are serious. The baby is gone, and they will not get to have the baby they've been dreaming of having. They will not be parents, and Nate will also tell Devon that her injuries are so serious and significant that she will not live. He's giving her only a little while longer to survive, and Devon will be crushed. He has decided that there is only one thing that they can do, and we suspect that it will involve them getting married quickly while she is on her deathbed. We also know that she blames herself for the accident that took the life of their baby and their future, and she's beside herself.
We are all so surprised to see that while Nick was in the middle of looking at his future and loving his situation with Sharon, things took a turn. She's noticed he's been distant, and things are not working out as well as they might have hoped. He and Phyllis were hanging out together talking about their issues with their significant others, and somehow they ended up in bed together. They decide to keep this a secret, but we have a feeling that it will never remain secret. We know how things like this turn out in Genoa City, and someone will find out. They will never keep this from Sharon, and she will be crushed. We are not so sure that it's Billy we care about at this point after all he's done, but Sharon is all about finding a hopeful future with Nick and he's all about making the best for them. He wants it to work for them, but this will make that impossible.
What's Happening on Young and the Restless
Kids Week has just begun on @PriceIsRight which means the #YR guessing game has too! We've got plenty more throwbacks to come, but can you guess who these two were before they came to Genoa City? pic.twitter.com/Txv7sRIGrn

— Young and Restless (@YandR_CBS) July 23, 2018
We are so loving this game of guess who is in this picture from a million years ago. It's the best, and we want to see if you can figure out who the next photo is of. Some people were quick enough to get it right the first time around, but can do you do it? Can you guess this sweet little face and who it belongs to, or are you as stumped about it as we are? We can't find out who it is, but we can't help but ask you if you know who it is.
What's Next on Young and the Restless
Devon comforts Hilary today on #YR. pic.twitter.com/yKgbud3nNb

— Young and Restless (@YandR_CBS) July 23, 2018
It tuns out that some people have issues, and we think that Phyllis is one of them. She's about to confess something to someone, and we have a feeling it has all of everything to do with what happened with her and Nick last week. She slept with him while they were both mad at their own partner, and now things are taking a serious turn. Who will she tell? And how much longer until Sharon finds out? Billy won't like it, but they're not just on the rocks. She literally kicked him out and ended things with him, so she's technically free to do as she pleases in her life. Things are just not as good for her as they should be, and she's going to find that out the hard way.
As for the rest of us, we think that Devon and Hilary are going to be the saddest story of the year. She will undoubtedly die. She will lose her life, and she will not make it. He will lose his mind, and he will lose his spirits, and things will never be the same for him again. He's so upset and crushed and unhappy, and we don't blame him. Things aren't good for him in this manner, and it's not a surprise. We hate to see it end, but we do know she is leaving the show, so this is the next natural situation for all of them. They will take a look at their past, and that will be sweet.
Stay tuned for more Young and the Restless and be sure to check out TVOvermind daily for the latest Young and the Restless spoilers, news, and updates.