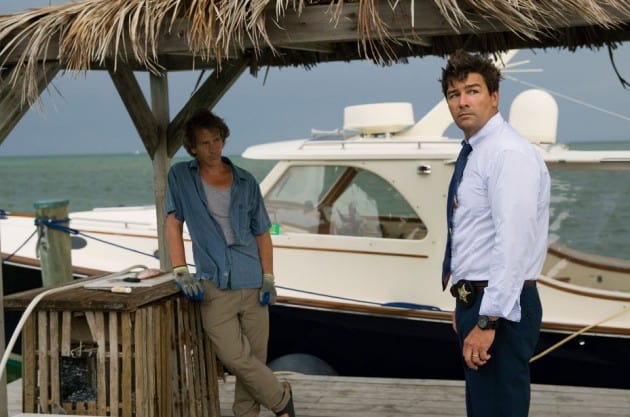 Recently, I just finished up Netflix's Bloodline, the streaming site's new series that has debuted with less flash and flair than House of Cards and Orange is the New Black but is still making an impact all the same. Bloodline was just renewed for Season 2, but in a way that I think is going to be harmful for the series in the long run.
A brief summary: Bloodline is the story of the Rayburn family, which is made up of four children and two elderly parents who are fixtures in the Florida Keys because of their resort. There's a hothead son Kevin (Norbert Leo Butz), a lawyer daughter Meg (Linda Cardellini), a responsible, detective son John (Kyle Chandler) and the wild card, ne'er-do-well son Danny (Ben Mendelsohn). All four siblings have different levels of secrets, and the show is determined to pry all of them loose by the end.
(Spoilers to follow for Bloodline Season 1.)
There's a looming sense of dread embedded in Bloodline that only gets worse as time goes on, and it's a really interesting juxtaposition with the "paradise" setting of the resort. The secrets start out small: Meg is cheating on her boyfriend, Kevin and his wife are splitting up, but by the end of even the pilot, they escalate dramatically. In a flash-forward, we see John dragging Ben's body through a thunderstorm, and the implication is that he's trying to save his brother who has gotten himself in over his head in some sort of nefarious situation. By the end of the pilot, John eventually hauls him onto a boat, but instead of driving him to the nearest hospital, he douses Danny in gasoline, lights a match, and jumps off the side as it explodes.
"We're good people," he narrates. "But we did a bad thing."
It's chilling, and a powerful start for the series. You spend the next 12 episodes figuring out what exactly led to that situation, and there is no real twist. Danny, involved in an illegal enterprise that threatens to sink their whole family, is determined to dump it on his siblings as repayment for years of neglect (he was singled out and beaten by their father who blamed him for the death of his younger sister). John, in a fit of rage when he realizes his brother is purposefully trying to destroy the family, drowns Danny in shallow water, and he and his brother and sister have to figure out what to do with the body.
Once it became clear that Ben Mendelsohn's Danny was dead, I was almost sure this would be a one-off miniseries. Mendelsohn's performance is the only truly captivating thing about the show, and while it may have seemed necessary to kill him for story purposes, it kind of sinks the show's potential. But the very end of the season hints at new plot developments to follow. The siblings' mother hires a PI who tells her that her children are lying to her (it's unclear what he knows), and then after Danny's death, a boy shows up claiming to be his son; we know he bore witness to at least a few suspicious acts by John and Kevin.
So Bloodline has been renewed for a second season by Netflix now, but I think it's a mistake to format the series like a traditional show. We uncovered a whole host of Rayburn family secrets throughout the course of the season. Now, if they force the scriptwriters to keep digging and unearth even more dirt, I can easily see it slipping into soap opera territory. Combine that with the fact that Mendelsohn can't even be a part of the show in any way but flashbacks or hallucinatory sequences now, and I think you have a recipe for the show peaking after one season.
Rather, I think Netflix would have been wise to try and craft their own mini True Detective or American Horror Story with Bloodline. The idea is perfect for an anthology series, where every new season the cast changes, but the concept remains somewhat the same. There are an infinite amount of talented actors who would love a chance to shine on a Netflix show, and a ton of different possibilities that could make use of the "dark family secrets" core idea that could move the show from the Keys to literally anywhere.
While I am curious to see what Bloodline does with the existing Rayburn clan, to me it does feel a bit like if True Detective Season 2 took place with the same cast in the same place, except if its best character, Rust Cohle, had been killed off in the finale. Netflix would be wise to consider mixing up the format of their shows, and Bloodline seems like a bit of a missed opportunity where they could have done just that.
[Photo via Netflix]
Tell us what's wrong with this post? How could we improve it? :)
Let us improve this post!