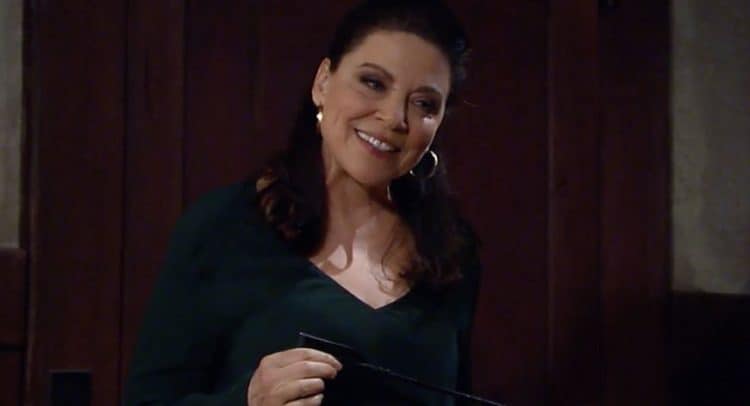 General Hospital fans love watching things as they take a turn for Nelle. She's not really too worried about anything at the moment. It's all a minor inconvenience to her more than anything right now. She's got a chance to make things what she wants them to be, and that's what she is focusing on right now. She's got a chance to marry the man she is in love with, and she's doing that as quickly as possible. She's so happy to have a wedding coming up in the next few days that she's not really all that worried about what is going on otherwise. The fact that there are little things starting to make problems for her doesn't seem to be bother her. She's making the mistake of assuming she's done all she can and nothing else matters, and now she's going to struggle in a way that she can't even handle.
We can't figure out what her end game is, either. She's currently losing a lot of her credit in terms of what is happening, and we are not surprised by her. But we also watched as Valentin is questioning Nina and making things uncomfortable for her. She doesn't like that, but she's going to do anything she can to make sure that he doesn't get what he wants from her, either. Things won't always make that much of a difference to her, but things will always turn out for the best if she can make it happen. Michael is also making life changes, too, and he asked Alexis for her help to make this happen. We think she might be able to get him what he wants, but there might be a moment in which there is a lot more happening for her than she imagined.
What's Happening on General Hospital
#TBT: Roger Howarth made rocking a white suit look easy. The question is: should Franco consider one for his wedding day? #ThrowbackThursday #GH55 pic.twitter.com/y8TTKrg5bF

— General Hospital (@GeneralHospital) July 12, 2018
We can't wait to see Franco and Liz get married, and the show is really trying to get us even more excited about it. They've found an old photo of good ol' Franco with some long hair, and a very dapper white suit that definitely doesn't show any signs of the time. And we can't wait to see if they've posed this question along with everything else to give us a hint as to what he might look like on his wedding day. What do you think? Yes or no on the white suit?
What's Next on General Hospital
https://twitter.com/GeneralHospital/status/1016324846089670659?ref_src=twsrc%5Etfw
Carly is not happy at the moment, and she needs to see Kevin. He's not currently available to her, so she's going to do what she can to get him into her cell. She's going to make demands, probably cause a scene, and eventually get what she wants. She's not a woman who doesn't always get what she wants, so this is something we think that she can handle in her own time. There's not a lot she can do to get this situation under her control without his help, and that's what she is going for at the moment. She's got a lot on her plate, and she needs him to come in and talk to her. She's probably realized something or perhaps he has told her something that finally made sense to her, and she needs to see him. She needs to get him some information, and she is not going to allow this moment to pass her by.
And then there is the fact that we will see that Ava realizes that Oscar seems very familiar to her. She's not going to be able to put her finger on it, but she will think that there might just be something about him that makes her wonder something. It might not seem like a big moment right now, but we have a feeling that whatever it is will turn into a much bigger moment in the future. What could be happening? Al we know is that there is a chance Chase is going to make a scene, too, and that might be very interesting for all of us.
Stay tuned for more General Hospital and be sure to check out TVOvermind daily for the latest General Hospital spoilers, news, and updates.