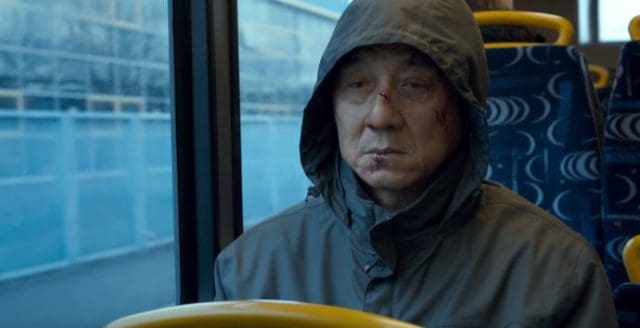 If you are like me, you like to watch The Rush Hour movies for pure enjoyment and laughter. Even though Jackie Chan's character, Inspector Lee, is doing serious work, it's still humorous. He rescues a friend's daughter or fights drug lords. His heroic and acrobatic skills keep us entertained, and in dangerous situations, he "keeps his cool" with a light hearted attitude.
In his latest movie, The Foreigner, which is due to be released on October 13, 2017 in the United States, we see Jackie Chan play a character with a much much darker side, unlike nearly any of his roles. His facial expressions are totally different. The happy smiling face is replaced with a determined and serious look. The movie is based on the book, The Chinaman and was filmed in London and China.
While we know that many of the events in The Rush Hour series could happen, they don't scare us. We may very well have different feelings after watching The Foreigner. It contains events that look like they came directly from a news report that you may see on any given day. Actually, during the filming of this movie, the citizens of London were quite alarmed by all of the explosions. The police had to explain that the explosions were controlled movie stunts.
In this film, Jackie plays the part of a family man. His character, Quan, lives a quiet life. He works as a reserved restaurant owner in London's Chinatown. All is calm until London receives an attack by Irish terrorists who detonate bombs. Jackie's daughter is killed in an explosion. From this point on, there is a complete change in Jackie. First, he is mournful and grieving. He repeatedly asks for the help from a government official, Liam Hennessey, played by Pierce Bronson.
Not only does Jackie have to track down a group of terrorists, he deals with a lot of resistance from Hennessey who is proud of his IRA heritage. Be sure to read the headline of the article that is briefly shown. Once Jackie figures out that Bronson's character is involved, the grieving father (Quan) goes full vigilante. He plans his attack slowly. First, he lets Hennessey realize that he can get to him at any time. Thus, here begins the violent "cat and mouse" plot.
You may immediately make comparisons to Liam Neeson in Taken. For those of you who like to watch older revenge movies, you may see bits and pieces that remind you of Steven Seagal and Charles Bronson movies. We get clues that maybe Jackie has a violent hidden past and specialized training. This movie relies much less on the martial arts for combat, but big guns and even bigger explosions. This movie is an action thriller with the theme "Never Push a Good Man Too Far". The trailers do not reveal if Quan and Hennessey actually have an actual hand-to-hand battle, but hopefully the good man wins.
Here's the trailer
Tell us what's wrong with this post? How could we improve it? :)
Let us improve this post!