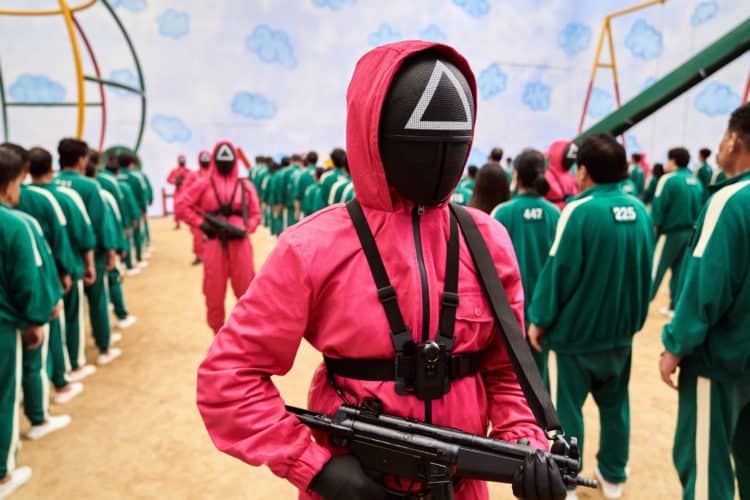 With the weather turning cold, a lot of us want to curl up inside and binge our favorite show. But after the pandemic, what is there that we haven't already watched? Well, friends, I come bearing incredible news. I've hand-selected a TV series for each zodiac sign to binge this winter! Already seen the series for your sun sign? Switch it up with your moon sign, rising sign, or mercury sign!
Aries – The Real Housewives (Specifically, Atlanta and Beverly Hills)
Now, y'all Aries love to pretend like you hate drama, but we can be honest with each other. You live for it. And seeing as Atlanta and Beverly Hills have the most over-the-top drama and hijinks, I think you'd really enjoy it. Watch as these women take fatal stabs at each other, and then resolve everything over mimosas at brunch! You'll be glued to your couch, bed, or chair, invested in the drama that has no weight on your life whatsoever. But that's what makes it perfect for you, Aries; being able to satisfy your love for drama without having to get involved. When paired with a hot chocolate (or let's be honest…wine) it's the perfect treat for an Aries on a cold winter day.
Taurus – Black Mirror
As a Taurus, you love stability, consistency, and reliability. You also tend to have an unrealistically high expectation for the things in your life. Luckily, the creators of Black Mirror don't miss a single detail, and the product of that is an exceptional show that is thought-provoking, absurd, and somewhat scary. You'll enjoy every second of this 1hr sci-fi horror, watching humanity undo itself episode after episode. And while every scenario feels fresh and important (holding your sometimes-fleeting attention), the overarching themes will satisfy your desire for consistency.
Gemini – Gilmore Girls
Ok, Gemini, I know this might seem like a lame or obvious choice, but it's actually your TV soulmate. You are spontaneous, romantic, and curious. The heartfelt nature of Gilmore Girls will keep you emotionally invested, while the more dramatic arcs will satisfy your love for all things cheesy and over-the-top. The antics of privilege in Star's Hollow will have you on the edge of your seat, wondering if these white people are ever gonna just be happy and stop complaining. But you know the answer to that, Gemini. Nonetheless, Gilmore Girls will have you laughing, crying, and angry all within 45mins. It's the perfect companion for the original romantic.
Cancer – Bridgerton
Cancer, you're a tough cookie. You do a lot to emotionally shield yourself from people around you, and you are highly observant of others' opinions of you. Much like our female lead in Bridgerton, Daphne, you're trying to please your family, friends, and society. You can have intensely emotional responses as a water sign, and there's no shortage of anguished tears, passionate outbursts, and sensual fantasies in Bridgerton. It takes a lot to crack your shell, so this slow-burn series will establish trust, and sneak up as one of your new favorites. Plus, Shonda Rimes. That is all.
Leo – Sex Education
The world has always been your stage, Leo, and you're not afraid to march to the beat of your own drum (even if that drum is very loud and obnoxious). But we love you for it, Leo. Sex Education has everything you're looking for; passion, absurd humor, and authenticity. There's nothing you hate more than fake people, because you live your truth all the time. Sex Education keeps its characters real and tangible, while unabashedly discussing topics that can be hard; even for full-grown adults. It's a unique experience, just like you, that leads with love and the acceptance of imperfection. Through progressive representation and dialogue, this show will make you feel as smart as you think you are!
Virgo – You
Virgo, you're a boss. There's no other way to put it. Beyoncé is a Virgo, and that's no coincidence. You're practical, methodical, and hard-working when you want to be. You have an air of uncertainty about you, which makes you a little mysterious. You're notoriously private, and your image is the one you want projected to others; not necessarily the whole truth. That's why your TV soulmate is You. Prepare to feel polarized about a stalker who murders people, but is very hot and extremely intelligent. And even if men aren't your thing, wait until Season 2 (Victoria Pedretti will have you gagging.) when an equally crazy and intelligent woman gets tangled up with our male lead. It's the perfect show for the sign that's gonna kiss or kill you, and you can never tell which. Keep bossing, Virgo.
Libra – Squid Game
As a Libra, you have a strong sense of balance and justice. You're a master at keeping your life together, even if it always feels like it's unraveling. You have a strong moral compass, and don't mess around when it comes to matters of the heart. Squid Game will capture your attention with its urban dystopia and haunting realism. You will be rooting for every character, and getting caught up in the emotional storylines. It'll also remind you how much rich people suck. Your creative tendencies will appreciate the show's fresh perspective, while your mind is fascinated by the moral ambiguity. The added bonus? Graphic violence. And y'all Libras are a little freaky, don't lie.
Scorpio – Tiger King
Oh, Scorpio. You were expecting You on Netflix, right? Listen, as Scorpio is my rising sign, I have an innate understanding of your motivations and tendencies. You're a little dark, passionate, impatient, and impulsive. The absolutely absurd tomfoolery that surrounds Carol Baskins and Joe Exotic, along with the shroud of mystery and narrative illusion, will have you stuck on Tiger King. You're an investigator by nature, and you'll be playing detective while you watch white rednecks fight over animals they shouldn't have in the first place. For you, Scorpio, it's all in the show's subtitle; murder, mayhem, and madness.
Sagittarius – The Queen's Gambit
Contrary to many beliefs about you, Sagittarius, you are a curious spirit who is often on a quest for knowledge. You like things to be mentally stimulating, to entice you (which can be a really tough ask with your fire sign tendencies). You're tough to please, but I think The Queen's Gambit has you covered. Watch a pill-popping chess genius best every single man she meets, and battle her own insecurities and self-esteem. She's a character you can get invested in, with flaws, nuances, and a chemical imbalance for the ages. Just trust me on this one, you won't wanna miss it.
Capricorn – Ratched
Capricorn, you are the epitome of glamour and intelligence. It only seems right that your newest TV obsession have the same sentiment. Ratched explores a peculiar mystery happening at a sanatorium in the 50's. The story will keep you guessing, with a twist at seemingly every corner. And for you, Capricorn, holding attention can be difficult; but Ratched will have no problem satiating your knack for mysteries and the taboo. You'll cringe as they eat jello with every meal, and remind you why you think old people are creepy. All jokes aside, this is a speeding train of a drama, and you'll have no idea where it's derailing next.
Aquarius – Big Mouth
My Aquarians! You are an unapologetic rebel, with a disregard for rules, policy, and conformity. You don't have time for anything fake, and small talk isn't your jam. Big Mouth will have you gasping for air as they tackle modern political and social topics with tact, disgusting accuracy, and off-beat humor. You are no stranger to the odd and interesting, so watching a cartoon about puberty (by choice), is right up your alley. These middle schoolers will have you saying, "Is this what middle school is like? I must have been lame.", cause we all know you were the 'weird kid'. But embrace the oddity of your own personality, it's what makes you the most unique zodiac, and a heck of a good time to be around.
Pisces – Outlander
Patient Pisces. The fact that you got to the bottom of this article to read your TV suggestion is a testament to your loyalty. You are steadfast with the people you care about, and there's nothing you wouldn't do for them. While historical fiction may not be the category of choice for you, Outlander is about much more than that. It's the story of a woman, willing to do anything (including time travel), for the people she loves. And yes, it is an unashamed steamy show, but the heart of the story is in the protagonists' relationship with each other. It's a show about human emotion and its limits, both physical and spiritual. The slow-burn will be just fast enough for you, Pisces, and you can take your time to savor every moment of this emotional rollercoaster.
Tell us what's wrong with this post? How could we improve it? :)
Let us improve this post!