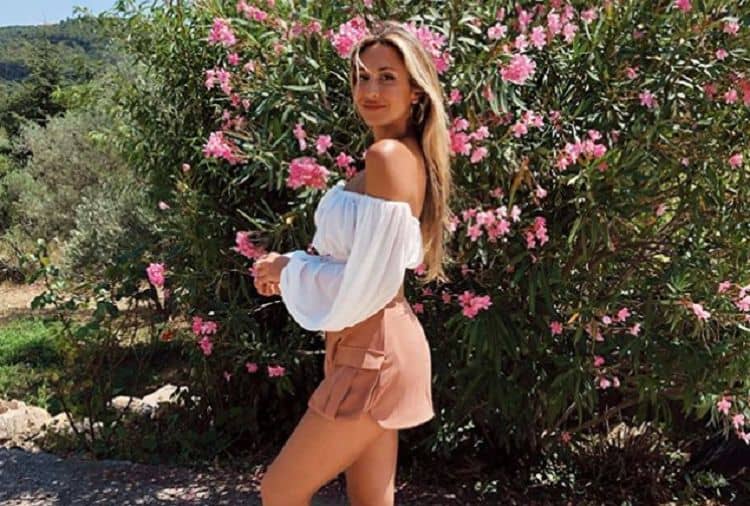 Natascha Bessez is a newcomer to the television competition "The Bachelor: Listen To Your Heart." She joins 23 other musicians who are all looking for love in the popular series. Viewers haven't had time to learn much about Natascha, so to remedy this, we looked into her past and her career history to become better acquainted with the latest reality television star, and Bachelor hopeful. Here are 10 things that you probably didn't know about Natascha Bessez to enhance your enjoyment of the program.
1. She is a beauty queen
Bessez holds a beauty pageant title. The lovely new contestant has participated in the Dansk Melodi Grand Prix in 2014, and she won the Miss New York Teen USA title in 2005. Natascha also placed in the top 15 of the Miss Teen USA 2005 competition. She is comfortable and at home on the runway, but we'll see how she performs on "The Bachelor Presents: Listen To Your Heart."
2. She's a native New Yorker
Natascha was born in Manhattan, New York on December 20, 1986. This makes her 33 years old. Her father is of French descent and her mother of Chilean. She was raised in New York City and attended Fiorello H. LaGuardia High School.
3. Bessez is a singer and a dancer
While all of the contestants on the special "Listen To Your Heart" season of "The Bachelor Presents" are musicians, Natascha has a little something extra going for her. In addition to being a singer, she is also a dancer. Her specialties include dance-pop, progressive house, Europop, and Eurodance. She has been active in her profession since 2007.
4. She has performed with Michael Rune
If you're into Danish music then you'll be familiar with Michael Rune. He is a Danish saxophonist. Natascha performed with him at the Dansk Melodi Grand Prix 2014. She was selected to be a contestant in the musical competition where she performed the song "Wanna Be Loved." Overall, she placed tenth in the finals and at the last cut, she and her partner ended up in second place, losing to Basim.
5. Natascha has competed for most of her life
As we reviewed Bessez's history we noticed that she has entered a lot of competitions throughout her life. It began with beauty contests and then advanced to musical competitions. She definitely has a competitive nature and she's not afraid to put herself out there. Now, she is entering the third type of competition by throwing her hat into the ring on "The Bachelor Presents: Listen To Your Heart." We found this to be truly remarkable as it shows the world that Natascha Bessez is a multi-talented artist who has done a lot of different things within the entertainment and beauty industry.
6. She knew Trevor Holmes before the show
Natascha walked into "Listen To Your Heart" with a history that connects her to cheating boyfriend Trevor Holmes. It was discovered that she is friends with his ex. This is an exciting new twist for viewers who get to see her confronting Trevor for what she referred to as his 'lying and cheating." Natascha is direct and she speaks her mind without any beating around the bush. This may give Jamie Gabrielle, his most recent love interest something to think about before she moves ahead with a relationship with him. We're not sure if this is something that the executives of the show have planned, or if it is just a coincidence, but it certainly livens things up.
7. She's friends with Sierra Neilsen
We learned that Natascha is friends with Sierra Nielsen. She is Trevor's ex. She stood up for her friend in a big way when she appeared on the competition. This tells us that she values the friendship that she has with her. We learned that she takes her friendships seriously and she goes to battle for those that she cares about. She also said that Jamie, Trevor's current romantic interest is a sweet girl and she didn't want to see her get hurt by him.
8. She is trilingual
Natascha is a girl who is loaded with talents. She also speaks three different languages. She speaks English, French, and Chilean. Her mother is of South American ancestry and her father French. She has traveled the world and has competed internationally in singing competitions and knowing several languages has helped her to be able to communicate with a variety of different people when she's been in different parts of the world. This is one of the benefits of being raised by parents who are from different countries.
9. You can follow her on Instagram
Natascha Bessez has an Instagram page so fans can keep up with what's trending in her life and in her career. There are 887 posts on the site and it is an excellent resource for finding some amazing photos of her and her friends. So far, she has about 19,000 followers on the page, but we expect this number to go up as "Listen To Your Heart" continues. We noticed that she has included Jamie Gabrielle on her page and she's looking out for her new friend as she did Sierra.
10. Natascha Bessez has the potential to go far
Bessez is a talented lady who has performed and competed all over the world. She has a great deal of self-confidence and she is going for what she wants in life. She has seen a lot of the world and made some great accomplishments and she is just getting started with her role as a reality television star. We expect her to go a long way in life, and we also believe she is going to bring some interesting drama to the "Listen To Your Heart" competition. One thing is for certain, and that is that you shouldn't mess with her friends, or she'll call you out on it.
Tell us what's wrong with this post? How could we improve it? :)
Let us improve this post!