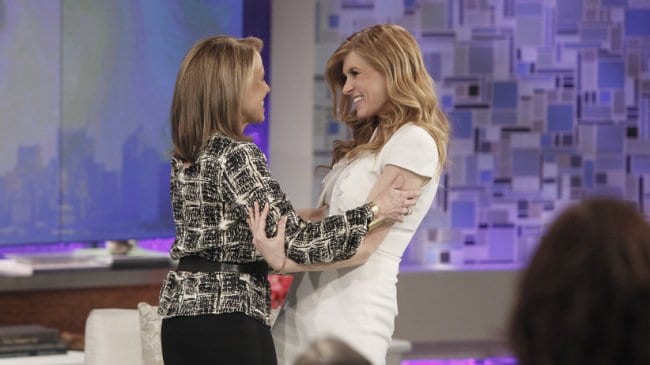 Nashville is back and tensions are high. This week's episode begins with a cuteness overload–Deacon and his new puppy! But the sweet moment of the week is over before it really even begins. In a switch to Scarlett and Gunnar we see that their passionate night (from the last episode) has ended in an awkward moment full of regret. And that's just the beginning!
Gunnar starts to shut Scarlett out after they sleep together and begins to let his brother's murder get to him. He is going crazy and won't allow anyone to help–poor guy. In another negative moment, Rayna's oldest daughter Maddie has an outburst and blames Rayna for the whole divorce–yikes.
Meanwhile in the music side of the show Juliette is continuing to take control of her new sound and not in a good way. She thinks she can control everything including her record tour starting with an expansion of her small performance later that evening.
Avery on the other hand is seeing that his fairytale may not be what he thought it would be. He doesn't like the way his deal is going and makes a bold move by burning all of the tracks and walking out on his record deal. Very gutsy.
On a lighter note Deacon meets a pretty veterinarian who he of coarse sleeps with right away. And in typical Deacon fashion, he is totally adorable and actually starts dating her… aw.
Back to the drama: Teddy and Rayna continue to try and figure out their lives and their divorce when tragedy strikes. Maddie, who tricked Teddy, and went to Juliette's private concert which surprise, was not so private. Because there were too many people in such a small venue (Juliette's fault) the kids start shoving and a self falls on Maddie! Deacon, who was playing the show, rushes to her aid and then takes her to the hospital. What a good friend–or should I say real father!
Before Rayna hears about the incident she is waiting for Scarlett and Gunnar to show up and perform for a chance to be on her new label. Since Gunnar is so depressed and very angry he never shows but Scarlett still plays a song for Rayna before she leaves for the hospital.
When Rayna gets to the hospital her temper is through the roof. She and Teddy fight about their marriage and who gets to live in their house every week. Very dramatic and very sad!
Later that night Scarlett runs to Deacon's house for his help. She is scared that Gunnar is going to do something stupid because he is so hurt by his brother's murder. They jump in the car and cut him off before he goes into the bar full of criminals in search of revenge and answers.
When Scarlett gets home Gunnar tries to apologize but she is still hurt from the morning when he told her that their night together meant nothing. They both lie in bed, separately thinking about how much they actually like each other. Then in a very romantic moment they leave their rooms and meet in the hall…the chemistry is undeniable. They look into each other's eyes and both admit that it meant something–swoon!
The episode ends as Rayna heads to Katie Couric's talk show to set the record straight about her divorce. While she is on the show Scarlett gets a phone call saying that Rayna wants to sign her as a solo artist as Gunnar lies in the bed next to her. Ah!
What do you think will happen when Scarlett tells Gunnar about the deal? Will he be happy for her? Also, how will Rayna take the news that Deacon is dating? Tune in next week to see!
Tell us what's wrong with this post? How could we improve it? :)
Let us improve this post!