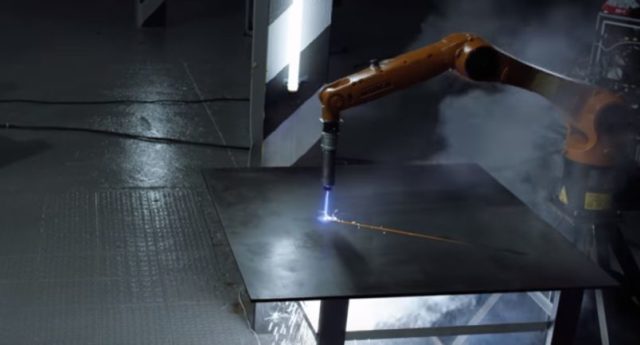 Movement is understood through music, just music is dependent on movement. This team up between the musician and a set of industrial robotic arms kind of makes that point loud and clear. Through intricate programs it's made possible to produce a video that is more about feeling the music than it is about truly playing it, and the feeling is that through a harmonious balance and collaboration machines can be used to produce music in movement that is simply haunting in its simple complexity.
Machines cannot fully understand music. Argue against or for that as you will but the fact remains that since they are made by mankind they are incapable of feeling anything that is not produced first by their creators. In this vein it is possible to admit that a part of humanity is eventually passed on to the machine through many different interactions that allow for random thought, passion, and a manner of abstract thinking that in the hands of a machine might seem dangerous. What happens then if the machines are allowed to produce what they will on their own? Will they need mankind any longer if they understand the movements and importance of the sounds they can make?
The programming behind such feats of brilliance is simply amazing but is also worthy of being scrutinized. Mankind is making leaps and bounds every day and every year to advance robotics in some way or another, and through this video, entertaining as it is, there seems to be a kind of symbiosis that is occurring that may or may not be a good thing in the end. It really depends on how much control humanity is willing to relinquish. The passing of the torch is a long way from happening between machines and humans, but the collaboration of ideas is still an ongoing process that continues in many venues and will no doubt keep moving forward at a pace that some people might feel is necessary while others tend to take a more cautious approach.
In terms of music the necessity to collaborate is something that is debatable among many different individuals. Machines are a creation of man, an extension of mankind, and as a result must be tempered by a healthy dose of humility and caution. Their inclusion into our everyday lives and into the world that has been ours since birth should be a tempered thing, an alliance of sorts that does not simply give but seeks to incorporate what we have created with what has come before.
Music is one of the last frontiers that machines should be given dominion over simply because it is the essence of humanity in a way. It is a movement that calls to humans in a primal way that is not easily explained and does not lend itself to anything other than emotion and feeling. Some would call music a set of rhythmic vibrations that are set at different wavelengths and nothing more. They are not wrong, but the minimized view of music is something that many people cannot tolerate as it seems very calculating, very machine-like in its essence.
Music is about movement, and movement is about music.
Save
Save