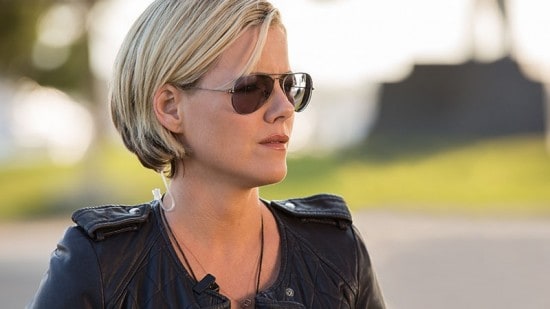 We're now past the halfway point, and Murder in the First is finally beginning to flesh out all the different story arcs that it created in the first half of the season. This particular episode, at some points, felt a little exposition heavy, but it set up what should be an interesting second half of the season. The acting was great, and the various arcs are headed in some interesting directions.
This week on Murder in the First: The gang war escalates. Navarro returns from Mexico, and is forced to face his co-workers. The Mulligan/McCormack family gets together for dinner, and we learn some interesting things about Hildy's father. Terry and Molk work to get the Nazi's off Navarro's back. New revelations about Dustin's past come to light.
Overall, I was pretty impressed with this episode. Like I said, at times it seemed a little exposition heavy, but then it's rare to have an episode as action-packed as some (like the Season 2 premiere) have been. This episode solidified a lot of things that Murder in the First needs to be clear about going forward, such as the fact that the homicide division is a family. I feel like that is going to be important. The union is corrupt. Hildy's dad is a racist (which TOTALLY explains the cooling romance between she and Terry). Dustin still shows emotion and is a human being. All of these things established themselves well in this episode, and all of them could (and probably will) be significant moving forward.
Was anyone else shocked by the gang war revelation? So someone started their gang war on purpose? Who? Why? This may have been the most intriguing plot thread of the evening's episode. It also gave me hope that somehow these plot threads will be connected somehow. I am coming to terms with all of the separate threads this show contains, but I'm starting to notice little ways in which the stories are connected. Doing so much more in the way of plot than last season, I have to commend the producers and writers on their ambition. They've really risen to the challenge here.
The acting is arguably the best aspect of this series. Taye Diggs and Kathleen Robertson remain solid leads. Even when their screen time belongs in large part to move the plot forward, they manage to command the screen. I'm constantly impressed by the way that these two anchor the series and keep me interested in every story. Then there's Lombardo Boyar, who gave arguably his best performance to date as Navarro. I've really enjoyed getting to know that character, due in large part to the actor. Raphael Sbarge is great. Ian Anthony Dale is great. A.J. Buckley is wonderful. Mateus Ward is giving a terrific performance as Dustin. The cast is extremely well put together. I'm so excited to see this show continue, due in large part to its actors.
This episode was a solid installment. Other than some gang violence, it kept the action to a minimum, but the plot pushed forward quite a bit. I'm not so sure that an expanded episode order for Season 2 is helping Murder in the First this year, but I'll reserve judgement for when all is said and done. For the most part, the show has established a clearer direction, and the cast is so good that it holds things together quite nicely.
What did you guys think? Did you enjoy the episode? Share your thoughts with us!!
Murder in the First airs Mondays at 10/9c on TNT.
[Photo via TNT]