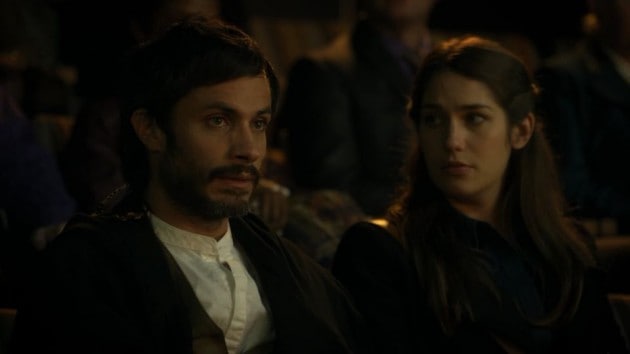 Being two of Mozart in the Jungle's central themes, it's no surprise the intersections of love and passion are the focal point of "I'm With the Maestro", an episode that lacks the personality of "You Have Insulted Tchaikovsky", but serves as a solid intermission between the last dramatic crescendo and the next. In the space between, "Maestro" builds out a number of ancillary characters, to varying degrees of success.
The strongest of these character beats comes with Betty, whose background is used as a prism of reflection for Cynthia, as she deals with tendinitis in her hand (there's the cocktail she was shooting up in the bathroom; boy, I wish Mozart in the Jungle had gone a little farther to define that) and the creeping sense that her and Thomas will never really be together. What makes the scene in Betty's apartment work so well are the things unsaid; the silent, soulless apartment she lives in is beautiful set design, conveying a sense of hollow elegance that gives us a little insight into the woman who believes that growing old alone is a treat not enough people in the world enjoy.
Their conversation also provides an important foundation for both characters; while Betty seems content to smoke pot and be bitter about how she had it so rough when she was getting started at the symphony, Cynthia hardly seems content with the life she's living. Like Betty, her satisfaction with life is fleeting, something conveyed wonderfully by both actors as they reflect on the brilliant men they've loved too much (particularly by Debra Monk, whose Betty is finally allowed to relax and breathe for a few scenes), and how those experiences formed the women that sit on Betty's couch, enjoying a nightcap and looking at some "witchy" Black Sabbath records.
That scene is the epitome of Mozart's central drama: can passion destroy something we love? Are we able to control and direct our desires, or are we a random smattering of people trying to prevent ourselves from passionate expression? Being set in a popular symphony, Mozart is able to both embody the allure of creative expression, and the inner turmoils and external conflicts from trying to contain and channel something as primal and unknown as passion; can passion be turned into love, or do the two act in direct conflict with each other?
Unfortunately, when Mozart in the Jungle tries to bring voice to this idea in other stories, it's not as effective. After being the show's anchor through the first uneven episodes, Hailey's presence in "Maestro" is stunted, a victim of being an ancillary part of a goofy Rodrigo story (more on that in a minute) and into this cliche of "dancers are too in touch with their bodies", introducing his dancing partner Addison as his ex-girlfriend/roomie who is totally cool with him sleeping in her bed when his new girlfriend shows up with a crappy bottle of wine. It's the bohemian, sexually laissez-faire "creative type" cliche – and it does nothing but gum up the more interesting story of a musician trying to push past a woman who refuses to be a mentor, and helps a genius overcome his internal conflicts.
Which brings us to Rodrigo and Anna Maria; as passionately-acted as their scenes are, the entire conflict is an eye-rolling cliche of the couple who loved each other so passionately, they would make love while strangling each other. Anna Maria is a political activist/pretentious performance artist, chastising Rodrgio as a glory-chaser and flying off the handle the moment she sees another female in his presence (*yawn*). They embrace, they fight, they embrace, they storm out; the beats here are predictable, and no amount of energetic performance or literary parallel can really save it.
The various elements in play during "Maestro" ultimately never coalesce; the final scene doesn't so much as tie things together neatly as it leaves a trite little bow on the episode, with Hailey awkwardly leaving Alex's apartment as he slept, recovering from the lame performance of Moby Dick that got him some auditions to be arm candy for vacationing businessmen (seriously: what a weird little bit of dialogue this episode never returns to). While I welcome the smaller scope of the episode to focus on four central characters, only Cynthia and Betty's stories are really effective, as they operate just enough outside the bounds of conventional, predictable storytelling to remain engaging.
[Photo via Amazon Studios]
Tell us what's wrong with this post? How could we improve it? :)
Let us improve this post!