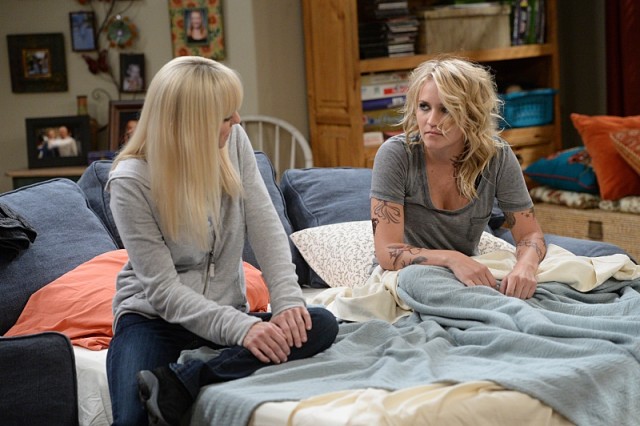 That can't be the end of Jody's storyline, can it? After opening Mom's third season with such strong entries, "Mozzarella Sticks and a Gay Piano Bar" appears to take the show in a completely different direction. It's odd; although I assumed Emily Osment's starring role in another series would exclude her from being a series regular, I wasn't expecting her run on Mom to end so bluntly – or so soon. That abrupt turn in the first half of the episode really undercuts anything that follows, a shift from the darker emotional tones of Mom into something much lighter and sitcom-y, and I was thoroughly unprepared for the turn.
Of course, a show like Mom that's supposed to be a comedy needs to breathe and laugh at some point – and if there's a way to do it, I can't think of a more fun way to spend it than watching Bonnie and Christy saddle up next to random drunk people in their attempt to "save" them from themselves. After all, the self-satisfaction one gets from helping others is infectious, and potentially addicting (as we see later with Jill and Wendy). Watching Bonnie and Christy both try to instill their values on others while chasing that high is as entertaining and funny as anything else the show offers in the way of humor.
However, it feels like it really just cuts Jody's storyline off at the knees. She goes from sleeping to 4pm with no job, to moving in with her sister after a cut to "Three Months Later" (which begs so many other questions: how did Christy's first college exams go? How is Violet and her fiancee? Did Bonnie fix the heater yet?!). To call it jarring is an understatement: after an emotional farewell, she's gone, but a footnote to the episode's real conceit, Bonnie and Christy "helping" a woman who wasn't actually an alcoholic (Judy Greer), just on a bender for the first time in probably a decade.
The entire second half of the episode can never escape the many questions left unanswered about Jody. Did she struggle with her recovery? How did she end up affording that hair? Did Christy realize she was basically taking in a younger version of herself, sans the child? Instead, we're treated to the amusing, completely superficial scenes of Greer's Michelle belting out "Bohemian Rhapsody" during an AA meeting – which out of context, is all well and good. In the context of where the season's been so far, it couldn't be any more of a let down: they always say leave the audience wanting more, but it genuinely feels like Mom barely scratched the surface of an overarching story with almost unlimited potential in allowing Mom to continue evolving through its third season, as the show always wants to do.
Sometimes, that relentless pursuit of new directions and conflicts comes at a cost of the present: Jody's sudden exit is as jarring a beat as I could've imagined in this episode (unless she had turned up dead, of course – though even that would be more in line with what Mom does than this). And unfortunately, it forms a cloud that hangs over the entire second half of "Mozzarella Sticks", only lifting in the moments where it offers potential ways to make this short-lived arc to have definitive stakes in the story: Bonnie mentions to Christy about opening a rehab, which offers a new avenue into storytelling this season I'd really love for them to explore. Not only would this make it easier to bring audience-grabbing guest stars into the mix for fun turns (as we had tonight), but it would offer Bonnie and Christy the chance to do something together we haven't seen before: help someone recover together, now that they've both helped each other independently through struggling times.
It seems like a natural evolution for the show, and a thread I really hope it follows if it doesn't bring Jody back into the fold soon. If there's anything I can count on with Mom, though, it's the ability to continuously find new and engaging story avenues, both with its leads and the many ancillary characters the show's successfully developed in its short time on air (let's not forget, Mom hasn't even aired 50 episodes yet). That relentless pursuit of growth might harm it in the short term with episodes like "Mozzarella Sticks and a Gay Piano Bar," but if it's the sign of Mom leaning into a creative crescendo, I can't wait to see where this ends up.
[Photo credit: Darren Michaels/Warner Bros. Entertainment Inc.]