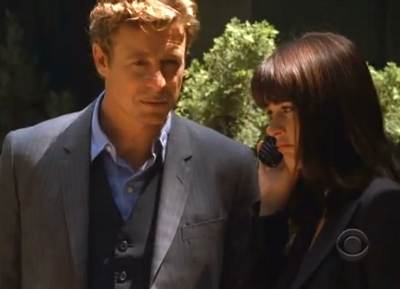 This week on The Mentalist, episode "Red Menace", the CBI investigate the murder of a lawyer, Gordon Hodge, who has only one client–a biker mob called the Sinner Saints. Lisbon (Robin Tunney), Rigsby (Owain Yeoman), and Jane (Simon Baker) interview the wife and son, who don't seem to know much about Hodge's shady clients, though they do enjoy the lavish lifestyle those clients provide for.
Jane and Lisbon go into the lion's den of Sinner Saints and question their leader Von McBride (Mark Pellegrino). They discover that Hodge was living the Sinner part of the biker lifestyle, partying and doing drugs. Since Hodge dodged a conviction on a drug bust, Lisbon and Jane fish with the idea of his being an informant on the Sinner Saints. McBride doesn't buy it, and doesn't bite when Jane suggests there might be another informant. McBride doesn't ruffle easily, even when an irate woman storms the bar and calls McBride a murderer.
The CBI work to track her down, eventually getting McBride to confess she's been harassing him because of charges he murdered her brother–charges Hodge got him out of. After they learn that the woman, Felicia Gutherie (Molly Price), vandalized Hodge's office and stalked him at his home, she becomes the number one suspect. Though she admits that she hated Hodge for making her brother out to be a monster in court, she denies being the lawyer's murderer.
Van Pelt (Amanda Righetti) also discovers through phone records that Hodge was having regular conversations with McBride's girlfriend Diamond. Van Pelt takes Lisbon along on a high speed chase to catch the fleeing biker girl. Turns out Diamond's in fear for her life if McBride discovers the affair, or if she gets labeled as the informant. She says the only other person who knew of her fling with Hodge was Hodge's wife.
Lisbon interviews the wife, who says she kept quiet because she didn't want her son Lucas to have to deal with any more scandal. Jane takes Lucas out for a driving lesson and a chat, and finds out that Lucas spoke with Felicia when she came looking for Hodge, though he doesn't have much to say about the meeting. He admits his dad was difficult, always on his cell phone, but he loved him, and so did his mom.
Cho (Tim Kang) and Rigsby stake out Felicia's house, to see if she tries to dispose of any evidence that she's the killer. They're forced into a stand-off when the Sinner Saints show up to get revenge on Hodge's supposed killer. Rigsby, whose father was a criminal biker, has even more reason to hate biker gangs now–but he and Cho use the threat of legal and gun violence to get them to back off.
Jane and Lisbon join Cho and Rigsby at Felicia's house, and Jane pokes around looking for evidence. He gets Rigsby to go look in the trash can, and Rigsby finds one of Hodge's missing cuff links. Lisbon arrests Felicia and brings her in, but Lisbon's surprised that Jane has invited Hodge's wife and son to CBI headquarters to meet them. Confronted with Felicia's arrest, Lucas gets upset and refuses his mother's urges to leave.
Under the pressure of doing the right thing, Lucas confesses that he killed his father in a rage after a culmination of hurts, including discovering his father was still having an affair. His mother helped him cover up the crime. Lisbon then confronts Jane, realizing that he planted the cuff link to make an innocent woman look guilty. Jane feels the end justify the means, because Lisbon needed evidence to arrest Felicia, and he knew he needed Felicia arrested to push Lucas into a confession. He does admit that Felicia deserves justice, however.
The last scene in "Red Menace" is Jane calling McBride to a shadowy meeting outside the bar, which gathers the interest of the other gang members. Jane tells McBride he has the identity of the informant in an envelope he's brought, and hands it to him. He disappears into the darkness just as McBride's gang comes out. They take the envelope and see it contains money, and believe that McBride is the informant. As they drag him off to exact punishment, Jane walks past a pick-up truck with a watchful Felicia inside. Not exactly legal, but it's definitely a form of justice, and more evidence of Jane's permanent place in the grey areas of ethics.
Read all the TVOvermind The Mentalist recaps.
PHOTO: Simon Baker as Patrick Jane, Robin Tunney as Agent Teresa Lisbon, The Mentalist "Red Menace" screencaps, c2009 Primrose Hill Productions, Warner Bros. Television, CBS.
Tell us what's wrong with this post? How could we improve it? :)
Let us improve this post!