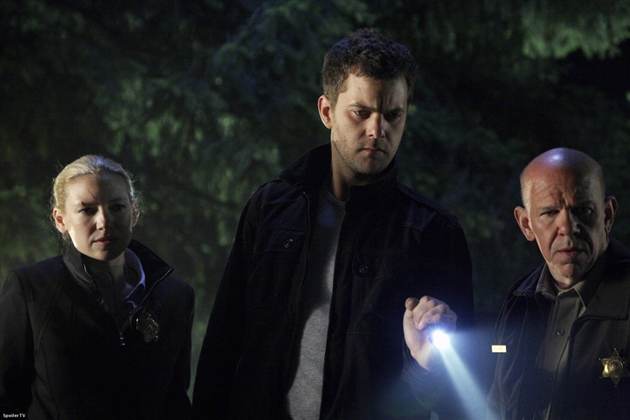 Tonight's Fringe was, for me, slightly disappointing. While the buildup to the monster of the week was incredibly well-done, the payoff was lackluster, and left me wanting much more than what we got, which looked like a cheap knockoff of Guillermo del Toro's creatures.
The episode starts off with Olivia getting out of the hospital, though she's apparently suffering side-effects, the most dominant of which is an enhanced case of hearing. Broyles is worried about Olivia's competency, but Peter reassures him that she'll be fine.
Peter chooses a case from Pennsylvania, in which several people have vanished "out of thin air." Against the wishes of the sheriff's department, Olivia, Peter, and Walter travel to Pennsylvania to investigate, where they eventually meet a man who visited several family members of the victims. Checking his history, they find out that he lost a wife and child in childbirth. However, when the caskets of the deceased are exhumed, only the wife's corpse remains — the baby apparently dug down through the bottom of the casket and escaped.
The baby, whose genetic makeup was changed by his scientist father to include that of a scorpion, is responsible for the killings. He is soon located by Olivia and Peter, and after a brutal underground battle, the mutant is crushed by a police car when it tries to burrow out under the vehicle.
Meanwhile, the artist formerly known as Charlie is conspiring against Olivia, and is ordered by Mr. Mirrorhands to forcefully discover the information she can't remember, though Nina Sharp suggests to Olivia that she goes to see Sam Weiss, an enigmatic man who "helped" Nina overcome the psychological ramifications of her cancer. Weiss seems to know what Olivia is experiencing, and warns that she'll soon start having headaches.
Expect a full recap from TVOvermind very soon.