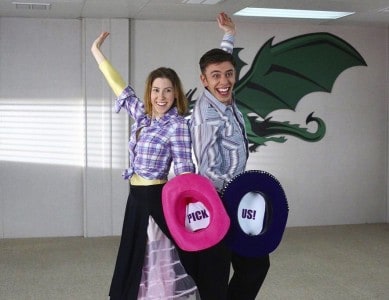 Spring break on The Middle gets even more exciting than wisdom teeth surgery when Mike surprises his family with a getaway to Kentucky caves. To make matters even better, Frankie invites the Donahues along so you know it's gonna be a fun time!
Over their first breakfast, Axl discovers Sean isn't feeling their usual "Jerk, Not-A-Jerk" game of picking up chicks so he finds an unlikely wingman was by his side all along: Brick. Everyone opts to do their own things, really. Mike's the only one who actually goes on tours of the caves and historical war forts. Ron golfs the days away, Sean does hot yoga. Axl and Brick's game works to both their advantages. Giving Brick real life experience as a jerk is a priceless lesson only a big brother like Axl could provide. What a guy!
Frankie and Nancy sip drinks by the pool, but not before they both agreed to talk to each other's sons about their respective troubling behavior. Nancy's concerns for Sean's hippie lifestyle haven't gone away and I honestly hope he never reverts back to his old ways. Sean 2.0 is the perfect example of how people changing may not always be for the worse. Plus I'm not entirely sure Frankie Heck is the model citizen herself to be preaching the importance of the MCATs. Nancy on the other hand addresses some unnamed subject about Brick that she attributes to nerves about going to highschool next year. The real kicker here is, Frankie doesn't even know what was wrong with Brick in the first place to cause an alarm in her nosy neighbor-turned-friend. I guess it really is all about perspective here. She's so used to seeing Brick all the time, he's become invisible to her. Not surprising in the least bit.
Sue receives word she and Brad got summer jobs at Dollywood in Tennessee. And yes, there is a flashback scene to their audition which is everything you would imagine and more! When she breaks the news to Mike first, he doesn't pick up on the fact that Sue isn't asking for permission or even money. She's only letting him know the good news first before anyone else in the family.
Sue's news kicks Mike into full blown Heck vacation mode, pulling the family back together like they should have been all along. Somewhere along the way,he also realized Frankie was right and he can't stop his only daughter from growing up.
Despite everything working out smoothly, this was the Heck family's first and last joint vacation with the Donahues. With Axl and Sue fast approaching the real world after college, I can only hope the Hecks continue to find the time for their own annual family vacation. It doesn't need to be a grand time at Disney World every year as this episode proves an old Kentucky town still has appealing charm.
The Middle Season 7 Episode 18 Review: "A Very Donahue Vacation"
Summary
The Hecks invite the Donahues along for a spring break vacation.